THE IMPOSED KING
by Charles C Robey
(Trussville, AL, 35173)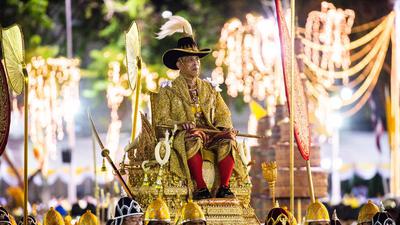 PROLOGUE

The year 2020 has been put to bed, or has it? Certainly not, even though certain progressive news media outlets such as newspaper, television and radio seem to be having their way. And if you throw in such information outlets as social media and a modern-day religious thinker or two, what might one find?

Please realize that this old world, and America in particular, has seen many changes down through the centuries, from bad to good and back again. Being older than dirt and twice as gritty and living through many decades has certainly been an eye-opening experience for this old man.

Enter the ongoing cynicism of American's progressive political world, coupled with distrust of the progressive media by conservatives, why don't or won't these political factions display an ongoing positive display of hope for America? We want to see an America that seeks for truth and loves freedom, rather than the opposite.

Why not stand tall for America, the land of the free and the home of the brave? After all, don't these liberals still live and breathe in our great country of America the Beautiful?

The recent American presidential election is a prime example of civilization's progressive change. It was, and still is, an outright war with many political battles, not to mention the ongoing spiritual war. (Ephesians 6:12)

We know from the Bible how this ongoing spiritual battle ends. How this political battle finally will end, only God knows.

Remember the old cliché, "Where there's smoke, there's fire?" Was America's recent presidential election consumed nationally by smoke from a deceptive, impactful election blaze and fostered this ongoing aggressive distrust of America's populace?

So now, I trust you will enjoy this fictional parable of America, based partly on the apparent progressive actions of America's free autonomy or lack thereof. This blog entitlement is given as "The Imposed King."

Psalm 37:1-2 "Do not fret because of those who are evil or be envious of those who do wrong; for like the grass they will soon wither, like green plants they will soon die away."

Being completely worn out from a week of unsuccessful salesmanship, I checked into a quaint little motel in the middle of nowhere. My much-needed rest is being sparked by all those sales down-turns of the week. It is getting harder to sell Bibles these days.

I opened the door, and literally fell into bed, and then noticed it; a well-worn Gideon King James Bible on the bedside table.

This much-used Bible seeming to glow as if to say, "Pick me up, please." And after a call for room service, and being denied my request of some good ole southern sweet tea and corn bread, I had nothing better to do but answer this mysterious plea. Picking up pick up this old Book, I began to read. Lo and behold, it was a passage on Bible prophecy. It was like placing the local newspaper on top of the Bible. (II Timothy 3:1-9,13) (II Timothy 4:3-4)

I don't rightly know how far I had gotten in this reading, for I must have been out like a light. Next thing I remember, I found myself in the middle of a large ancient medieval castle ballroom. There were makeshift political banners hanging throughout. Positioned in the center of the large ornate surrounding was an elevated empty king's throne.

Suddenly my eyes fell on the center of the ball room. The king's Chief Scribe had entered, under a sharp introductive blast of the king's trumpeters. Unrolling an official looking scroll he began to read his declaration.

"Hear ye, hear ye, under authority of the kingdom crown, this decree is proclaimed and declared this year of our Lord. Be it known; the kingdom has a new king. With a sudden influx of votes mysteriously favoring the competitor, he has defeated the present king."

"Be it also known, under penalty of law, no protests will be allowed. Punishment, up to and including death, will be declared. In the name of the kingdom, that is all." And rolling up his official scroll, the Chief Scribe quickly left under guard.

Then it suddenly happened. Word traveled fast, and mass chaos ensued throughout the entire kingdom. All thorough the kingdom shouts of protest were heard from the commoners.

"How could this have happened to the most popular king of our time?" they shouted. "Our king was a king for the people and held many sold-out rallies, while his competitor remained distantly hid away in his castle basement, refraining from any public presentations."

"Was his supposed victory a result of bribery and coercion, controlled by money? He had nothing but many empty promises," they cried. "Why so many sudden votes? Only citizens of the kingdom were supposed to vote. And just where did all those last-minute votes come from, for the kingdom voting had shut down on its required time frame?"

What was so strange," said the many voices, "with less than half of the kingdom votes being counted the king's court had proclaimed the opposing candidate to be the winner over the sitting king. How can this be?" they all earnestly cried.

"We must quickly appeal this apparent election fraud to the Supreme Court of the Empire. We must win this one, for the sake of the kingdom," they concluded.

Nonetheless, this announcement was quickly followed by an apparent prearranged interview. The chief Scribe announced that the winning candidate would soon leave the castle basement hideaway and make an appearance, which he quickly did.

Upon his arrival, the king-to-be took on an air of rudeness, by jumping up and sitting on the empty throne. Then, opening an official scroll he began reading his first written speech. After which he refused to take questions from the kingdom scribes. He simply advised them to submit their questions in writing to his new official chief castle squire and he would then meet privately with them later, and he slowly walked away.

He did look kind of sad, tired, and confused, as he was being escorted from the ballroom, I thought, for one who had just won an upset election. And as the new king-to-be was leaving the castle grounds, he was serenaded from the upper tower balcony by the outgoing court Jester singing him a farewell.

The joker is here, the joker is here
Now come one and all lend an ear
The joker is here, the joker is here
He received his pardon without fear
The joker is here, the joker is here
He never shed a big sorrowful tear
The joker is here, the joker is here
Now come one and all give a cheer

With this, his passionate farewell satire, all the kingdom inhabitants below broke out in spontaneous laughter and applause, much to the surprise of the departing new king to be.

That's kind of how it all ended, most unexpectedly. I was suddenly awakened by the morning sun replacing the bright yellow moon that had earlier graced the sky outside my hotel window. What a night, ever so short as it was! And what a dream to boot! I couldn't help but ponder, was it real, was it to be, or was it events past? Another one of those "GOK" questions, I guess.

As my eyes adjusted to the dim hotel room lighting, I glanced at the television morning news. So then, being wary of all television reporting and remembering the old cliché, "a promise made is a promise unpaid," I quickly pushed the off button. End of dream, beginning of speculation. Amen!

EPILOGUE

I trust you enjoyed this brief bit of fictional musing as much as I enjoyed putting it all together. Finally, let me present a point of clarity regarding our great country America.

You've probably gathered from my recent blogs that I'm very much concerned with the direction in which our nation may be headed. It is surely an uncharted course, to say the least. But we're not in the belly of the whale just yet. (Jonah 2:2)

It is my honest hope and prayerful desire that America remain the land of the free and home of the brave, and continue to adhere to the divinely directed In God We Trust. And that we will always be known as America the Beautiful. Oh yes, I'm pointing one finger at you, with the rest pointing back towards me.

And yes, the Lord willing, I will continue to proclaim His goodness through our old, troubled world. Please continue to read my blogs. Thanks and Amen!

Isaiah 6:8, NIV: "Then I heard the voice of the Lord saying, 'Whom shall I send? And who will go for us?' And I said, 'Here am I. Send me!'"