THE JUNK MAN COMETH
by Charles Robey
(Trussville AL, USA)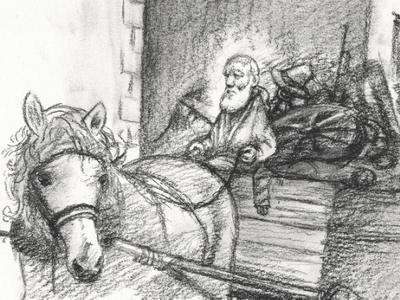 Mr. Sanderson was a rather jolly old man and he didn't let his rather large frame stand in his way of his getting around, although his horses might have had another opinion.

You see he was the town junk dealer. He would make his rounds every day in his old junk wagon pulled by his two faithful trusted horses. I can just picture him now coming around the corner, full speed ahead, and hanging on that old wagon bench, which had been bent sideways by his weight.

I don't know how he did it, but he knew all us boys by heart. Not only did he know us, he knew exactly what kind of candy we all liked. He would call us by name, then reach out that giant hand of his and throw down just the right formula for tooth decaying slurped hard candy. I don't mind bragging a little here as Mr. Sanderson would also give me an extra piece. This was because he and I attended the same church, in which my Dad was the pastor.

Not only did Mr. Sanderson take his junk job seriously but he also was one of the most faithful members of our little church. He was always the first to arrive and the last to leave. His horses even had a favorite shady place out by the old giant oak tree.

The maintenance committee even had to get special permission to remove a church pew arm divider so that he could sit comfortably in the two seats. And, it was understandable, we all knew not to sit in his particular pew. I remember once, when that new kid tried to sit in his pew, how Mr. Sanderson politely removed the kid, by the nap of the neck. We all just laughed, at the time. However, that was just before Dad took me to the "gospel wood shed" for a little Bible lesson.

And, boy, could Mr. Sanderson sing those old hymns. He would just make the rafters shake. His famous saying, which often times would announce during choir practice, was that he was proud to make the angels sit up and take notice.

One of Mr. Sanderson's favorite scriptures verses was, "Whatever your hand finds to do, do it with your might; for there is no work, nor device, nor knowledge, nor wisdom, in the grave, where you go." (Ecclesiastes 9:10) And boy did Mr. Sanderson have the big hands to accomplish this feat.

Well, time passed on in our little church, and so did Mr. Sanderson's health. He finally had to give up his faithful junk route for a soft comfortable chair in front of his junk store.

But don't you worry, he still had more business than he could handle. People would come from all corners of our little town, just to bring Mr. Sanderson their junk to sell.

And our little church van was remodeled, including a lift to give him a ride to church each Sunday. This old van was rightfully dedicated as the "Sanderson Chariot".

Then all of a sudden, the most bizarre mystery occurred. It was on a bright sunny Sunday morning. The van pulled up as usual by Mr. Sanderson's front door. Then the driver blew the horn, as was his custom, but no one came from the house. After knocking on the door, which was locked, the driver had no choice but to drive away. And from that time until now, no one ever saw Mr. Sanderson again. And to top off this mystery, Mr. Sanderson's horses were also never seen again.

After several weeks had past, my Dad held a memorial service for Mr. Sanderson. During the service, he gave the following eulogy.

"I guess I was the first one to visit Bro Sanderson's home after his strange disappearance. When I entered his home, I was directed, as if by an angel, to the table by his bed. And there I found his Bible open and marked by the following scripture passage, 'Stop neglecting to show hospitality to strangers, for by showing hospitality some have had angels as their guests without being aware of it'. ( Hebrews 13:2).

"Not only was this scripture marked", exclaimed Dad, but it just seemed to light up the entire room."

And to this day, the van driver swears he heard singing coming from Mr. Sanderson' home that Sunday he came to pick him up.

Well, that was certainly a day to remember. There were not only many shouts throughout our old church sanctuary that day but many tears as well.

I will never forget Mr. Sanderson as long as a live. He was truly a saint in our eyes. And one thing for sure, I'll never pass up a street beggar again, for I just might miss that opportunity to show compassion to one of God's angels.

What do you think?