The King and His People Part 2
by John Lowe
(Laurens SC, USA)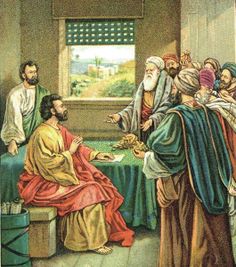 Obey His Word, and live in His will
How do you know if you are one of His people?

Jesus said, "My sheep listen to my voice; I know them, and they follow me." (John 10:27)
If you are following Jesus, then you are one of His people.
* A king has a rule.
"The kingdom of God" refers to God's sovereign rule in the universe.
But more specifically it refers to the coming of the prophesied Messiah, the Son of David, who would not only be the Savior and King of Israel but of all mankind.
But, it would not have done any good for Jesus to talk about the kingdom of God if He did not do anything about it.
He didn't come simply to proclaim the kingly rule of God but to also bring it to bear directly on our everyday lives.
In a word, He came to bring healing to a broken world.

That's what Jesus set about doing.
I said at the beginning that living in the Kingdom of Heaven requires us to live by certain principles and expectations.
First, we need to Embrace His mission. (Show His love to others)
God's Mission is the same today as it was in the Old Testament--To redeem a lost humanity and to allow His people to participate in that mission.
Listen to what Paul said about this in 2 Corinthians 5:18-21:
Verse 18 says, "All this newness of life is from God, who brought us back to himself through what Christ did."
The reality is that God wants sinful men and women to be reconciled to Himself.
And, God wants believers to proclaim the Gospel to others.
Verse 19 tells us, "And God has given us the task of reconciling people to him. For God was in Christ, reconciling the world to himself, no longer counting people's sins against them. This is the wonderful message he has given us to tell others."
God was in Christ, and He used His Son, who was the only acceptable and perfect sacrifice, as the means to reconcile sinners to Himself.
God offers reconciliation to all people everywhere, without making a distinction between them.
What we have here is the heart of the doctrine of justification, whereby, God declares the sinner who repents righteous, and doesn't count his sins against him because He covers him with the righteousness of Christ, and He does it the moment he places wholehearted faith in Christ and His sacrificial death.
Verse 20 states, "We are Christ's ambassadors, and God is using us to speak to you. We urge you, as though Christ himself were here pleading with you, "Be reconciled to God!"
The word ambassador comes from the Greek word that's often translated "elder."
It described an older, more experienced man who served as the representative of a king from one country to another.
This is how Paul describes his role and the role of all believers--as a messenger representing the King of heaven with the Gospel, who pleads with the world to be reconciled to God, who is their rightful King.
As believers present the gospel, God speaks through them and urges unbelieving sinners to come in faith and accept the gospel, which means to repent of their sins and believe the gospel.
Then verse 21 says, "For God made Christ, who never sinned, to be the offering for our sin, so that we could be made right with God through Christ."
Jesus Christ, the sinless Son of God, became sin for us.
God the Father treated Christ as if He was a sinner, though He was not, and He had Him die as a substitute to pay the penalty for the sins of those who believe in Him.
On the Cross, He didn't become a sinner (as some suggest), but remained as holy as ever.
He was treated as if He were guilty of all the sins ever committed by all those who would come to believe in Him,
even though He didn't commit one single sin.
God exhausted His wrath on Him, before He died.
A righteous man punished for the sins of the unrighteous.
The righteousness that's credited to the believer's account is the righteousness of Jesus Christ, God's Son.
He bore their sins so they could bear His righteousness.
God treated Him as if He had committed the believer's sins, and He treats believers as if they had done the righteous deeds of the sinless Son of God.
The mission of God is very plan.
We find it in Christ's last words in Matthew 28:19-20, "Go ye therefore, and teach all nations, baptizing them in the name of the Father, and of the Son, and of the Holy Ghost Teaching them to observe all things whatsoever I have commanded you: and, lo, I am with you always, even unto the end of the world. Amen."
Everyone has been given an assignment by God to evangelize.
All of us are evangelists and our ability to do it is not limited by age or physical condition.
We can tell others about Christ; about what He means to us and all that He has done for us.
The first principle is to Embrace His mission. (Show His love to others)
The second principle is: We are to Embody His Name. (Represent God)
The Church Body is to possess the character and nature of God because we represent and embody His name.
Up until the time they arrived at Sinai Jacob's descendants had been known by the phrase "The House of Jacob."
Now they would be known as the "Sons of Israel."
Exodus 19:5 states, "Now if you obey me fully and keep my covenant, then out of all nations you will be my treasured possession. Although the whole earth is mine."
Israel was God's treasured possession, not to be put in a place of privilege, but to be maneuvered and used by God in full force as He led them into the world embracing His name.
When Moses spoke with God by the burning bush, he asked: "When people ask me who it was that sent me, what am I to say."
God's answer was, "I Am, that I Am."
Children reflect on their parents.
Did your father ever tell you something like this?
"When you are out with your friends, remember that what you do reflects on me, so don't do anything stupid. Watch what you say and do, because your actions reflect on me."
Keep in mind that you represent Christ everywhere you go.
Did you ever hear the saying, "You may be the only Bible some people ever read?"
If you're a child of God, people watch to see what you do and listen to what you say.
They may never pick up a Bible, so their whole opinion of God and Jesus may be based on your life.
That's a lot of responsibility, and living a godly life can be difficult at times, but that's our assignment--to represent Christ.
To live in the kingdom of God requires a person to hold on to a third principle, Obey His Word. (Live in His Will)
If Israel was to enjoy the blessing of the Promise Land, obedience must pave the way.
Exodus 19:5 begins with these words, "Now IF you obey me fully and IF you keep my covenant..."
Jesus reemphasized these words for us when He stated, "My sheep listen to my voice; I know them, and they follow me." (John 10:27)
Obedience to the Word and will of God is essential for Kingdom Living.
Jesus said in Matthew 7:24: "Anyone who listens to my teaching and obeys me is wise, like a person who builds a house on solid rock."
Remember the keys to kingdom living:
 Embrace the Great Commission by showing His love to others.
 Demonstrate His character and display His love.
 Obey His Word, and live in His will.