The Lamb Worthy to Open the Scroll: Part 7 of 7 (series: Lessons on Revelation)
by John Lowe
(Woodruff, S.C.)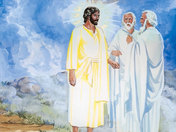 14 And the four beasts said, Amen. And the four and twenty elders fell down and worshipped him that liveth for ever and ever.


The final "AMEN" is added by the four beasts to show they are in agreement. There is no distinction drawn in their worship between the One sitting on the throne (God) and the Lamb (Jesus). They worship them as one.

I hope you will agree with me, that this is a wonderful chapter! May God Bless you, as you study His Word.


Join in and write your own page! It's easy to do. How? Simply click here to return to John Lowe Sermons.