The Law's Irrelevance for the Promise: Page 2 of 2 (series: Lessons on Galatians)
by John Lowe
(Woodruff, S.C.)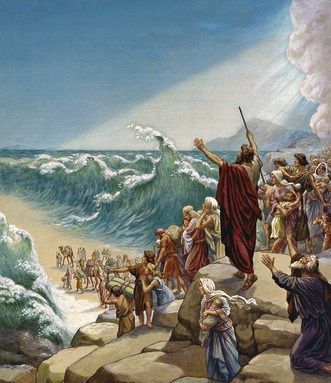 The grace of God teaches true holiness. Would you dare to substitute "Law" for "grace" in Titus 2.11, 12, so that it would read like this: "For the LAW of God that bringeth salvation hath appeared to all men, Teaching us that, denying ungodliness and worldly lusts, we should live soberly, righteously, and godly, in this present world." There are some who would be happy to see it read this way, but that is NOT how Paul wrote it. He knew that he needed grace, and so he said, "The grace of God teaches us holiness." That is something the Law can't do. It should be obvious, therefore, that grace does what the Law couldn't do. The Law cannot save or keep one saved, only grace can do that. God gave the Law to man to prove once and for all that man could NOT save himself by works. It was given to show the utter depravity of the flesh and of human nature, and to cause us to flee to Christ for mercy, not for justice; for forgiveness, not condemnation.


We constantly face the criticism that when we say that the Law cannot keep us saved that we are, in effect, demeaning the Law. But instead, we are exalting it! The demands of the Law are so high, that it is impossible for sinful men to keep it. And because sinful men can't keep it Jesus came to fulfill it for the believer. There are some who would say that we are destroying the Law, but we can reply to that accusation by quoting Matthew 5. 17, 18—"Think not that I am come to destroy the law, or the prophets: I am not come to destroy, but to fulfil. For verily I say unto you, Till heaven and earth pass, one jot or one tittle shall in no wise pass from the law, till all be fulfilled." Jesus didn't destroy the Law, but He fulfilled it. He proved by rising from the dead that He had paid the death penalty of the Law. The Law has not failed, but man failed under the Law. The Law is still as perfect as ever, still as just as ever, and it will still condemn a sinner. The only hope a sinner has lies in abandoning all hope of saving one's self, and casting one's self on the grace of God, and God alone. I repeat, Jesus did NOT destroy the Law. It remains and always will remain, the perfect demand of a righteous God for ALL who want to save themselves. Since the sinner can't keep it, the
Law condemns him. But the Lord Jesus fulfilled ALL the demands of the Law, and so while the Law is not dead, the believer is dead to the Law, and alive unto God.
The assertion that "the law, which was four hundred and thirty years after" has puzzled Bible students for many years. From Abraham's call (Ge. 12) to Jacob's arrival in Egypt (Ge. 46) is 215 years. (This may be computed as follows: Abraham was 75 years old when God called him and 100 when Isaac was born, Ge. 12.4; 21.5. This gives us 25 years. Isaac was 60 when Jacob was born, Ge 25.26; and Jacob was 130 years old when he arrived in Egypt, Ge. 47.9. Thus 25+60+130=215 years.) But Moses tells us that Israel sojourned in Egypt 430 years (Ex. 12.40); so the total number of years from Abraham's call to the giving of the Law is 645 years, not 430. The length of stay in Egypt is also recorded in Genesis 15.13 and Acts 7.6 where the round figure of 400 years is used. Several solutions have been offered to this puzzle; but perhaps the most satisfied is this: Paul is counting from the time Jacob went into Egypt, when God appeared to him and reaffirmed the covenant for the last time (Ge 46.1-4). The 430 years is the time from God's confirmation of His promise to Jacob until the giving of the Law at Sinai. Regardless of what solution to the dating question we may choose, the basic argument is clear: a law given several centuries later CANNOT change a covenant made by other parties.
During that long interval God blessed the patriarchs on the basis of faith alone, and the coming of the Law could NOT change this in any way. Additionally, the Law could NOT alter God's dealing with Abraham on the basis of promise because the two are fundamentally different in nature. They do not comingle; they cannot be combined. Instead, the inheritance (i.e., justification by faith) was given by God as an unconditional gift to those who believe. Contrary to the claim of the Judaizers, obedience to the Law was not necessary to gain the inheritance. God's way of salvation has always been by grace through faith.
The essential thing, in this passage, in line with the truth of Galatians 3.15—"Brethren, I speak after the manner of men: Though it be but a man's covenant, yet when it hath been confirmed, no one maketh it void, or addeth thereto" (ASV)—is the consideration that the Law could NOT possibly set aside the previous arrangement God had made and confirmed.