THE LORD BLESS YOU AND KEEP YOU Part 2 of 2
by John Lowe
(Woodruff, S.C.)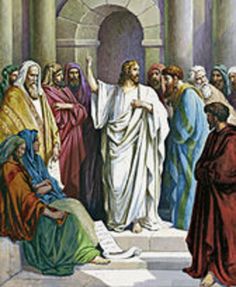 The first component is: THE LORD BLESS YOU.

"Bless" is a common Old Testament word, occurring about 415 times. It implied life, health, and prosperity. These blessings are spelled out for Israel in Deuteronomy 28 and for the Christian in Ephesians, Chapters 1—3. Listen to the words of Ephesians 1:3. "Blessed be the God and Father of our Lord Jesus Christ, who has blessed us with every spiritual blessing in the heavenly places in Christ." Who is it that has blessed us? God is the great giver, and the blessings are already ours. He blesses us with every kind of spiritual blessings. They are spiritual in nature. They are the opposite of earthly and material blessings, and they are the products of the Holy Spirit.

Spiritual blessings are the best blessings. God blessed us with all spiritual blessings when he gave us Jesus, and now He freely gives us all things. That is not the way it is with those outside the family of God. They may receive temporary, earthly blessings. Some are favored with health, and not with riches; some with riches, and not with health. But, where God blesses with spiritual blessings, he blesses with all things. They are spiritual blessings in heavenly places; that is, they come from heaven, and they are designed to prepare us for heaven, and to ensure we are received into heaven. We should learn to think of spiritual and heavenly things as the most important things, and of spiritual and heavenly blessings as the best blessings. Doesn't it say, "Set not your affections on things on the earth, but on those things which are above?" God blesses us in Christ; when all our services and prayers ascend to God through Christ. And, all our blessings are passed on to us in the same way, since He is the Mediator between God and us.

Still, someone may ask, "Where is it we are blessed?" We are blessed in heavenly places with heavenly things, which are different from earthly things. Since the saints, who are you and I, are in Him, nothing is too good or too great for God to bestow upon us. Paul wrote the God and Father of our Lord Jesus Christ; for, as Mediator, the Father was his God, and, as God, and the second person in the blessed Trinity, God was his Father. It speaks of the mystical union between Christ and believers, that the God and Father of our Lord Jesus Christ is our God also, and our Father, and that in and through Jesus we are blessed. All blessings come from God as the Father of our Lord Jesus Christ. There is no way sinful creatures could expect to receive good from a righteous and holy God, except by Christ's mediation. Now, let's go back to the six components of the blessing that Aaron gave.

The second component is: THE LORD KEEP YOU.
"Keep" conveys the idea of protection. It was used for a shepherd's keeping watch over his flock. Its root meaning is "to hedge about." The "Theological Wordbook of the Old Testament" defines this term, this way; "to exercise great care over." Hasn't He kept us all these years up to this present time? Can we doubt that He will stop now that we are almost ready to go to our heavenly home?

The third component of the blessing is THE LORD MAKE HIS FACE SHINE UPON YOU. Here the idea is sunshine. We're to soak up the light, joy, radiance, and enthusiasm of Almighty God. We need to be close to Him, and in His Word, and worshiping and loving Him. As we absorb His light, we begin glowing in the darkness like the signs posted along the highways glow in our headlights.

The fourth component is: THE LORD BE GRACIOUS TO YOU.
Gracious
here means "kind and helpful." Foremost in this is the idea of forgiveness. God was gracious when He forgave our sins and saved us. "For by grace are ye saved through faith; and that not of yourselves: it is the gift of God: Not of works, lest any man should boast." (Eph. 2:8-9)
Amazing grace! how sweet the sound,
That saved a wretch like me!
The fifth component to the blessing is: THE LORD LIFT UP HIS COUNTENANCE UPON YOU.
In the Bible, relationships were often expressed in terms of facial expressions. When Cain became angry with Abel, his countenance fell. When Laban became frustrated with Jacob, his countenance was not favorable toward him. The Lord's lifting up His countenance implies His fellowship and smile. Matthew Henry said that the idea of lifting up His countenance is that of sensing God's smile.
When a person had an audience in an ancient Middle Eastern court, the monarch might not even look in his direction. Or he might look at the claimant with an expression of wrath. But how pleasant it was, when the monarch looked with pleasure, on the one who had come to his throne.
The sixth component of this blessing is: THE LORD GIVE YOU PEACE.
The Hebrew word for peace is shalom. The promise that "Thou wilt keep him in perfect peace" literally reads "peace, peace" (shalōm shalōm). This double emphasis indicates a peace that goes beyond human comprehension. It is a peace that really is a peace.
When you trust Jesus Christ to save you, your sins are forgiven, and you have peace with God. He will never call you into judgment for them. You may also enjoy "the peace of God" in your heart and mind as you pray and fix your mind on Him. "The peace of God" is not the absence of problems; it is the presence of divine sufficiency in the midst of problems. George Morrison said, "Peace is the possession of adequate resources"; and those resources come from the Lord when you yield your heart and mind to Him.
Aaron's blessing was a blessing in triplicate, a blessing from Christ, it was given with authority, it was a blessing according to our needs, a blessing of peace, and it was a—BLESSING EQUATED TO THE NAME OF GOD.
This Aaronic benediction was equated to the Name of God in verse 27 where it said, "So they shall put My name on the children of Israel, and I will bless them." The blessings of Christ indicate He has put His name on us; we are called by His name; we are Christians.
Conclusion
This blessing was given to Israel during the 40 years of wandering through a wilderness. But it was given only when the camp was in order and they were prepared for the march. Then God gives His blessing of protection, presence, and peace through this benediction that was pronounced by the priests. By this blessing, God linked His name—that is, His character—with the people of Israel. What a privilege it was for the priests to bless the people, and what a privilege it is for us to share God's blessing with others. He blesses us so that we may be a blessing. The people were about to enter into war, yet God told them how to have peace. No matter how trying your circumstances may be, you can have God's peace as you live under the blessing of His smile.
Do you need His blessings? Are you ready to turn from sin and Satan, to give yourself wholeheartedly to Him? Here at the beginning of a new year, MAY THE LORD BLESS YOU AND KEEP YOU. MAY HE MAKE HIS FACE TO SHINE ON YOU AND BE GRACIOUS TO YOU. MAY HE LIFT UP HIS COUNTENANCE UPON YOU AND GIVE YOU PEACE.