The Man and His Message - Page 1 (series: Lessons on the Harmony of the Gospels)
by John Lowe
(Woodruff, S.C.)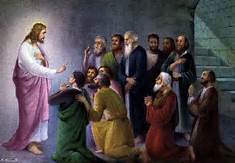 Harmony of the Gospels

-AD 25-27-
Judean Wilderness
The Man and His Message
(Isaiah 40:3) Matthew 3:2-12, Mark 1:2-8, Luke 3:3-14


All four Gospels quote Isaiah 40:3, and they assign it to John the Baptist, therefore I will accept their testimony. John the Baptist would fulfill this prophetic verse.
A voice of one calling: "In the desert prepare the way for the Lord; make straight in the wilderness a highway for our God." (Isaiah 40:3)


-Matthew-

And saying, "Repent, for the kingdom of heaven is near." (Matthew 3:2)

"Repent." The term "repent" is one that is important to non-believers and believers alike. It has two ingredients.

First, it involves a change of direction or a change of mind. For the believer, repentance may involve turning to God from an attitude of cold, indifference. That was the message that Jesus had for the churches of Asia Minor in Revelation 2 and 3. For the non-believer, the turning is to Jesus Christ. Anytime you turn to something, you turn away from something else, and when you turn to Jesus Christ, you turn away from sin. For the unbeliever, something must come before repentance, and that is faith in Jesus Christ. Faith will cause a person to turn to Christ and to repent of his sins.

Second, repentance should include genuine sorrow. Confessing sin is more than just speaking words; it may involve a broken heart. The mature Christian and those living close to God, recognize that their sin is degrading and offensive to a Holy God. Deep sorrow will flow from the heart when sin is confessed and God is asked for forgiveness.

The expression "kingdom of heaven" means the rule of the heavens over the earth. Jesus Christ is the king and we enter into His kingdom by faith. We are translated into His kingdom at the moment of our salvation. There is a very special relationship between this king and His subjects. It is a love relationship that is expressed very well in John 14:15, "If you love me, you will obey what I command."

John's message was that the kingdom of heaven was close. He knew that the Messiah was somewhere near. John wanted to meet Him and his assignment was to prepare the way for Him. You can prepare to meet Him by getting your life right with God.

This is he who was spoken of through the prophet Isaiah: "A voice of one calling in the desert, 'Prepare the way for the Lord, make straight paths for him.'" (Matthew 3:3)

Isaiah 40:3 is the prophecy that is referred to. All John ever wanted to be is a voice and all he ever wanted to do was "to prepare the way for the Lord."


John's clothes were made of camel's hair, and he had a leather belt around his waist. His food was locusts and wild honey. ( Matthew 3:4).

He was an odd-looking man, even for the time that he lived in. He was a man with a mission. He was an Old Testament prophet, that lived in the days of the New Testament.


People went out to him from Jerusalem and all Judea and the whole region of the Jordan.(Matthew 3:5).

The only way you could see John the Baptist was to go to him. It could only be the Spirit of God that drew people from all Israel to seek out this prophet because he did not have a church and he was preaching sermons in the
wilderness.
Confessing their sins, they were baptized by him in the Jordan River. (Matthew 3:6).
This man and his simple message changed lives. People turned from their sins and by submitting to be baptized, showed that they were changed. But when he saw many of the Pharisees and Sadducees coming to where he was baptizing, he said to them, "You brood of vipers! Who warned you to flee from the coming wrath? Produce fruit in keeping with repentance." (Matthew 3:7-8).
This was a strong rebuke for this group, so when I read this I ask, what was it about these men that caused John to react in this manner toward them? I believe that it was their hypocrisy and cold-heartedness. The Sadducees and Pharisees depended upon performance for their salvation and there was a lot of show to their worship. John says, "There must be some fruit in your life. You just can't go through the act of baptism." How do you think that those proud men reacted to being called "snakes?"
"And do not think you can say to yourselves, ''We have Abraham as our father'. I tell you that out of these stones God can raise up children for Abraham." (Matthew 3:9)
Here is another strong statement aimed at the Sadducees and the Pharisees. They were very proud of the fact that Abraham was the father of their nation. Abraham was a great man and John does not play down his greatness. But instead, he declares that God, who created all things, could easily turn the stones that surround them into people just like them. His words were not well received.
"The ax is already at the root of the trees, and every tree that does not produce good fruit will be cut down and thrown into the fire." (Matthew 3:10)
If a fruit tree does not bear fruit, then it is no good. It might as well be cut down and used for firewood. This is for the nation Israel. They were not obeying God and they did not love Him. They had failed God and if they would not repent and turn back to Him, they would be cut down and replaced.
I baptize you with water for repentance, but after me will come one who is more powerful than I, whose sandals I am not fit to carry. He will baptize you with the Holy Spirit and with fire." (Matthew 3:11)
John says that when he baptizes, he only uses water, but there is one that is coming that will baptize with the Holy Spirit and with fire. We are living in the age of the Holy Spirit, so John's statement has been true now for over 2000 years. We receive the Holy Spirit when we are saved. We are baptized by the Holy Spirit into the body of Christ, His church. When Jesus comes the second time, He will baptize with the fire of judgment.
"His winnowing fork is in his hand, and he will clear his threshing floor, gathering His wheat into the barn and burning up the chaff with unquenchable fire." (Matthew 3:12)
John is talking about the Second Coming. At that time the Lord will put down all rebellion and the "elect" will enter into His loving care and the chaff, which is all unbelievers, will face the fire of God's judgment. The only way to avoid God's judgment is still found in John's message, "Repent of your sins and turn to Christ."