THE MIRACLE ON THE TRAIN
by CHARLES ROBEY
(MOODY, AL USA)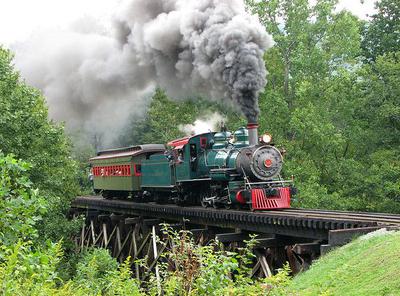 PROLOGUE

I seem to remember seeing somewhere an old, neglected stone grave marker displaying the remains of a one-word inscription which simply read "goodbye." What a sad note of departure, that one word of finality. I couldn't help but ponder what prompted such a sendoff.

Everyone from time to time is saying good bye in one way or another. Have you ever visited a lonely bus terminal at midnight, as the red taillights disappeared in the fog, leaving behind teary-eyed onlookers? Have you ever said a tearful goodbye to a well cherished loved one or friend?

We have all been there and done that at some time in our lives. Yes, this phrase goodbye will always carry with it a bit of final conclusiveness.

In the early centuries, saying goodbye was actually short for "God be with you." How far have we regressed from this acknowledgement of praise to our living Creator?

What does all this goodbye musing have to do with my recent dream? Practically speaking, one cannot say goodbye until hello has been spoken in word, deed or make-believe.

Oftentimes our dreams make for strange bedfellows. The beginning is a friendly Hello and the ending may be a mournful Goodbye. Some dreams seem to develop around a past life experience, or maybe dealing with the present. Others come about by way of our fractured semiconscious minds. Still others are brought our way via indigestion suffered from a too-rich bedtime snack.

So, please sit back and be graced with this little fiction entitled "The Miracle On The Train."

Just a few short minutes seemed to be a lifetime as I was carried back in time, sitting there all alone. It was an old, lonely train depot snugly fixed before a backdrop of rolling Appalachians and deep valley dells, pretty enough to be a picture.

"How did I get here in this old, run-down train depot? Why am I here? Where am I going?" I wondered. Thus I began my unusual dream.

Suddenly the train conductor called out. He was all decked out in his black three-piece uniform, his squared-off conductor hat bearing the railroad logo, with a ticket puncher in hand. "All aboard for all points north!" he called as he was about to close the train passenger compartment. I was the only one boarding, I thought, until someone spoke. It was a nice, grandmotherly lady sitting in the rear of the passenger compartment.

"Won't you come join me young man? It's going to be a long trip and I'm kind of lonesome back here," she said as she calmly directed me to a seat next to her.

Before I knew it, the elderly lady had pulled an old, worn photo album from her shoulder bag. As she continued talking, it looked somewhat familiar, but I really wasn't sure.

As she flipped the pages the miracle took place. It was as if I was watching an old-fashioned home movie. Not only did the pages come to life, but so did the corresponding sound. I was carried back in time to a simple but well-kept little duplex home there in the heart of those ageless Appalachians.

As usual, my favorite grandfather was quietly sitting on the porch swing with his trusty four-legged companion Sandy patiently awaiting his afternoon treat.

"Come on over and sit a spell my young lad," was Gramps's invitation while enjoying a plug of Mail Pouch chewing tobacco.

I responded, "I think I will for a moment, thanks."

Grandmother must have overheard our conversation from within the house as the porch screen door announced her arrival. She said "Your grandfather promised to fix that noise."

As always grandmother was dressed fit for a queen in her long floral dress, matching apron with her hair in a bun.

Keeping time with the rocking of the train car, the grandmotherly character continued turning the album pages and by sheer magic, my mind continued its home movie rewind back to those good, old days of childhood.

Why, if it wasn't my two favorite boyhood cousins all decked out as usual. Where did they get those matching plaid knickers with coordinated pull-over shirts? If I didn't know better, I'd think they were twins.

And then I saw my one and only young girl cousin, sitting ever so calmly in grandmother's back yard enjoying her decorative doll table, sipping grandmother's homemade lemonade as well, while feeding her favorite doll. The calm mountain air blew through her long flowing hair and It was all I could do to refrain from giving those locks a gentle pull.

"May I join you?" I exclaimed.

Without missing a beat, she quickly gave a nod of approval, while pouring her favorite doll baby a sip of tea.

"Come on in, kids, the cookies are just about done," came a gentle call from grandmother's kitchen.

"Oh boy!" I cried. The race was on, much to our pleasure.

Who will be the first this time? My oldest cousin, as usual, beat us into grandmother's neatly-arranged kitchen and grabbed hold of the big flower cookie jar from off of grandmother's sink counter.

Then without warning, as she suddenly closed her photo album, it all ended. The home movie was no longer, followed by the unexpected sorrowful announcement. It was the same announcement that always follows a good time together.

"It's time to say goodbye for now, my young man," she said with a smile. And with that my dream world ended. The mystery of it all had vanished, the train and the little old grandmother had vanished into thin air.

Wiping my eyes, I realized I was home snug in my bed, not the young lad of old, but a tired old man. What was next? Before I realized it, I was on my knees by my bedside giving thanks for my wonderful family.

Who was that little grandmotherly type? Whomever she was, her message certainly hit the spot on that particular day in my life, or should I say in that particular dream. I think I know. What about you? (Hebrews 13:2)

EPILOGUE

I trust you enjoyed this bit of Christian fiction about the one-word sendoff of Goodbye.

Every year, along about the fourth of July, the wife's family has a well-known widely recognized family reunion. Kinfolk come from far and wide for this most festive occasion. At the beginning and also the ending there are lots of hugs and well wishes. And oh yes, those dreadful sendoffs known as goodbyes.

I realize life is nothing if not unpredictable and our departure is as well. According to divine principles, leaving this old earth is not the end, only the beginning for those in tune with the Gospel. Our citizenship is not of this world, but the next to come. (Philippians 3:20)

Goodbye for now. "I'll be coming soon, Grandmother, Grandfather. I'm sure you both will have not changed a bit," I thought as I prayed. It was a night I will never forget.
Yes, until we meet again, loved ones, we all are so blessed. Amen!