THE MYTH OF "NOT ENOUGH FAITH"
by Jeff Hagan
(Tacoma, WA, USA)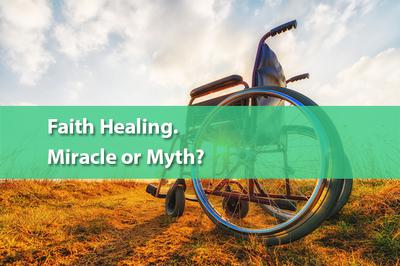 There are many major differences between the actions of today's so-called Faith Healers/Word of Faith teachers/Prosperity Gospel gurus/Health and Wealth Proponents and the ministry of Jesus Christ. One of the most popular false doctrines they espouse is summed up nicely in the title of a book written by one of their leaders, "Your Best Life Now." The Bible makes no claim, no promise, no mention whatsoever of a Christian's best life being lived out in the here and now. If this is as good as it gets then what's the point?


Another lie they spread has to do with faith. They claim that if you are not living your best life now, if you are not getting wealthy, if you do not experience miraculous physical healing, then it is because your faith is weak. Either your faith is not strong enough or those praying for you do not have "enough" faith.

Let's briefly look at just a couple of things for a moment. As for healing, the major difference we find between the healing of these types of leaders and pastors and the healing ministry of Jesus Christ is that the success rate for Jesus was 100 percent. No failures. The other group, they fail all of the time. Jesus Christ healed when and how HE chose, it was not dependent on the faith of anyone. In fact, in the Gospels alone we find many cases where He healed despite a lack of faith (Matt. 8:5-13; Mark 1:23-26; 9:17-29; Luke 17:11-19; John 5:1-16). But how convenient for these charlatans to put the blame for their failed prayers and their false doctrine on to the one suffering. Of course, it can't be their fault so it must be a lack of faith on the part of the one receiving prayer. Don't let them deceive you, this is just a way for them to explain away their inability to heal yet still receive all
of their donations and offerings.
As for their promotion of prosperity, nowhere in Scripture does it say Christ followers can be identified by how wealthy they are, how healthy they are, or how many "likes" their posts get on Facebook. To be clear, the Bible says quite the opposite. Scripture shows us that those who put their faith in Christ frequently end up in poverty, abused by the authorities, persecuted, and often put to death.
Attractive lies usually hold at least a kernel of truth. The primary lie found in the false doctrinal issues we discussed here is "that Christ's atoning death was meant to make people healthy and wealthy in this life."* It is true we are promised full healing in the atonement. All those who are saved by Jesus Christ will indeed be completely freed from sin, illness, and poverty, but that will not happen until the return of Jesus Christ. This ultimate and thorough healing will be eternal, not just a temporary.
Conclusion
:
Let me be clear, concise and to the point. If the Gospel message is given as anything other than salvation from sin and the promise of the gift of eternal life through Jesus Christ, then it is poisoned. The Gospel message isn't intertwined with temporary blessings, temporary healing, temporary riches, or temporary possessions. Salvation is for all types: the rich, the poor, the sick, the healthy, the outcast, slaves, prisoners, and the free. Even once people are saved many will continue living in humble circumstances. No amount of "naming and claiming" it, "blabbing and grabbing" it, or trying to speak something into existence can change that fact. However, the New Heaven and New Earth will be full of eternal blessings for those chosen by God. "That is the abundant life of eternal prosperity and ultimate healing we wait for (
John 10:10
)."**
*Hinn, Costi W. & Anthony G. Wood, "Defining Deception" (El Cajon: SCS Press, 2018), p.97.
*Ibid., p.114