THE NEW DAY
by Charles Robey
(Trussville. AL USA)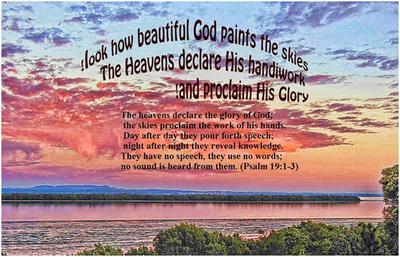 THE NEW DAY

The first day is here and upon us at last
Now may we just rest in our new peace
Now may we look ahead forgetting the past
Now may we come just to reminisce
Now may we come to our freedom we insist
No more of the red states or even the blue
No more rainbows just purple being true
No more campaign promises on my TV
No more boring speeches for me to see
No more talk radio show host to be rated
No more nightly newscast to be debated
No more yelling by those who disagree
No more hands out needing a charity fee
No more fakers with hands held open wide
No more bushes in which they may hide
No more left-wingers flying in the breeze
No more right-wingers begging you please
No more outsiders just to lend an evil ear
No more evil coming just to spread fear
No more gloom for we will now shout for joy
No more doubt for freedom we will employ
The first day is here and upon us at last
Let us all move ahead and forget the past

Legendary Alabama football coach Paul "Bear" Bryant carried an inspirational prayer around with him in his wallet. The Truth: It's true that an inspiration prayer was found in the wallet of legendary college football coach Paul "Bear" Bryant upon his death. The Paul W. Bryant Museum at the University of Alabama campus in Tuscaloosa has confirmed that Bryant carried a poem around in his wallet titled "A New Day" that reads:

"This is the beginning of a new day. God has given me this day to use as I will. I can waste it or use it for good. What I do today is very important because I am exchanging a day of my life for it. When tomorrow comes, this day will be gone forever, leaving something in its place I have traded for it. I want it to be gain, not loss — good, not evil. Success, not failure in order that I shall not forget the price I paid for it."

Yes indeed, the New Year is now here. I can just imagine simply lying in the fresh new green grass, rolling in the clover, and smelling the newly sprouting flowers. (Psalm 30:11-12) Yes, I will continue to have high hopes for America, "The land of the free and the home of the brave".

I feel, with the help of Almighty God, we will see great things happening in this coming year. Our God stands ready to take away all fear (2 Timothy 1:7) replacing it with joy and godly cheer. (Psalm 65:5-8) Can you shout a big "AMEN".


Join in and write your own page! It's easy to do. How? Simply click here to return to Charles Robey Sermons.
© 2008-2028 - All rights reserved.

No content on preachology.com may be printed or

copied to any other site without permission.