THE NEWS IS ON FIRE
by CHARLES ROBEY
(MOODY AL USA)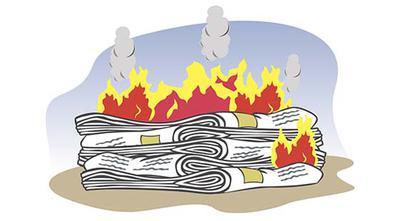 PROLOGUE

Do you ever feel like burning your local newspaper? Well, I've been there, done that so many times, almost. Before taking my concerns to the extreme, I simply chunked it or used it to wrap up my recent catch of fish.

Oh, I realize our great Land of the Free and Home of the Brave is not so much free nor brave anymore. Progressive collectivism has crept into most avenues of our free world, and our lives. This has resulted in our once-impartial news outlets turning tail and running scared.

Oftentimes nowadays picking up the morning fish wrapper seems to be too hot to handle. It burns with untruths, those false or stretched realities of today's progressive world.

In other words, the local newspaper seems to be on fire with persuasive intent, so today's blog is entitled "The News Is on Fire."

Psalm 2:1-5 "Why do the nations conspire, and the peoples plot in vain? The kings of the earth rise up and the ruler's band together against the LORD and against His anointed, saying, "Let us break their chains and throw off their shackles." The One enthroned in heaven laughs; the LORD scoffs at them. He rebukes them in His anger and terrifies them in His wrath, saying, "But as for Me, I have installed My King upon Zion, My holy mountain."

I don't know how to begin. How unlikely this would happen to me, of all people, a dedicated professor of Early Church History. I was down in my man cave relaxing in my favorite old worn-out recliner, newspaper in hand. My one thought was, I surely hope for some good news today, for a change.

Suddenly, I saw a vision! Or was it a dream, or maybe a foresight of today or of things to come?

It was a calm brisk morning as I walked outside to pick up the morning newspaper. Walking down the sidewalk is when I first noticed that something was different. The paper was lying there as normal, but it seemed to be on fire. I looked up and down the street, and all the neighboring papers were also on fire. 'What, in the name of heaven, is this all about?' I wondered.

Then I saw the neighborhood newsboy riding up as normal on his bicycle. Seeing my excitement, he pulled over to talk.

"What's this all about, why the burning papers?" I asked.

He didn't seem to be so excited, as if the fire was normal, and responded. "It's all that hot news of the day. Politics is on fire."

"But why today?" I questioned. "Why is today different from any other day?"

But looking around, I was not given an answer because the newsboy had ridden on down the road.

Oh well, maybe the television news will explain it all, I thought, as I quickly walked back into the house. No joy there either. The television showed evidence of a recent fire. Oh well, you can't win them all, I silently noted.

That's when the mystery continued with a sudden knock on the door. There was a man standing on my doorstep, as if he had jumped straight out of a nineteenth century suspense movie thriller. 'What is the purpose of this strange character's sudden arrival? I again pondered.

He was all decked out as if on an old movie set, wearing the familiar black suit, white shirt and black bow tie with the customary dress hat, and smoking a big cigar. However, not befitting his costume, in his hand was what seemed to be the business end of an old-fashioned fire hose.

My mind continued pondering this vision. It was as if I was watching an exciting movie and wondering what would happen by the end of the film.

Quickly flipping his cigar ashes on the floor, he began to speak, "What did you think of today's political news? Wasn't it hot? Do you agree with it all?"

Since I hadn't had a chance to read the news and catch up, I hardly knew what to say. So, I took a chance and winged it.

"I really didn't agree with his unprompted press conference. He seemed to be in his usual form, stammering and stumbling to read the prompter," I answered, breaking into a cold sweat.

With that, my strange guest grinned as if he agreed with me. But it didn't end there. He waved his arm and, as if by some divine miracle, the old fire hose turned into a Bible. Opening it, he began to be reading (Daniel 2:19-23). As he concluded the passage, he began speaking like a dedicated Ole Time Religion preacher.

"You see, my good man, our living Creator God is accountable only to Himself. He reports to nobody. He is not required at any time to give to any person any explanation for anything He says or does for the good of the Gospel.

"He appoints those in authority and dismisses others, to affect His perfect holy will on all countries and all peoples, for the good of His perfect eternal purpose.

"I realize you have perhaps read your newspaper, tuned in the television news, listened to talk radio, surfed the Internet, talked to your next-door neighbor, or even listened in the modern church service lately. The news and social media may attempt to propagate an ungodly worldview, but in the end, our gracious heavenly Father will impose His purpose on all.

"So, don't get discouraged about what you currently hear, see, or read, for I have read the back of the book (Revelation) and God's people, including you and I, win out in the end."

With that, he closed his Bible, and before I had a chance to respond to his eye-opening message, he was gone. He had disappeared plum out of sight. The dream had ended, just as it started.

The scenery had changed back to normal. I was sitting there in my old recliner, newspaper in hand. No, I didn't finish reading the paper, I was too busy reading my Bible, in prayerful thought. Amen!

EPILOGUE

It is my sincere trust that you have increased your knowledge of yesterday, today and tomorrow by reading these faith-based, patriotic blogs. Knowledge, however, is not complete without corresponding action.

"Thus, also faith by itself, if it does not have works, isdead." (James 2:17)

"So, how may one fix America?" you may ask. My answer is, "By fixing ourselves first."

Now, whatever do we do, as a people of faith? First and foremost, we must take a personal inventory which must begin with us Christian believers. We must remove the beams from our own eyes before we point out the speck in America's eyes. (Matthew 7:3-5)

We as His people must follow the plan of our living Creator, for He gives us a plan of action with a promise.

"If My people, who are called by My name, will humble themselves and pray and seek My face and turn from their wicked ways, then I will hear from heaven, and I will forgive their sin and will heal their land." (II Chronicles 7:14)

I leave you with this brief excerpt taken from Eddie Arnold's popular lyrics:

TURN THE WORLD AROUND
Turn the world around the other way
Back it up and stop on yesterday
Back to before that silly fight
And give me a chance to make things right
We'll turn the world around the other way
Back to where it started yesterday
Just take my hand together we can turn
The world around the other way

"Father, teach me to genuinely love and practically support others whose lives do not look exactly like mine. In Jesus' Name, Amen."