The Peace of Christmas Part 2 of 2
by John Lowe
(Woodruff, S.C.)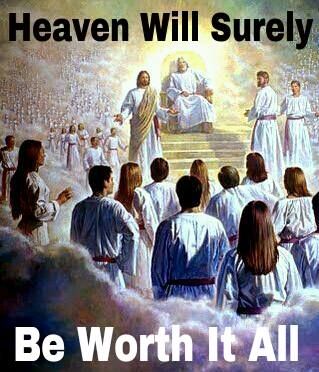 The peace of Christ gives you the confidence to say, "And we know that in all things God works for the good of those who love Him, who have been called according to His purpose ...For I am convinced that neither death nor life, neither angels nor demons, neither the present nor the future, nor any powers, neither height nor depth, nor anything else in all creation, will be able to separate us from the love of God that is in Christ Jesus our Lord " (Rom.8:28,38 –39). Here, in this passage, Paul searches the entire universe to see if there is anything that can possibly separate us from the eternal presence of God. He goes first to the realm of death and finds nothing there. Then he turns to the realm of life and again finds nothing. He looks to the angels and they have no power to separate us. He turns to principalities which, in this case, may refer to the demonic forces representing Satan. There is nothing there. He proceeds to examine things present and finds nothing. He explores the future, and in the things to come there is nothing which can separate us. Nothing can happen now nor in the future which can remove the love of God from us or us from His eternal security. Paul does not stop here for next he searches the entire universe and nothing in the expanses of space, height, nor depth can be found to bar the presence of God from us. But just in case he has missed something, Paul then says that there is no other creature or creation of God that is able to separate us from the love of God in Christ Jesus. Nowhere can the apostle find anything in the whole universe of God which can sever the relationship that the children of God have with their Father's love. This great assurance is enough to bring peace to the heart of those in Christ Jesus our Lord. "Blessed assurance, Jesus is mine! Oh, what a foretaste of glory divine! Heir of salvation, purchase of God, born, of His Spirit, washed in His blood." There is therefore now no condemnation to them which are in Christ Jesus (8:1). Paul is persuaded that nothing shall be able to separate us from the love of God, which is in Christ Jesus our Lord. All these wonderful promises belong to us because we belong to Him.


The Peace Christ Gives Is Above our Circumstances, and also, THE PEACE CHRIST GIVES IS BEYOND UNDERSTANDING.

How can a Christian lose his job and not worry? How can a believer look cancer in the face and not flinch? How can a Christian keep going after the loss of a loved one, or a child, or some other tragedy? How can a believer give his life up to the flames instead of denying Christ? It is because of the peace Jesus gives when you place your faith in Him. A peace that "transcends all understanding" (Phil.4:7). In other words, it surpasses all power of human reason or comprehension (Eph 3:20).

The peace of God in the Christian will keep peace in the church, peace in the family and peace between individuals. The prophet Isaiah wrote, "Thou wilt keep him in perfect peace, whose mind is stayed on thee: because he trusteth in thee" (Isa 26:3). The Christian can put everything into God's hand and let the peace of God rule in his heart (Col 3:15).

THE SCRIPTURE SPEAKS OF SEVERAL KINDS OF PEACE WHICH WE CAN UNDERSTAND.

There is world peace. We have the assurance that someday peace will cover the earth as the waters cover the sea. It will come through the person of Christ, the Prince of Peace.

Also, there is the peace that comes when sins are forgiven. "Therefore being justified by faith, we have peace with God through our Lord Jesus Christ," according to Romans 5:1.

The Bible also speaks of the "peace of God." This is more than peace with God (Rom 5:1); it is a peace which God has and which Christ gives (Jn 14:27).

The peace of God comes to a child of God who trusts
and prays. All Christians have peace with God, and all Christians may have the peace of God, that is, that inward tranquility of soul grounded in God's presence, and in His promises, and in His power. However, one may have peace with God without having the peace of God. Peace with God is dependent upon faith, and the peace of God is dependent upon prayer. Peace with God describes the relationship between God and the Christian, and the peace of God describes the condition of tranquility within the Christian. The Lord Jesus said, "Peace I leave with you, My peace I give unto you…" (John 14:27).
That is a marvelous peace, but it is not "the peace…which passeth all understanding." I don't know how to tell you this, but I do know that it is a peace that we do not have at all times. I think it is a peace that sweeps over our souls at certain times.
I was seventeen when I stood on top of Longs Peak in Colorado, where I could see into four states. At sunset the Rocky Mountains were magnificent, and as I looked at the majesty of God's creation, what a peace came over me. I can't tell you what it did— "it passeth all understanding."
And that same peace came when my heavenly father let me have a heart attack. I went to the hospital scared to death, and then that night I committed it all to Him and told Him that all I wanted was for His will to be done. If I died, I knew I would be with Him, and if I lived then it was only because He had more for me to do. He made Himself real to me and gave me that peace that "passeth all understanding." I don't know how to tell you what it is; I can only say that it is wonderful. The peace which Christ gives is greater than our circumstances, beyond our understanding, and—
THIRD, THE PEACE CHRIST GIVES IS ALWAYS AVAILABLE.
Before Jesus left His disciples He promised after He was gone the Holy Spirit would come and be with them, comforting, teaching, and encouraging them. In Acts 2, the Holy Spirit did come. Now His comforting, teaching, and encouraging is available to all who believe in Jesus.
There is never a moment in which we are away from Christ's peace. There is never a second when we need to worry, or need to be afraid. The peace that comes from Christ is available 24 hours a day, 7 days a week.
A visual reminder for the source of true peace is on regular display along New York City's Fifth Avenue. At the entrance of the RCA building is a large statue of Atlas struggling to keep the world on his shoulders. On the other side of Fifth Avenue is Saint Patrick's Cathedral. Behind the high altar of this church is a small statue of Jesus effortlessly holding the whole world in one hand. Peace is hard to come by when we strive to balance the world on our own back, but when we heed God's invitation to give him our concerns (1 Peter 5:7), the weight of our world becomes an effortless lift for the Prince of Peace.
Conclusion:
During the Korean War, Billy Graham had the opportunity of ministering to American soldiers. While there, he learned of an incident that stirred his heart. On Christmas Eve, a young Marine lay dying on Heartbreak Ridge. One of the chaplains climbed up to the young man and whispered, "May I help you, son?" The Marine replied, "No, it's all right." The chaplain was amazed at the soldier's tranquility. When he glanced down at the man's side he understood the source. He was clutching a small New Testament in his bloody hand and his finger was placed on the calm assurance of John 14:27, "My peace I give to you . . ."
Are you in need of this type of peace? Is your life characterized by anything but peace? Today Jesus is waiting to give you His peace. He came into the world to be your peace. He is the Prince of Peace.