The Perfect Christmas Gift
by Charles Robey
(Trussville AL)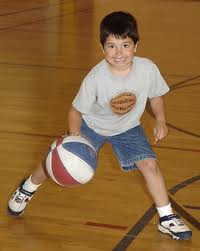 What's your game in life?
"Every good thing bestowed and every perfect gift is from above.....' (James 1:17)

Each year, when Christmas rolls around, my mind starts to wonder back in time. And, like it was only yesterday, I can remember getting that famous present in the mail. When I saw the return address, I just knew by the size of the box what this most important of all presents was. Maybe I should back up and start from the beginning.

Growing up in the fifties was not as inventive, as it is now. We didn't have all those modern day electronic devices. So, we relied on such inventions as sand lot baseball, the rundown basketball courts with frayed nets, and playing marbles on the hard clay. It was about that time in my life that my allusive career in basketball commenced. Not to brag, but early on in my Junior High career, my coach made the then famous statement in front of the group that I was a "natural" at basketball.

It was also about that same time that I became obsessed with my Uncle Bill. You see, Uncle Bill had been a big basketball all-star all his life, from college into the pros. At one point, while on vacation with my parents, I even got to scrimmage with Uncle Bill. Although it was no contest, Bill felt sorry for me and let me win.

Now, back to the Christmas present; Mom agreed to let me open the gift even though Christmas was a month away. I just couldn't wait! What seemed like an eternity was only a few minutes. As I tore open the wrapping, low and behold it was just as I thought, a basketball. But not just any ordinary ball, for the attached note claimed it was the basketball with which Uncle Bill had won the state championship.

Now, I couldn't wait to pump up the basketball and start playing. I just knew this ball had to have some mysterious powers that would transform my playing from Junior High School to the Pros. Just wait till I show all my friends, on our Pirates team I thought.

Suddenly, all my excitement turned to grief that day. When I inserted the air needle into the basketball, the needle pushed the bladder into the ball and my dream was ruined forever. You see, those old time basketballs were leather, with a rubber bladder insert. If the bladder happened to be detached inside the leather basketball, as my present did, the basketball would be beyond repair.

I can't remember how long I cried that day but it seemed as if my life was devastated forever. My allusive basketball career had just come to an abrupt end. Nevertheless, Mom and Dad must have felt sorry for me that Christmas, as I received more gifts than ever before including the "Roy Rogers" two gun set with the official hat and spurs.

My young years passed quickly and I wore out many more basketballs. Yet, as life changed, I came to realizes so do one's priorities. As does the scriptures declare: "When I was a child, I used to speak as a child, think as a child, reason as a child; when I became a man, I did away with childish things". (1 Corinthians 13:11)

In our lives, there comes a time in which we must make that all important eternal decision. What could be a more perfect time than Christmas? A decision to have a personal relationship with God, through Jesus Christ on His birthday would be the most important gift ever.

"And she will bear a Son; and you shall call his name Jesus, for it is He who will save His people from their sins". (Matthew 1:21)

Uncle Bill had made that eternal decision long ago. I guess that's why I respected him and followed in his footsteps. One day I'll meet Uncle Bill, again in Glory, and I can't wait to beat him again in basketball within our spiritual bodies.

"So also is the resurrection of the dead. It is sown a perishable body, it is raised an imperishable body; it is sown in dishonor, it is raised in Glory; it is sown in weakness, it is raised in power; it is sown a natural body, it is raised a spiritual body. If there is a natural body, there is also a spiritual body". (I Corinthians 15:42-44)

How about your eternal decision? Simply put, it's just a matter of faith in God's free grace for our lives.

"For by grace you have been saved through faith; and that not of yourselves, it is the gift of God; not as a result of works, that no one should boast." (Ephesians 2:8-9).

Receiving God's perfect Christmas gift is simply accepting God's grace through your faith and getting God's promise of eternal life.

"For God so loved the world, that He gave His only begotten Son, that whoever believes in Him should not perish, but have eternal life." (John 3:16)

Merry Christmas to all.