The Problem of Lawsuits Page 10 of 12 (series: Lessons on 1 Cor.)
by John Lowe
(Woodruff, S.C.)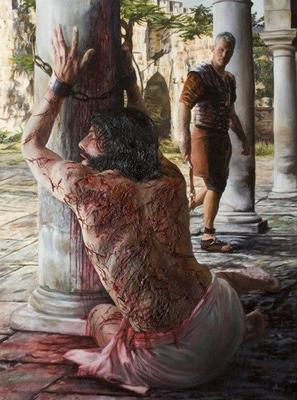 Nor covetous,

The prohibition against covetousness is another one of the Ten Commandments: "Thou shalt not covet." Covetousness is sin, and a covetousness person—one who is always longing for what another has, simply to satisfy the flesh and the mind—cannot enter heaven. This sin is often seen in persons with a ravenous sexual lust or those who are greedy for worldly gain, and determined to increase their resources by circumvention, fraud, and deceit. The love of money is a ruling passion in their lives, not only with the unregenerate, but also with many, who despite their prosperity give little or nothing to the church. "Yet not altogether with the fornicators of this world, or with the covetous, or extortioners, or with idolaters; for then must ye needs go out of the world…But now I have written unto you not to keep company, if any man that is called a brother be a fornicator, or covetous, or an idolater, or a railer, or a drunkard, or an extortioner; with such an one no not to eat" (1 Cor 5:10-11; KJV). It is remarkable that the apostle always ranks the covetous with the worst classes of men.

Many examples of covetousness appear in the Bible: Gehazi's greed (2 Kin. 5:20–27), Judas' betrayal of Jesus (Matt. 26:14–15), the rich fool (Luke 12:13–21), the rich young ruler (Luke 18:18–25), and the deceit of Ananias and Sapphira (Acts 5:1–11). The apostle Paul labeled this sin as idolatry—"Mortify therefore your members which are upon the earth; fornication, uncleanness, inordinate affection, evil concupiscence, and covetousness, which is idolatry" (Col 3:5; KJV); and he warned believers not to associate with a covetous brother (See 1 Cor. 5:10–11 in the preceding paragraph).

The best way to avoid a self-centered, covetous attitude is to trust the Lord and to face one's responsibilities (Gal. 6:7–9; 2 Thess. 3:6–15). To those tempted by "covetousness" and "worthless things" (Ps. 119:36), Jesus declares, "Take heed and beware of covetousness, for one's life does not consist in the abundance of the things he possesses" (Luke 12:15).

Nor drunkards,
It is crystal clear that "drunkards" cannot go to heaven. This does not only include the man found drunk in the gutter, but anyone who indulges in strong drink. The Bible is very specific about this:
• Look not thou upon the wine when it is red, when it giveth his colour in the cup, when it moveth itself aright. (Prov 23:31; KJV). Do not let the color, the odor, the sparkling, etc., of the wine (This of course means fermented wine.), when poured out; tempt you to drink it. However good and pure it may be, it will prove to be a snare to you, because you are addicted to it, and do not have the self-control to resist it.
• Woe unto him that giveth his neighbour drink, that puttest thy bottle to him, and makest him drunken also, that thou mayest look on their nakedness! (Hab 2:15; KJV). This has been considered as applying to Pharaoh-hophra, king of Egypt, who enticed his neighbors Jehoiachin and Zedekiah to rebel against Nebuchadnezzar, whereby the nakedness and imbecility of the poor Jews was soon discovered; for the Chaldeans soon took Jerusalem, and carried its kings, princes, and people, into captivity.

It is definitely a sin to drink intoxicating beverages, and drunkards cannot enter heaven. Who is the drunkard? He sits down on purpose to intoxicate himself, does it frequently, and when he is drunk alcohol corrupts his thoughts and he loses self-control, and physical control. Today there is no longer such a character, since the drunkard has been elevated in the popular mind to the status of "an alcoholic"! As such he is not to be blamed for merely suffering from "a disease," rather he is to be treated, tolerated, and even appreciated by the community. This is merely a part of the blindness of worldly wisdom. No man can become an alcoholic except by his own repeated violations of the Christian law of sobriety. While it may be true, of course, but only in a sense, that drink No. 5,689 is a disease, drink No. 1 is a moral problem. The liquors on sale today are not fit for human consumption; and the use of any of them, even socially, is reprehensible. This writer does not expect social drinkers to approve of this viewpoint; but there is actually no intelligent denial of it. If one is really concerned with living the Christian life, the best thing for him to do is to refuse all alcoholic beverages. The whole Moslem world has known for centuries the true nature of the curse of alcohol, making abstinence from it a cardinal rule of their faith.

Nor revilers,
The word translated "revilers" is the same word translated railer in 1 Corinthians 5.11: "But now I have written unto you not to keep company, if any man that is called a brother be a fornicator, or covetous, or an idolater, or a railer, or a drunkard, or an extortioner; with such an one no not to eat" (1 Cor 5:11; KJV). Webster's
dictionary describes "revilers" as "one who decries another with abusive or contemptuous language." This is certainly contrary to the admonition in Colossians 4.6: "Let your speech be alway with grace, seasoned with salt, that ye may know how ye ought to answer every man" (Col 4:6; KJV).
The reviler will attack the character of other men and take away their good names; either openly or secretly, either by gossiping, and backbiting, or by raising and spreading scandalous rumors in public.
Nor extortioners,
"Extortioners" (or oppressors) advance their circumstances or resources at the expense of others, through extortion. This is a time when there are many extortioners and I am ashamed to say that many of them belong to the churches of our day.
shall inherit the kingdom of God.
After naming these ten groups (vs. 10 and 11) Paul makes a bold, clear-cut statement. Those who are guilty of the sins named here "shall not inherit the kingdom of God." It is not that these sins, any or all of them, are unpardonable; since those who have been guilty of committing them may, through the blood of Christ, have their sins transferred to Him, and through the grace of the Spirit of God obtain forgiveness for them, and have the right to enter the kingdom of heaven.
I found this little article concerning courts and lawyers very amusing. The following questions were actually rendered by attorneys in a court of law. Now doctor, isn't it true that when a person dies in his sleep, he doesn't know about it until the next morning? —The youngest son, the twenty-year-old, how old is he?—Were you alone or by yourself?—Was it you or your younger brother who was killed in the war?—How far apart were the vehicles at the time of the collision? —You were there until the time you left, is that true?—You say these stairs went down to the basement. Did these stairs go up also?—Doctor, how many autopsies have you performed on dead people? (Houston Chronicle, Nov. 8, 1998, p. 12F)
11 And such were some of you: but ye are washed, but ye are sanctified, but ye are justified in the name of the Lord Jesus, and by the Spirit of our God.
And such were some of you:
According to this, some of the believers at Corinth had been guilty of these sins—drunkards, thieves, fornicators—but that was in the past. The practices named in verses 9 and 10 identify sinners; but the new birth changes all this, because when one becomes a Christian the old sinful heart is replaced with a new heart—"A new heart also will I give you, and a new spirit will I put within you: and I will take away the stony heart out of your flesh, and I will give you an heart of flesh" (Ezek 36:26; KJV). Once this takes place "all things are become new"—"Therefore if any man be in Christ, he is a new creature: old things are passed away; behold, all things are become new" (2 Cor 5:17; KJV). Jesus said, "For from within, out of the heart of men, proceed evil thoughts, adulteries, fornications, murders, Thefts, covetousness, wickedness, deceit, lasciviousness, an evil eye, blasphemy, pride, foolishness: All these evil things come from within, and defile the man" (Mark 7:21-23; KJV). All evil, regardless of what it might be gets its start in an unregenerate heart; and there were many in Corinth who had such hearts. Therefore, it was not with the expectation of collecting saints that the apostles went about preaching the Gospel of the kingdom. Only sinners could be found there and over the face of the earth; they preached that sinners might be converted unto God, made saints, and forged into a Church; and this was the result as well as the object of their preaching.
Paul wanted to call their attention to the conditions from which they had been rescued by Christ, and that they were now under an obligation to lead better lives; and that is the reason he said "And such were some of you"—drunkards, covetous persons, thieves, revilers, and extortioners—and this shows the awesome grace of God; that He could salvage sinners as shameful and degrading as you were. It would be a good idea for all Christians to look back on what they once were. It will produce humility, gratitude, a deep sense of the sovereign mercy of God, and an earnest desire that others may be saved from their sins like you were—"And you hath he quickened, who were dead in trespasses and sins; Wherein in time past ye walked according to the course of this world, according to the prince of the power of the air, the spirit that now worketh in the children of disobedience" (Eph 2:1-2;KJV). At the same time, the point is readily understood by the Corinthian Christians and by us: And such were some of you. Paul clearly puts it in the past tense. These things are never to mark the life of a Christian, and if they do, they must be immediately repented of and forsaken.