The Problem of Lawsuits Page 6 of 12 (series: Lessons on 1 Cor.)
by John Lowe
(Woodruff, S.C.)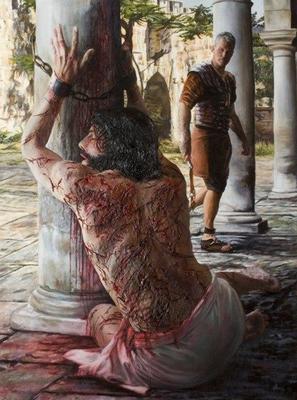 6 But brother goeth to law with brother, and that before the unbelievers.


But brother goeth to law with brother,
The relationship meant here is a spiritual one, rather than a blood relationship. It was unusual for members of churches to be called brethren, even though they professed to be born again of the same Father, and that they belong to the same family under Christ: and it was a very wicked and shameful thing for persons in such a relationship, and belonging to such a family, to take another believer to court for the purpose of resolving a dispute existing between them.

It was a sad thing that there were divisions in the church, and that believers were suing other believers over minor issues that could have been settled "in house." That was bad enough, but it was even worse for believers to bring their grievances before Gentile courts, and then to discuss those grievances before the world. It certainly brought disgrace upon the testimony of Christians, and it was a disgrace to the church of the living God that such a thing should be going on between believers in the assembly at Corinth. This is almost as great a scandal as can exist in a Christian society. Those in a religious community who will not submit to a proper arbitration, made by persons within the assembly, should be expelled from the Church of God.

It is wrong for Christians to seek justice from someone who is NOT a believer—
1. because they should accept the wrong and suffer themselves, even if they are injured—"Now therefore there is utterly a fault among you, because ye go to law one with another. Why do ye not rather take wrong? why do ye not rather suffer yourselves to be defrauded?
2. because they might have chosen some persons to settle the matter by arbitration, without a formal trial; and,
3. because the civil constitution would have allowed them to have settled all their differences without a lawsuit. Josephus says that the Romans (who were now masters of Corinth) permitted the Jews in foreign countries to decide private affairs among themselves, where nothing capital was in question. And Dr. Lardner observes that the Christians might have availed themselves of this permission to have settled their disputes in the same manner.

By his actions, Paul showed he was not against all legal action. In Acts 22:25—"And as they bound him with thongs, Paul said unto the centurion that stood by, Is it lawful for you to scourge a man that is a Roman, and uncondemned?" and Acts 25.10-11—"Then said Paul, I stand at Caesar's judgment seat, where I ought to be judged: to the Jews have I done no wrong, as thou very well knowest…For if I be an offender, or have committed any thing worthy of death, I refuse not to die: but if there be none of these things whereof these accuse me, no man may deliver me unto them. I appeal unto Caesar", he appealed to Roman courts for his rights. However, Paul knew it was wrong when brother goes to court against brother. It is important for Christians to settle disputes among themselves according to God's principles. This can be done either through the church, or through Christian arbitration. But today, even as in Paul's day, there is no reason for Christians to sue one another. Does this mean that it is permissible for Christians to sue non-believers who wrong them? This is an important question in our age where people are so ready to sue. Paul certainly does not bring up this specific issue, and he does not say the matter between Christians should be unresolved – only that it should be settled in the proper arena. Paul is also not saying that Christians should have their own court system to handle criminal law.
In Romans 13:3-4, Paul says that it is appropriate for the state to handle criminal cases. Christians should, however, be able to handle civil cases among themselves.
and that before the unbelievers.
It was an aggravation of their sin and foolishness for taking their brothers in Christ to court with judges who are unbelievers. The apostle called them "unjust" (v. 1), and now he refers to them as "infidels", men who had no faith in Christ, did not believe Jesus was the Messiah, and denied the whole Gospel; therefore, no faith or confidence should be placed in them. Generally speaking, those without faith, are not only wicked, but unreasonable; men lacking reason and conscience, and who do not project justice and fairness in their decisions; and therefore, they are very improper persons for believers to bring their causes before. The apostle is incensed over their conduct in this matter for at least two reasons:
1. That they took their brethren to court, at all.
2. That they went to court before heathen judges.
Ellicott's paraphrase of this verse is: "Your dragging these disputes before the tribunals of the heathen would imply that it is not possible to find a Christian friend to settle these trivial disputes."
In verses 7–11, the apostle probes some of the underlying causes for this situation existing in Corinth.
7 Now therefore there is utterly a fault among you, because ye go to law one with another. Why do ye not rather take wrong? why do ye not rather suffer yourselves to be defrauded?
Now therefore there is utterly a fault among you,
The Greek word used in this place for "fault" is hettema, meaning "a defect or a loss." Here it signifies spiritual loss, which would amount to a loss of: peaceableness; brotherly love; mutual confidence; and reverence for God, and concern for the honor of his cause. You could also say there was a "defect" in their character, or there would be no reason for them to go to the law at all. The proper men could have been called upon out of the assembly to be arbitrators and judge between them. There may have been a fault or defect in church leadership, since there is no indication that their leaders ever pointed out to them that such a method should be tried before they went to the lengths they did.
In these verses Paul makes a contrast between their loss and the fullness they should have been demonstrating. Instead of going forward, they were slipping backward. Instead of gaining, they were losing. Because of their disputes and their habits of going to court before unbelievers, they had suffered a tremendous loss of respect from those outside the church, and they had suffered the loss of spiritual power in the church. The evil that was present within the assembly, not only marred the spiritual life of those involved in lawsuits against each other, but the word "utterly' indicates that it had also marred the spiritual life and testimony of the entire assembly.
Note: a fault or defect indicates "a shortcoming" (it may not be a sin). You going to court at all is a falling short of your high calling as a Child of God, not to mention your doing so before unbelievers, which aggravates it. It is always a fault of one side (the plaintiff) to go to court, except in a case where the issue is indeed ambiguous, and there is a friendly agreement of both parties to refer it to the judgment of those learned in the law to decide it. And this is referring it, rather than contending about it, which is the thing the apostle seems chiefly to condemn.
In the last part of the verse, the apostle says it would be better to accept the wrong and be defrauded, than take a brother to court.