The Problem With Immoral Church Members; Page 9 of 11 (series: Lessons on 1 Cor.)
by John Lowe
(Woodruff, S.C.)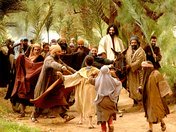 "You must needs go out of the world if you do not want any conversation with such men. Your Gentile neighbours are generally vicious and profane; and it is impossible, as long as you are in the world, and have any worldly business to conduct, that you can avoid their company for very long. They cannot be completely avoided. Note, Christians may show more respect for the worldly with loose morals, than for Christians with loose morals. This seems a paradox. Why should we shun the company of a profane or loose Christian, rather than that of a profane or loose heathen? Of course Paul does not intend to say that they are not to have any association with vile and sinful men. In order to do this, one would have to go out of the world. As long as the believer is "in" the world, it will be necessary to rub shoulders with sinners. A parallel idea is contained in the words of our Lord in John 17:15–18: "I pray not that thou shouldest take them out of the world, but that thou shouldest keep them from the evil. They are not of the world, even as I am not of the world. Sanctify them through thy truth: thy word is truth. As thou hast sent me into the world, even so have I also sent them into the world."


Since the entire heathen world was addicted to the vices named above, applying this rule would require that the church have nothing to do with the unconverted. It would be necessary to leave the world. The world is full of such persons. You meet them everywhere. You cannot avoid them in the ordinary transactions of life, unless you either destroy yourselves, or withdraw entirely from society. This passage shows,
1. That that society was full of the immoral and the covetous, of idolaters and extortioners. "Paul, a servant of Jesus Christ, called to be an apostle, separated unto the gospel of God" (Romans 1:1; KJV). The attempt to get "out of the world," in violation of God's will that believers should remain in it but keep themselves from its evil, led to monasticism and its consequent evils.
2. That it is not right either to take our own lives to avoid them, or to withdraw from society and become monks; and, therefore, that the whole monastic system is contrary to Christianity.
3. That it is needful we should have some interaction with the men of the world; and to have dealings with them as neighbours, and as members of the community. To what extent we are to have intercourse with them is not settled here. The general principles may be,
4. That it is only so far as is necessary for the purposes of good society, or to show kindness to them as neighbours and as members of the community.
5. We are to deal justly with them in all our transactions.
6. We may be connected with them in regard to the things which we have in common—such as public improvements, the business of education, etc.
7. We are to endeavour to do them good, and for that purpose we are not to shun their society. But,
8. We are not to make them our companions; or to associate with them in their wickedness, or as idolaters, or covetous, or immoral; we are not to be known as partakers with them in these things. And for the same reason we are not to associate with the gay in their effeminateness; with the proud in their pride; with the fashionable in their regard to fashion; with the friends of the theatre, the ball-room, or the party goers, in their attachment to these amusements. In all these things we are to be separate; and are to be connected with them only in those things which we may have in common with them, and which are not inconsistent with the holy rules of the Christian religion.
9. We are not to associate with them to the point of being corrupted by their example; or so as to be led by that example to neglect prayer and church, and the deeds of charity, and the effort to do good to the souls of men. We are to make it a great point that our piety is not to suffer by that association; and we are never to do anything, or conform to any custom, or to have any such interaction with them that would lessen our growth in grace; divert our attention from the humble duties of religion; or mar our Christian enjoyment.

11 But now I have written unto you not to keep company, if any man that is called a brother be a fornicator, or covetous, or an idolater, or a railer, or a drunkard, or an extortioner; with such an one no not to eat.

But now have I written unto you
We have the same statement in verse 9. Paul may be referring to a letter he had written at another time, and in another epistle, or it
is possible he is referring to statements made in earlier chapters of this letter. It is not that what he was writing now was different from what he wrote before, only now he names the persons he is talking about, and explains more fully the thing about which he had written to them before.
The apostle adds to what he has been communicating to the Corinthian believers: if any one who is called a brother, that is, anyone who professes the Christian religion, is a bad person; a fornicator, covetous, idolater, railer, drunkard, or extortioner, do not even eat with them—have no association with such a person, in either sacred things or civil things. You may transact business and have personal dealings with a person that does not know God, and makes no profession of Christianity, whatever his moral character may be; but you must NOT even acknowledge a man who professes Christianity, while his conduct is scandalous. Let him know you are aware of his immorality and that you detest all sin; and let the world see that the Church of God does not tolerate evil. Church members must not have social interaction with any member who is guilty of the grievous sins named below.
not to keep company,
No one should misunderstand Paul's instructions here. What he is saying is simply this: "Anyone who professes to be a believer and yet does not bear the fruit of the Spirit, disqualifies himself as a Christian brother by the ungodly character of his life." Sin in the life of the believer is far worse than sin in the life of an unbeliever. We cannot isolate ourselves from the world, but we can separate ourselves from disobedient believers so that God can discipline them.
The key to Paul's thought is here. The term translated "to keep company" (Gr synanameignymi) is found only here and in II Thessalonians 3:14—"And if any man obey not our word by this epistle, note that man, and have no company with him, that he may be ashamed" (2 Thess 3:14; KJV). It is a compound of three Greek terms, and means "to mingle together with." It has the idea of close, habitual association. We who are Christians are Not to keep company with these types; instead, we are to be entirely separated and withdrawn from such a person, and we are NOT to associate with him in any manner.
if any man that is called a brother, be a fornicator, or covetous, or an idolater; or a railer, or a drunkard, or an extortioner;
The apostle's meaning is that Christians should not associate with men who have one or more of the bad character traits listed above, if such persons are considered brethren, since they have been received into the church, accepted as Christians and professed to be such. These men are well known to the congregation and might be mentioned by name of being guilty of fornication, covetousness, idolatry, and extortion, as mentioned in the previous verse; to which he has added two other sins which any of them might be addicted to: "railing;" either at their fellow brethren and Christians, or others accusing and demeaning them: and "drunkenness"; living by frequently committing that sin. The persons committing these sins remain unrepentant and incorrigible, and are still carrying on such a vicious course of life; and therefore they are not to be included in fellowship—"Now I beseech you, brethren, mark them which cause divisions and offences contrary to the doctrine which ye have learned; and avoid them" (Romans 16:17; KJV).
Fornicator(impure)—See verse 1o. "It is reported commonly that there is fornication among you, and such fornication as is not so much as named among the Gentiles, that one should have his father's wife" (1 Cor 5:1; KJV).
Covetous. A greedy person, who is under the influence of his passions; not only greedy for monetary gain, but to indulge his selfish desires.
Idolater. This must mean those persons who while they professed Christianity still attended the idol feasts, and worshipped there. Perhaps a few of them may have adopted the Christian profession hypocritically.
Railer (reviler). A judgmental man: a man of foul-mouthed, harsh, and bitter words; a man who constantly abused others by maligning their character and wounding their feelings. It is not necessary to say how much this is contrary to the spirit of Christianity, and to the example of the Master, "who when he was reviled, reviled not again."
Drunkard. Perhaps there might have been some in this church, as there are now, who were addicted to this vice. It has been the source of incalculable evils to the church; and the apostle, therefore, solemnly prohibits Christians from having fellowship with a man who drinks excessively. Today, we could add another category, which is "drug addiction," which leads to all sorts of crime and self-abuse.
There is less danger in associating with openly worldly men than with carnal Christians. The Corinthians did not fall into open idolatry, but ate things offered to idols, thereby making a compromise with the heathen; just as they conspired to fornicate.