The Process of Forming the Woman: Part 1 of 5 (series: Lessons on Genesis)
by John Lowe
(Woodruff, S.C.)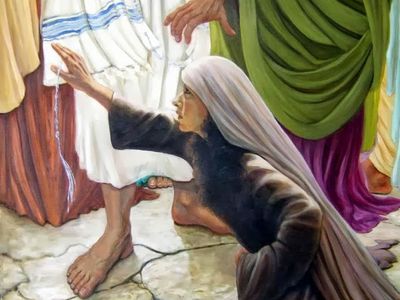 July 9, 2013

Lessons on Genesis
By: Tom Lowe


Lesson I.B.3: The Process of Forming the Woman.


Gen. 2.18-25. (KJV)

18 And the LORD God said, It is not good that the man should be alone; I will make him an help meet for him.
19 And out of the ground the LORD God formed every beast of the field, and every fowl of the air; and brought them unto Adam to see what he would call them: and whatsoever Adam called every living creature, that was the name thereof.
20 And Adam gave names to all cattle, and to the fowl of the air, and to every beast of the field; but for Adam there was not found an help meet for him.
21 And the LORD God caused a deep sleep to fall upon Adam, and he slept: and he took one of his ribs, and closed up the flesh instead thereof;
22 And the rib, which the LORD God had taken from man, made he a woman, and brought her unto the man.
23 And Adam said, This is now bone of my bones, and flesh of my flesh: she shall be called Woman, because she was taken out of Man.
24 Therefore shall a man leave his father and his mother, and shall cleave unto his wife: and they shall be one flesh.
25 And they were both naked, the man and his wife, and were not ashamed.


Introduction

Adam was given power over the creatures, and as a proof of this, he named them all. This may show the depth of his insight into the works of God. But though he was lord of the creatures, there was nothing in the world like him with whom he might have fellowship. God is the source of all our blessings, and if we place our trust in Him, he will make everything in our lives work for our good. God caused Adam to fall into a deep sleep (since he is sinless, God will ensure that he feels no pain.). God, as her Father, brought the woman to the man to be his companion and helper.

Our first parents did not need clothes for protection against cold or heat, because neither could hurt them, nor did they need clothing to adorn their bodies. Life was easy for Adam and he was happy in his state of innocence. How good was God to him! How many blessings did he give him! How easy were the rules he must follow! Nevertheless, man did not understand that these simple rules were in his best interest, and soon he became like the beasts that perish.


Commentary

18 And the LORD God said, It is not good that the man should be alone; I will make him an help meet for him.

And the LORD God said,
"And the LORD God said" means that these are the words of Yahweh Himself.

Here we can see the attention which the Creator paid to man and his fatherly concern for his comfort. Though God had let him know that he was subordinate to Him, by giving him a command that he must obey (v. 16, 17), yet here He lets him know that he was a friend, and a favorite, and that He cared for him and wanted him to always be happy.

It is not good that the man should be alone;
These words relate to the events described in verse 22 and following; but the expression "not good" indicates that these events are not a further continuation of chapter 1 and the creative week, but are actually part of that creative week; occurring after man was created and before God rested. When God finished His creation (1:31), He noted that everything was "very good." Therefore, until Eve was created the creative activity of God was not complete, and God could not declare that all was "very good." This is the first time in the history of creation that God said, "It is not good." Man needs a wife who is a help. If man is to achieve his objectives in life, he needs the help of his mate in every way.

God pitied man because of his solitude; although there was an upper world of angels and a lower world of animals, yet there was no being with the same nature and status as him, no one that he could converse intimately with, he was alone and the Lord knew he would eventually be unhappy unless He did something about it. Now, who would know more about him and what was good for him than the One who had made him. It was that Divine wisdom that resulted in the Lord saying "It is not good that he should continue to be alone.'' Perhaps there were three reasons for this assessment:

1. It is not conducive to man's well-being, because man is a social creature. It is enjoyable for him to exchange information and affection with those of his own kind, to inform and to be informed, to love and to be loved. What God says here of the first man, Solomon says of all men—"Two are better than one…But woe to him who is alone…" (Eccl 4:9, 10; NKJV). If there was only one man in the world, what a sad man he would be! Solitude would turn a paradise into a desert, and
a palace into a dungeon. Only a foolish person would want to be alone on the earth.
2. It is not conducive to the increase and continuation of his kind. God could have made multitudes of men at first, to fill the earth, just like He filled heaven with a world of angels: but the place would have been too crowded and the residents would not be prepared to live together in peace and to take care of themselves; therefore God saw fit to increase the population by a succession of generations, which have their origin in the first two, who are male and female.
3. It is not conducive to man recognizing that he had a need, so God put man in the garden alone for a period of time to show him that he had a need; that he needed someone to be with him. Although he was in the midst of plenty, he was conscious of feelings he could not gratify.
I will make him an help meet for him.
"I will make him an help meet" is the means God used to provide a society for him. God concluded that man needs some help; someone who is like him; one formed from him, with the same nature and the same rank; a helper to cohabitate with him, and to be always near him; one that would give him pleasure, and make him happy. Bear in mind:
1. Even in the best circumstances that exist in this world, we need help from others; because we are dependent creatures, and "the eye cannot say to the hand, I have no need of thee" (1 Co. 12:21). We must, therefore, be glad to receive help from others, and give help to others when the occasion arises.
2. God is the only one who perfectly knows our needs and desires, and He is perfectly able to supply them all—"And my God shall supply all your need according to His riches in glory by Christ Jesus" (Phil. 4:19; NKJV). God promises to meet all of our needs, not all of our wishes, wants, or whims. Men have physical needs, mental needs, social needs, economic needs. Men have not only worldly needs, but spiritual and eternal needs. Men need perpetual forgiveness, perpetual peace, and perpetual power. God is our great helper. Paul says "But my God." Paul does not say my God can supply all your needs, but my God shall supply all your needs. This was Paul's personal testimony and confession of faith. We see next a great Supplier. There is a total supply for a total need. God's supply is infinite, abundant, inexhaustible, limitless, and boundless. God many times uses other men to meet our needs. Next, we see great resources; God's riches in glory. Paul says "according to his riches," not out of His riches, not off the top. God's supply is not according to what we deserve, but according to His mercy; not out of debt, but out of grace; not according to our emptiness, but according to His fullness; not according to our poverty, but according to His wealth. God has great riches. Lastly, look at the great and glorious channel which is Christ Jesus. "For there is one God, and one mediator between God and men, the man Christ Jesus; Who gave himself a ransom for all, to be testified in due time" (I Tim 2:5–6). There is no other Mediator; there is no other channel. With such precious truth before us, there can only be agreement with the past, contentment with the present, and confidence for the future. What could be more wonderful than to know that God loves us, He knows all about us, and that He is able to supply all your need according to His riches in glory by Christ Jesus."
3. A suitable wife is a help-meet (helper), and is a gift from the Lord. She is the kind of help man needs, agreeing with him mentally, physically, and spiritually; but she is neither an inferior nor superior being, but in all things she is equal to him. Therefore, the relationship is very likely to be happy and contented when perfect knowledge directs and determines the choice, and mutual helpfulness is the constant consideration and endeavor.
4. The family unit if it is pleasant and satisfying is an ample remedy for the misery of solitude. He that has a good God, a good heart, and a good wife to converse with, and still complains that he wants more conversation, would not have been comfortable and content in paradise; because Adam had no more than that, and yet, even before Eve was created, we do not find that he complained of being alone, since he knew he was not alone, for the Father was with him. Those that are the most satisfied in God and his acts of kindness are in the position, and in the best state, to receive the good things of this life, and shall be sure of having them, since Infinite Wisdom will see to it.
Observe, we find that celibacy, in general, is not good, whether it is on the side of the man or of the woman. Men may, in opposition to the declaration of God, call this a state of excellence and a state of perfection; but let them remember that the word of God says the reverse.