THE RAPACIOUS KING
by CHARLES ROBEY
(MOODY AL USA)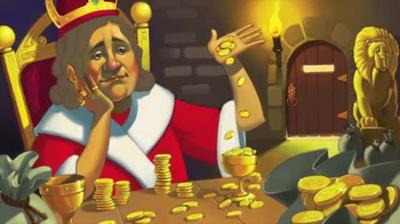 PROLOGUE

I wasn't around during the "Great Depression." According to all accounts it was devastating and destructive, especially from a monetary perspective, with the forced closing of the banks.

Confidence in the banking system began to erode, and bank runs became more common. In all, 1,350 banks suspended operations during 1930. Some simply closed their doors due to financial difficulties, while others were placed into receivership.

Could this disastrous tragedy happen again in the USA? I surely pray not. However, only divine Providence and time itself will tell. I do sense, however, taken from a variety of economic events, it could conceivably develop again. We should pray that it doesn't.

Now forward to this fiction parable, yet another earthly story with a heavenly divine meaning. Its titled given is the "The Rapacious King, A Little King Sequel."

(Psalm 2:1-6 ESV) "Why do the nations rage and the peoples plot in vain? The kings of the earth set themselves, and the rulers take counsel together, against the LORD and against his Anointed, saying, "Let us burst their bonds apart and cast away their cords from us." He who sits in the heavens laughs; the Lord holds them in derision."

Why do these certain dreams keep hanging around at night? Why the same ole dream world setting, the same environment? And, why do they continue carrying me back to that medieval kingdom? It's as if I'm actually living under such a divinely placed environment.

Try as I may, human nature being what it is, there seems to be no way around this dream profile. Avoiding it I can't. Endure it I must. Just maybe, by order of my dream world commander, there's a message to be given or learned and accepted.

So, off to dream land I went, to that other world. I found myself as in all my other dreams back in time to that quaint little kingdom, caught up in the midst of the newly elected king's reign.

I was brought as if by divine guidance to a beautiful landscape setting, nestled on a grass-covered hillside with the ageless cottages, their multi-colored roofs gleaming in the morning sunlight.

The kingdom's focal point was its most elaborate castle with protective moat and drawbridge that was the kingdom's tourist attraction. This elaborately built castle, however, appeared different: it was completely deserted. There were no people by the moat, on the bridge nor on its grounds. "Where are all the people?" I asked myself.

The view was obviously different this time around. The expected ongoing celebration of cheerfulness was not there. This dream's focus was not centered on the king's castle, but on the kingdom's financial center, the area we now call banking. Something was surely amiss, causing the kingdom's populace to be beside themselves, almost to the point of violence. It was as if they all knew in advance what was about to take place.

Without warning, the official trumpeters sounded the king's official prelude setting in motion the Royal Chief Scribe's big announcement.

"Hear ye, hear ye, let it be decreed this day by order of the newly elected king that all private banking funds will now be frozen, to be used at the king's command only. This is in order that the king may enact his newly-formed "Well-being Aid Assistance Incentive, known in short as the official "AAI program."

Details of this AAI decree are now posted at all the king's public benches of currency exchange, that being the pawnbrokers and the merchant bankers. It details that all the kingdom's populace be subject to having seventy-five percent of their active private pensions and all future private pensions and savings be subject to the king's needed welfare initiative. Nonetheless, for now, all daily living allowances will be at the discretion of the king, to be used as needed, to affect his much-needed AAI program

Being a well-versed inquisitive news reporter, I sensed it. As the people milled around, it didn't take long for the questions to filter throughout the kingdom. Mainly people asked why such a radical extreme welfare program was enacted so soon after the newly elected king's term in office.

The answer was quick in coming, with a formable gossip leak. It seems that in short period of time, after being elected to the throne, this newly elected king burned all the previous king's executive finance decrees.

As a result of this official decree, and gathering from all the scuttlebutt, this newly elected king was now in a heap of trouble. It was all the palace guards could do to keep a semblance of order around the kingdom's main public currency exchange benches.

Signs instantly appeared all over the kingdom, vowing that the populace would form ranks to continue keeping their hard-earned shillings, pence and denarius and silver and gold coins. As these signs pronounced, they especially needed these coins to continue paying the church for their sins, which was the kingdom's custom.

So, not being a citizen of this great kingdom, I thought it best if I sneaked out of the way, which I quietly did just in time. In the background all I could hear was the breaking of glass. Well, I guess the people must be getting their money's worth, I presumed.

Oh no, not again! It had ended. Another dream world over before it got started good. And the outcome was perceived.

There was nothing I could do for I found myself back in bed, concealed under a pile of blankets as usual battling the cold night winds.

The kingdom dream had ended, but had it? My bedroom television was in full swing blaring out the news bulletins. What's up with all these riots? What's causing such chaos? Oh wait, they've all converging on the banking headquarters. I must hurry and get dressed before my hard-earned funds are gone, as well.

EPILOGUE

Another dream put to bed. Was its destiny at the hands of divine providence? (Daniel 2:21) Only the passage of time and experience will reveal its intent.

So, I trust you enjoyed this fictional musing about this medieval kingdom's newly-elected king. What do you suppose caused the sudden run on the kingdom's finances? Could it have been panic, false rumors, or greed? Or was it mismanagement of the people's hard earned funds?

And if so, why did this decree come so soon after the current election? Did this king or his handlers know something coming about unbeknownst to the kingdom's populace? Whatever it was, it assuredly sparked discussion among the people of the kingdom. The perceived cause or need of the people's funds by the new government administration was not taken lightly by the kingdom's people.

I remember growing up in the good ole days of the Fifties. I was given a weely allowance of ten cents, and told to not spend it all at once. And on Saturday, if I took my weekly bath, my allowance was doubled to twenty cents so I could go to the double feature cowboy movie. And if I saved up during the week, I could also get a soda pop and popcorn. Well, those were the good ole days.

What in the world has now taken place? Government budgets are now not in the millions, the billions, but the trillions. What's next, could it be the gillions? We, God's people are really a divine touch of healing. (II Chronicles 7:14)

Or is it too late? I pray it's not so? How will it all turn out, another of this little king's sequel that is? Well, it may be another fictional musing for another place and time. Please stay tuned. Amen!