THE RED AND BLUE OF IT
by CHARLES ROBEY
(MOODY AL USA)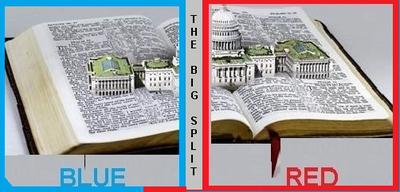 PROLOGUE

I remember it well. The year was 1952. The "I Like Ike" badges were displayed throughout the big convention hall. We were all watching a television first on my aunt's big 21 inch black and white television console. It was the only TV in the neighborhood.

Times have surely changed from then to now, with the big HD television screens in vivid living color with the surround sound. Please pass the popcorn, if you will.

Now, we have these same type political conventions and elections taking up our prime-time television, the only difference being the various states are now portrayed in red and blue living color. I have to admit, once getting past the boredom of it all, these color schemes do make for interesting television. Now, for a bit of history.

The use of red and blue as color codes on maps of electoral results actually dates back to at least 1908 when the Washington Post printed a special supplement in which Republican states were colored red and Democrat states were blue. The colors were apparently arbitrarily assigned in that case, although in later years both parties strove to claim blue (as in "true blue Americans") and avoid red, with its connotations of radicalism.

According to the Washington Post, modern use of the terms "red state" to describe Republican-dominated states and "blue state" to describe Democratic-Party-dominated states were coined by journalist Tim Russert, during his televised coverage of the 2000 presidential election.

Does this colored coded rating system really matter? Not really, it's what they do for our great country, the land of the free and the home of the brave that really matters. Besides, I'm a little bit color blind. Amen!

Now, on with the blog entitled. "The Red and Blue Of It."

It was election night. I had snuggled in bed, wrapped up in my favorite throw, enjoying my usual homemade raisin cookies and big glass of sweet tea. Suddenly the color went out on my bedroom television. "What will I do? I'll have to turn up the sound, I guess," I thought.

It really didn't matter at all, because that's when it happened. My dream of dreams, yes, in living color, suddenly took over.

I found myself in a rather large medieval castle. There I was apparently divinely drawn into a library or study. The walls were lined with the usual customary bookshelves. The large reading table, as usual, hosted a number of open books and scattered magazines.

As if by divine guidance, I was drawn over to the map section. Centrally in the map section was an old-fashioned globe. Instantly, I was greeted by a person whom I took to be the librarian of this great library.

Standing there for what seemed to be an eternity, he then spoke. "My son, if you had your choice, where would you like to be in this great world?"

Obviously, his demeanor took me by surprise. Not hesitating, he continued, "Unsure I gather. Let's give it a spin then stop the spin of the globe with your finger. We'll see where you wind up. My only request is that you agree to travel free of charge to your chosen location."

"Sounds like a winner, let's go for it," I responded.

I gave it a big spin. Surprisingly, not only did my finger land on America, but on my home state as well.

By some unknown intervention, the spinning caused the states to take on a glow of living color, changing the various states to a variation of red and blue, with my state taking on a vivid red glow. As the globe came to rest, the states all seemed to instantly come alive. It was like watching a small movie show.

"Is this real or only my imagination?" I silently asked myself.

The red states appeared to be serene and calm. But the blue states were just the opposite, showing signs of disorder and violence.

"Ok, sir, you win, we had an agreement," I exclaimed. "I will stay in this great country of ours, and remain in my own home state. But why and for what I may ask, now that my red home state seems so passive and peaceful, how may I help out?

"It's simple, my son. I know that you are very actively involved in your home church, so there's plenty that you may do for the spread of the Gospel, starting at home, reaching out across America, and into other parts of the world," (Acts 1:8) he replied.

"You may or may not be able to travel around, but you can surely support those missionaries, who do, through your church's missionary efforts," he continued. "You can work at making disciples of all nations by going, by baptizing and by teaching. (Matthew 28:19-20) Amen!"

"Yes, I get it, sir," I responded. "It's not the color of red, nor of blue, however much it makes for good HD television. It's all about the true Gospel (I Corinthians 15:3-4) that corrects or controls this great country of ours. And to that I too give a big shout of Amen! Thank you for your help, my good man, whomever you may be. Wait, sir, where are you, where did you go so quickly?"

Oh well, I surely got his message, for this most unusual dream of the century had ended as quickly as it started. I was back in my bed, still eating cookies. End of dream, beginning of service.

EPILOGUE

Ok, now that I'm down to the end of another of my fictional parable blogs, an earthly story with a heavenly meaning. I trust you enjoyed it as well as I did in its writing. So, please allow me to close with this single Scripture about faith. (Hebrews 11:1).

II Peter 1:5-7 "For this very reason, make every effort to add to your faith goodness; and to goodness, knowledge; and to knowledge, self-control; and to self-control, perseverance; and to perseverance, godliness; and to godliness, mutual affection; and to mutual affection, love."

Did you catch the root word of this passage, faith? It is a long-forgotten word in today's progressive social vocabulary. Yet without which, it's impossible to please our living Creator, God. (Hebrews 11:6)

You see, there's no magically generated difference between the colors of red and blue within the media-generated political schematics. There's no real good or bad in either color arrangements, although it may tend to be of some practical benefit to the general public, it all goes back to television ratings. If anything, it was a quick way of identifying the holders of the Republican or Democrat philosophy. Evil is and has been color blind down through the ages.

It is kind of interesting, however, what happens when you mix red and blue together. According to the Internet, "It's interesting that the color purple is made by combining two colors – red, which points to Jesus' blood, His life as a man, and His work on earth (scarlet = earth), and the color blue, which points to His heavenly dwelling place (blue = Heaven). Having received forgiveness through His blood, we will one day leave this earth, shed our flesh, and enter into Heaven and be with our King in all His splendor."

So, if your comfort zone is fixed on the color red or blue, have at it. As for me, my color is purple, the royal color of Scripture.

A closing thought, it's a shame that we, who hold to the red and blue states concept can't find the time to mix together, thus giving us all the perfect Scriptural concept of purple unity. Amen!