The Re-orientation to the Program Part 1
by John Lowe
(Laurens SC, USA)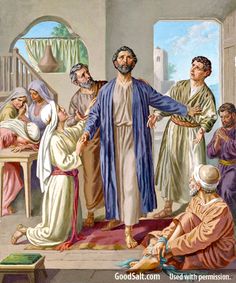 May 6, 2013

Commentary on the Acts of the Apostles
By: Tom Lowe

Topic #I: Introduction to the Beginning of the Church, Acts 1.1-1.26

Subtopic A: The Lord Prepares the Disciples (1.1-11)

Lesson I.A.2: The Re-orientation to the Program
Scripture: Acts 1.6-8

Acts 1.6-8 (KJV)
6 When they therefore were come together, they asked of him, saying, Lord, wilt thou at this time restore again the kingdom to Israel?
7 And he said unto them, It is not for you to know the times or the seasons, which the Father hath put in his own power.
8 But ye shall receive power, after that the Holy Ghost is come upon you: and ye shall be witnesses unto me both in Jerusalem, and in all Judaea, and in Samaria, and unto the uttermost part of the earth.

Introduction
We are informed by Matthew that Jesus prefaced the Great Commission by announcing, "All authority in heaven and on earth is given to me." It was, probably, this announcement that led to the inquiry which Luke mentions next. Being informed that all authority is now given to him, the disciples expected to see him begin to exercise it in the way they had long anticipated.

Commentary
6 When they therefore were come together, they asked of him, saying, Lord, wilt thou at this time restore again the kingdom to Israel?

Paul wrote, "When they therefore were come together" to make it clear that ALL the apostles were present when this question was asked, so that we may know that it did not come from only one or two of them, but that they all wanted to know about the state of the kingdom. It may cause us to wonder why they appear so ignorant of the subject when they have been diligently instructed by the Lord for more than three years; it's as if they never heard a word. The question they put to Jesus was, "Lord, wilt thou at this time restore again the kingdom to Israel? There are as many errors in this question as words, but it does contain two interesting facts: First, that the apostles still had a misconception of the nature of Christ's kingdom; second, that the kingdom was not yet established. Both these facts deserve some attention at this point, especially the latter.
Their misconceptions consisted in the expectation that Christ would re-establish the earthly kingdom of Israel, and restore it to its ancient glory, under His own personal reign. In His reply, the Savior does not attempt to correct this misconception but leaves it up to the enlightenment that was to be provided by the Holy Spirit.
The expression "kingdom of heaven" is used only by Matthew. In the places where he uses this expression, the other three Gospel writers say "kingdom of God." This fact shows that the two expressions are equivalent. Explaining the former by the latter, we conclude that the "kingdom of heaven" is not heaven, but simply a kingdom of God, without regard to locality. This kingdom is also called by Christ his own, as the Son of man; since he says, "There are some standing here who shall not taste of death till they see the Son of man coming in his kingdom." (Matthew 16:28). The Apostle Paul also speaks of the "kingdom of God's dear Son," (Colossians 1:13); and He also says, "He must reign till he has put all enemies under his feet" (1 Corinthians 15:25).
Then, Jesus is the king of the kingdom of God; and so the time at which he became a king is the time at which "the kingdom of Christ and of God" (Ephesians 5:5) began. Furthermore, since it was Jesus, the Son of man, who was made the king, it is evident that the kingdom could not have commenced until after he became the Son of man. This thought process immediately disproves the theory which puts the beginning of the kingdom in the days of Abraham.
But it is not only Jesus the Son of man but Jesus who died, that was made king. "We see Jesus," says Paul, "who was made a little lower than the angels, on account of the suffering of death, crowned with glory and honor." (Hebrews 2:9.) It was after his death, and not during his natural life, that he was made a king. It is necessary, therefore, to reject the other theory, which locates the beginning of the kingdom in the days of John the Baptist.
Finally, it was after his resurrection and his ascension to heaven that he was made a king. Because Paul says, "Being found in fashion as a man, he humbled himself, and became obedient unto death, even the death of the cross; wherefore, God hath highly exalted him, and given him a name that is above every name, that at the name of Jesus every knee should bow, of things in heaven, and things in earth, and things under the earth, and that every tongue should confess that Jesus Christ is Lord, to the glory of God the Father." (Philippians 2:8, 11). It is here where
we can view that glorious scene described by David and by Paul, in which God said to His Son, "Sit thou on my right hand, till I make thine enemies thy footstool" (Psalm 110:1; Hebrews 1:13). He "sat down on the right hand of the throne of God," (Acts 2:32-36). This event marked the beginning of his reign as King of kings, and Lord of lords, and history shows that the first act of the newly-crowned King took place on earth, when on the first Pentecost after his ascension the kingdom of Christ was inaugurated on earth.
The hypocrisy of the apostles can be seen in the question they asked the Savior; they ask him about a kingdom; but they dream of an earthly kingdom, which would flow with riches, with external peace, and with all sorts of good things. Furthermore, there is this problem with their question, which is, that they desire to know those things which are not meant for them to know. I am sure they were not ignorant about what the prophets did prophesy concerning the restoring of David's kingdom since they had heard their Master preach concerning this matter many times. Finally, it was a common saying among the Jewish people during that time when they were held in miserable captivity, that they should all be comforted, with the expectation that the kingdom would soon be established. Now, they hoped the restoring would occur at the coming of the Messiah, and that is why, as soon as the apostles saw Christ raised from the dead, they began to think of the kingdom, and that He might soon restore it.
7 And he said unto them, It is not for you to know the times or the seasons, which the Father hath put in his own power.
And he said unto them,
Jesus' is about to give them His final teaching and final promise before His ascension. And He said to them, "It is not for you to know times or seasons which the Father has put in His own authority. But you shall receive power when the Holy Spirit has come upon you, and you shall be witnesses to Me in Jerusalem, and in all Judea and Samaria, and to the end of the earth."
It is not for you to know the times or the seasons,
This is the Savior's answer to the question which His apostles asked in the previous verse. Times refer to duration; when will you establish your kingdom, what is the date and hour? Seasons refer to fitness or opportunity; when will the conditions be right, what are the chances it will happen soon? But Jesus replied, "It is not for you to know." Jesus warned the disciples against inquiring about the timing of God's kingdom because that was something that belonged to God the Father alone (which the Father has put in His own authority). It was wise for Jesus not to outline His plan over the next 2,000 years. How do you think the disciples would have felt if they had known that the kingdom they wanted to see right then would not be coming for almost 2,000 years? And it was also wise for Jesus to not say that there was to be no restoration of the kingdom to Israel; He simply said that speculation into the times and dates of it was not proper for the disciples.
The kingdom in its present phase would begin very shortly, but Jesus did not mention their ignorance on that point since He knew that when the Spirit came upon them they would have all that Jesus had already taught on that question brought to their remembrance. Jesus was also aware that human curiosity is unlimited; therefore, He immediately warned his apostles that the final phase of the kingdom, including the resurrection and final judgment, would come at a time unknown to any man, not even to himself, as long as he had earthly limitations.
It is good and proper to learn all that our heavenly Father teaches us in His Word; but as for those things which He has not revealed, let us not be as bold as to inquire of Him concerning those things. Therefore, when we are distracted by this foolish desire to know more than we should, let us call to mind this saying of Christ, "It is not for you to know."
which the Father hath put in his own power.
By the expression "in his own power (or authority)," Jesus may have intended to indicate that the times and seasons of God's purposes are reserved more specifically under his own sovereign control, and kept hidden from the knowledge of men, than the purposes themselves. It is a characteristic of prophecy that it deals much more in facts and the sequence of events than in definite dates and periods. The apostles were to be agents involved in launching the kingdom, but, as for the proper preparation for their work, they did not depend upon a foreknowledge of the time, it was not important to reveal it to them.