THE ROOKIE HOOPSTER
by Charles Robey
(Trussville AL)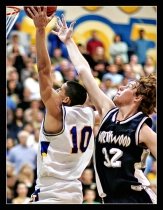 Would you believe it, another basketball season is almost here? It seems just yesterday that our Hornets won the State championship in double overtime. This year will surely be different because we are moving up to the big leagues. Yes, we are moving up from Junior High to the big High School, you know the one with the glass back boards in the main gym.


"Hey Coach, watch this turnaround jumper!" Phil exclaimed as he let the shot go from fifteen feet. Unfortunately, the air ball never made it to the rim. The team just smiled and gave the old thumbs down hand signal.

I was very fortunate that year as I was the first Sophomore to ever make the "A" team, and I was raring to go.

The first game was against our school's old rival, the Bear Cats.It seemed that, everyone who was anyone in our small town, had turned out for the this game. Warm up was especially exciting. For the first time, I was able to wear a warm up suit. Warm up suits were just unheard of in Junior High.

Then it happened, game time was here. As we all huddled in the locker room, Coach began announcing the starting lineup. Suddenly my heart dropped to the pit of my stomach. Would he call me, I pondered? As Coach started calling the lineup, one by one, my heart started beating even faster. Then, he got down to the last of the five starters. Hesitating for what seemed to be an eternity, he suddenly looked directly at me. Oh boy, I thought. I'm in! What's this? He picked Joey! I can't believe it! I'm a good six inches taller than Joey, even though he was a senior.

I guess my face said it all that first game. As we were marching out to the floor, Coach stopped me and said, "Jamie, I want you to sit next to me tonight. I have some things I want to point out as we get involved in the game." This unexpected remark kind of eased my frustration somewhat.

The game started fast and never slowed down. Then it was half time, with the Bear Cats holding a three point lead. In the locker room, Coach walked over to the chalk board and began to recall the first half, while marking what we needed to do in the second half. I must say, I didn't pay much attention. After all, I was just a sophomore and I would not be playing the second half. But, all of a sudden my thinking changed, when Coach announced my name, as starting the second half. "Now what was that Coach said must be done?" I asked myself silently.

We were lucky to get the tip off and control the first drive. Ed dribbled down to the key, pivoted around and bounce passed the ball to me coming underneath the basket. All I had to do was turn around and lay the ball in the hoop. However, for some unknown reason, I attempted to stop. And when
I did, one of the Bear Cats stepped on the side of my ankle.
The next thing I knew, I was being helped up off the floor. And, boy did my ankle hurt. Putting weight on the ankle was out of the question.
To make a long story short, I suffered a bad ankle sprain. In fact, the doctor said it would have been better if I had actually broken my ankle. Due to my unlucky accident, I was put on crutches for two weeks, which resulted in me being put back to the "B" team.
This move suddenly put me in a state of boyhood depression. What, me playing on the "B" team? But Mom had an answer. "Why don't you visit Pastor Jim," Mom said. "He always has an answer for all of life's disasters." I don't mind telling, I hesitated at first, but for some unknown reason, I gave in to Mom's suggestion.
"Come on in Jamie", Pastor Jim said as I walked into his study. Looking around the room, I don't think I had ever seen so many books in one location in my entire life. And right smack in the middle was a big "Family Bible."
"Your Mom filled me in on your predicament," Pastor Jim said. "Let's see what God's word says about it." God's world, I thought. How can this be, the Bible was written thousands of years before basketball? Anyway, I decided to go along and play the game. Then Pastor Jim read a verse of scripture.
"And we know that in all things God works for the good of those who love him, who have been called according to his purpose." (Romans 8:28)
A short while later, I left Pastor Jim's study. And you know what? I really felt good that day. For some unknown reason, I just couldn't wait for the next "B" team game to come around. And when it did, I was called to start the game. But just before we left the locker room, the Coach explained something that I had forgotten. He said winning this game would put us in the "B" team play off.
The game went well. We blew the Bear Cat "B" team away that day. Oh yes, these Bear Cats were from the same school, at which I had previously been hurt. And guess what, I was the high scorer.
In fact, the funniest thing happened during the game. At half time the other Coach called our Coach aside and said he was going to protest the game, as our Coach was playing an "A" team player – me - who had made the most points on the "B" team. When our Coach explained the situation, the other Coach just jerked around and stomped out of our locker room.
When I heard about their little conversation, I just smiled as Pastor Jim's scripture verse kept rolling around in my head.
"And we know that in all things God works for the good of those who love him, who have been called according to his purpose." (Romans 8:28)