The Shipwreck: Part 4 of 6 (series: Lessons on Acts)
by John Lowe
(Woodruff, S.C.)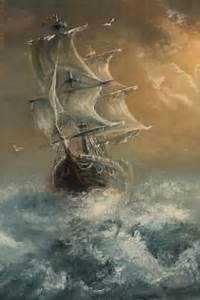 21 But after long abstinence Paul stood forth in the midst of them, and said, Sirs, ye should have hearkened unto me, and not have loosed from Crete, and to have gained this harm and loss.

They knew that now, only too well.

Paul was a better seaman than them all. It was not, however, a petty case of "I'd told you so." Paul only mentioned it now to make sure the lesson had been learned and that they would listen to him this time. Paul was far too much of a gentleman and too kind to be looking for mere self-vindication. The situation was too desperate for rhetoric.

There had been a prolonged period of general fasting. Anyone who has been onboard a large ship in a roaring sea knows what seasickness does to you at the time. In any case, in such a storm the ship's galleys could not have been kept from damage, and much of the food must have either been spoiled or swept overboard.

"Ye should have hearkened unto me." We would do well to underline that statement both in our Bibles and in our hearts. Much of this world's problems today are because people will not listen to "Paul." When has Paul been appealed to in Congress? When has the United Nations ever convened a session for the express purpose of harkening unto Paul? Many of our own personal problems and predicaments arise because we do not hearken unto Paul. The philosopher, the psychologist, the learned professor—we will listen to them. But what about listening to Paul? Much of the disarray, division, and deception in church life arise from the same cause. "He should have hearkened unto me." Well, they would hearken to him now. His hour had come. He and he alone had a word from God in such an hour of need.

22 And now I exhort you to be of good cheer: for there shall be no loss of any man's life among you, but of the ship.

The consequence of their former disbelief could not be completely avoided. The ship itself would sink. There would be a high price to pay by those responsible for so casually launching the whole company on such a hazardous course in the teeth of Paul's warnings and advice. The ship would be lost.

23 For there stood by me this night the angel of God, whose I am, and whom I serve,

Paul had something solid on which to base his word of encouragement and cheer. He had received a visit, that very night, from the angel of God.

Nobody on board that boat, and in that wide and angry sea, had any idea at all as to where the ship really was. God knew. He was able to give His herald angel the exact latitude and longitude. It had not been out of his site for a single moment.
The person seen by Paul was probably Jesus appearing in a glorious angelic form, the one who bought Paul with the price of His blood (Acts 20:28; 1 Corinthians 6:20; 7:23) and called him to serve Him (Acts 22:10). Paul may well have recognized that this was Jesus whom he had seen on the Damascus Road (Acts is 9:5), but to the non-Christian crowd, he speaks of Jesus as an angel which they might more easily understand.

24 Saying, Fear not, Paul; thou must be brought before Caesar: and, lo, God hath given thee all them that sail with thee.

Paul based his confidence on the word he had just received from God. It was not a new revelation; he had been told it before. He "must be brought before Caesar." The same sovereign divine purpose according to which Jesus must spend his final week in Jerusalem has decreed that Paul shall bear witness in Rome (see Luke 9:21-22).

What a revelation of God's love! He must be brought before Caesar, before Nero, before that monster whose vileness and wickedness would soon fill the world with horror and whose memory would haunt history for all the rest of time. Paul must appear before Caesar. That wretched man must hear the gospel before plunging over the precipice. It seems that Paul was released from his Roman imprisonment in a.d. 62; Nero burned Rome in a.d. 64; and he committed suicide in a.d. 68—the same year he martyred Paul. He must be given one last chance. Paul had kept before him one great goal: "I must see Rome" (Romans 1:10-16). Now God says to him: "You must appear before Caesar. You are quite right, Paul. You must see Rome." Neither physical calamities nor the plans and schemes of men can thwart God's purposes; God over-rules these secondary causes to bring about His Glory (Acts 4:27-28).

"And, lo, God hath given thee all them that sail with thee." Why? It was because, without a doubt, Paul had asked for them.
There was only one man on board that boat who must see Rome. Paul knew that he would escape; the angel's message told him nothing new there. It just strengthened his conviction. But Paul's great heart went out to all those frightened people on board. Day and night, we can believe, all that fateful voyage through, Paul had been hammering at heaven's door, unrelenting in his pleas for his fellow passengers. The world will never know how much it owes to those in its midst who know God and have the key to God's heart in their hands.
So the lives of all those on board were given as a present to Paul, and he could not wait to tell them the good news. No matter how skeptical some might be Paul was convinced. He knew, and it was on the highest authority, regardless of the heaving waves and howling wind, that all was well.
It is significant that Paul says "God" rather than "the Lord Jesus" here; it is language that a pagan audience would more easily understand, and Luke is emphasizing that it is the maker of heaven and earth who is managing what's going to happen as they go forward in the midst of this chaos of nature.
25 Wherefore, sirs, be of good cheer: for I believe God, that it shall be even as it was told me.
26 Howbeit we must be cast upon a certain island.
"I believe God!" That was the challenge. We can compare that with the centurion who "believed the master and owner of the ship" at the outset of this disastrous voyage (27:11). It often comes down to that. Who are we going to believe? What are we going to believe? Heaven or hell swings in the balance of those two questions.
27 But when the fourteenth night was come, as we were driven up and down in Adria, about midnight the shipmen deemed that they drew near to some country;
"But when the fourteenth night was come," that is, fourteen nights had passed since they left Crete. They were now well into November.
The expression "were driven up and down" can be rendered "were carried hither (here) and thither (there)." During the two weeks, they had been at sea, the ship had been driven over 500 miles off course and was now adrift in the Adrian Sea. (It is now called the Ionian Sea and must not be confused with the Adriatic Sea.)
"Adria," or Adriatic Sea is that part of the Mediterranean between Croatia and Italy. In Paul's day, the Adriatic Sea was known as the Gulf of Adria and the central Mediterranean as the Adriatic Sea.
"The shipmen deemed that they drew near to some country," from the swells of water they could see and the sound of the surf they could hear.
28 And sounded, and found it twenty fathoms: and when they had gone a little further, they sounded again, and found it fifteen fathoms.
"Sounded" means they were in the process of determining the depth of the water, since it appeared that they were being driven on shore. Their soundings were made by throwing into the water a line with lead on it; they are sometimes said to be "heaving the lead." A "fathom" is about 6 feet; "20 fathoms" would be between 120 feet and 90 feet. The depth of the water was decreasing rapidly (meaning they were getting closer to shore), and the sailors knew they had only one hope—to run the ship aground. But to attempt such a move in the darkness, even if they could have gained some measure of control of the ship, would have been foolishness. They could now hear even more clearly the ominous booming of the breakers on the reefs ahead. It needed little imagination for them to picture the fearful crash of their ship upon some jagged outcropping of rock, the fierce battering of the waves, and the swift end of it all.
29 Then fearing lest we should have fallen upon rocks, they cast four anchors out of the stern, and wished for the day.
Then they fervently prayed for the coming day. They still did not know what hope there might be of finding a passage through the reefs. Because they are shoaling (entering shallow water) quickly with low visibility, they use anchors as breaks. These were normally cast from the bow, but here they are cast from the Stern, probably so the stern cannot be blown around into the rocks or because they will advance bow-first in the morning light. The "anchors" were probably used in succession to prevent the vessel from being smashed against the reefs. The ship could still sink during the night, right there at her anchors. Or the morning light might disclose an iron-bound (harsh, rugged) shore with no beach. In the meantime, there was nothing to do but hope and pray.