THE SHOUTING PARSON
by Charles Robey
(Trussville AL, USA)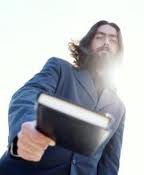 Shout Unto The Lord
"When I was a child, I used to speak like a child, think like a child, reason like a child; when I became a man, I did away with childish things. For now we see in a mirror dimly, but then face to face; now I know in part, but then I will know fully just as I also have been fully known. But now faith, hope, love, abide these three; but the greatest of these is love" (1 Corinthians 13:11-13)

"Mom, Mom, when will this TV test pattern go away? I've been staring at it now, going on an hour, and I am bored to death." Well, Mom assured me that the pattern always went away at 10:00 o'clock, just before the "Queen For A Day show".

"But Mom," I continued. "I guess I can endure that old ugly TV test pattern, but what about Papaw. As you know, each night when the TV signs off with the National Anthem and the waving of the flag, Papaw always stands at attention and salutes."

"Yes, I know George, someday you will understand where Papaw's loyalties lie.

"Well, Mom's answers were alright with me, I guess. Only I was wishing for something more exciting on TV such as the "Green Hornet" or maybe the "Hop Along Cassidy Hour". For you see, the Cassidy program was still giving out those secret decoder rings if you mailed two "borax" box tops, and I already had one saved.

Anyway, I thought I'd just call my friend Phil and see if he would like to play some marbles. Phil didn't know it but I had just gotten a new "Steely" that would easily knock his marbles out of a three foot ring.
Phil was more than happy to oblige me that day. I went outside and smoothed off the clay marble arena, as we called it, to get ready.

" Hi Phil, good to see you. By the way Phi, where were you last Sunday morning? I called your house all morning long and the only answer I got was the neighbor who is on your phone party line".

"You see, I've been kind of slack lately in my church attendance, Phil replied. And you know how Dad is. He made me go to church with the family. My sister was getting baptized." .

"Ok Phil, you probably did the right thing. Especially since your Dad put his fist down. I wish my family was as involved with church, as is yours. You all seem so happy all the time."

Phil just ended the church conversation that day by saying he would pray for my family to get more involved with church. We then continued our marble game, with me winning as usual.

However, for some reason, my conversation with Phil that day just kept eating at my memory. I just couldn't shake the thought.

"Mom, I just experienced the strangest thing. You know my best friend, Phil. Why sure George, what is it ? I can just read your face. Something bad is surely bothering you"

"The other day, as Phil and I met, our conversation just seemed to drift to church, As you know, Phil and his family attend church pretty regularly"

"Yes, and that's a good thing, I guess George, but it just has not seemed right for us, Mom replied".
"However, I do remembered years ago, when your Papaw use to take me to Sunday School down at the Independent Tabernacle. However, after getting married, I never put much thought into the subject. You see, church is probable just a cop-out anyway."

"OK Mom, if you say so, I'll not worry any more".
Well, time has surely gone by fast. It's like Papaw always used to say, "time flies because people are always trying to kill it".

Now, here I am, 50 years older, getting ready for my retirement. I must get busy with my retirement sermon. Oh, I almost forgot. Just chalk it up to old age. Not only did Phil's prayers work that day but they also rubbed off on Mom. For we both received Christ into our lives.

And, I can't wait to see Mom. She has been in Heaven, some 20 years. Now, back to my final sermon.

What shall I say, Lord? Just give me a big hint. I know, I'll just give a summary of my life history, before and after Christ. I'll just end with an invitation for the others to follow in my footsteps. Thank you, Lord, for that suggestion.

I just can't believe it's my last official time behind the pulpit. Just let me search over our great congregation. Just plain old "home town folks" here, but folks who love the Lord, as I do. Wait, is that Phil, down there on the front row? And, who are all those folks with him?

"Phil, come here a minute," I shout as I walk down the platform steps. After a big hug, that seemed to last forever, we just reminisced for a moment. You see, I have not seen Phil going on 40 years. And my, has his family grown.

"George!" Phil exclaimed, as he begin to shout out over his big hearing aids. "I would not have missed this big event for all the tea in China."

As I started walking back towards the platform, I felt Phil place something in my hands. It was my old "Steely", the one with which I used to win all those marbles from Phil. At that time, I just couldn't hold back the tears, tears of joy that is. And I just shouted "Hallelujah" and "Amen" all the way back to my seat.

For you see, we serve a wonderful God, a God who loves us, even though He knows us. What friend can we say that about, very few I am sad to report.

As I went to be seated, that proverbial light bulb went off in my head and I started quoting Mom's favorite Bible verse.

"But God, being rich in mercy, because of the great love with which he loved us, even when we were dead in our trespasses, made us alive together with Christ— by grace you have been saved." (Ephesians 2:4-5)

Oops, I should not have given that verse out loud. None the less, these folks are used to me by now. As you see, I'm known around here as the "shouting preacher". What's that? Why it's the choir singing my favorite hymn? Church must be starting. I'll just sit back and enjoy it.

The love of God is greater far
Than tongue or pen can ever tell;
It goes beyond the highest star,
And reaches to the lowest hell;
The guilty pair, bowed down with care,
God gave His Son to win;
His erring child He reconciled,
And pardoned from his sin.
Love of God, how rich and pure!
How measureless and strong!
It shall forevermore endure
The saints' and angels' song.
Amen.