The Sign: Tongues Part 3
by John Lowe
(Laurens SC, USA)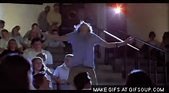 5 And there were dwelling at Jerusalem Jews, devout men, out of every nation under heaven.


And there were dwelling at Jerusalem Jews,
Jews came from far-flung lands and they spoke many languages. By "Jews" is meant Jews by birth; of Jewish descent and religion. Some made their permanent residence in Jerusalem, while others came to celebrate the Feast of Weeks (or Pentecost) in Jerusalem, because only at the Jerusalem Temple could they attend the special sacrificial services—"Also on the day of the firstfruits, when you bring a new grain offering to the Lord at your Feast of Weeks, you shall have a holy convocation. You shall do no customary work" (Num 28:26; NKJV). News of the strange events taking place on Pentecost quickly spread throughout the city. And we are given here an account of the public notice that was taken of this extraordinary gift with which the disciples were suddenly endowed. It seems that more than the usual number of people had come to Jerusalem for this feast of Pentecost; so that the public spaces were filled and overflowing with pilgrims. "There were dwelling" or abiding "at Jerusalem Jews" that were "devout men," devoted to the religion of the Jews, and they feared God. Some of them were proselytes of righteousness that were circumcised and admitted to membership in the Jewish church, others were only proselytes of the gate, that forsook idolatry, and now worshipped the true God, but did not participate in the ceremonial law. Some of those that were at Jerusalem now, had come out of every nation under heaven, where the Jews were dispersed. There were people there from most of the then known parts of the world; they had come from everywhere because of the Feast of Pentecost. This was their reason for being in Jerusalem. It is not surprising that many wealthy foreign Jews had a permanent residence in Jerusalem for the convenience of being near the temple.

devout men,
"Devout men," meaning literally, men who lived in a cautious and prudent manner. The term is applied to men, who were cautious about offending God; who were careful to observe His commandments. Therefore, it is a general expression to denote pious or religious men—"And devout men carried Stephen to his burial, and made great lamentation over him" (Acts 8:2: KJV); "And, behold, there was a man in Jerusalem, whose name was Simeon; and the same man was just and devout, waiting for the consolation of Israel: and the Holy Ghost was upon him" (Luke 2:25; KJV). The word "devout" means, "yielding a solemn and reverential attention to God in religious exercises, particularly in prayer; pious, sincere, and solemn prayer" (Webster). These "devout men" were "out of every nation," which implies they were not permanent residents of Jerusalem, although the language seems to imply more than a temporary visit to keep this one feast.

out of every nation under heaven.
This is a general expression, meaning from all parts of the earth. The countries from which they came are more specifically specified in Acts 2:9-11. The Jews at that time were scattered into almost all nations, and they had built synagogues in most of those places—"Then said the Jews among themselves, Whither will he go, that we shall not find him? will he go unto the dispersed among the Gentiles, and teach the Gentiles?" (John 7:35; KJV).

Still, they would naturally desire to be present as often as possible at the great feasts of the nation in Jerusalem. Many would seek a residence there for the convenience of being present at the religious festivities. Others who came to the feast of the Passover would remain for the feast of the Pentecost. And the consequence was that on such occasions the city would be full of strangers. We are told that when Titus besieged Jerusalem at about the feast of the Passover, there were no less than three million people in the city, and this vast multitude greatly increased the calamities arising from the siege. Since they are said to be devout men, I cannot imagine they were anything but Jews who were born in different countries or proselytes to Judaism.

At this time there was scarcely a nation under heaven where the Jews had not been scattered, and from all these nations, there were persons now present at Jerusalem. The circumstances then were completely suited to this wonderful display of divine power, the like of which had never been witnessed, even in the astonishing miracles of Moses and of Jesus.

"Under heaven" means from all parts of the world. Jews, in foreign lands, attended Pentecost in larger numbers than the other feasts, because the time of year favored travel.

6 Now when this was noised abroad, the multitude came together and was confounded, because that every man heard them speak in his own language.

Now when this was noised abroad,

A better translation of "when this was noised abroad" is "when this sound occurred, and had been talked about throughout Jerusalem." If we assume that there was a great boom of thunder, which followed the escape of a vast amount of electric fluid, and produced the mighty rushing wind that had already been noticed and the sound that had never been heard before—"And suddenly there came a sound from heaven as of a rushing mighty wind, and it filled all the house where they were sitting" (Acts 2:2; KJV), then the whole city must have been alarmed; and, since the circumstances might direct their attention to the temple, and having arrived there they were further astonished and confounded to hear the disciples of Christ addressing the mixed multitude in the languages of the different countries from which these people had come. Probably all 120 believers were there—"During this time, when about 120 believers were together in one place, Peter stood up and addressed them" (Acts 1:15; NLT).
the multitude came together,
They gathered together at the place where this unusual sound could be heard, and where the marvelous events were taking place.
But why were there so many Jews and proselytes in Jerusalem at this time: not just briefly to observe the feast of Pentecost, since they are said to be "dwelling at Jerusalem." They took lodgings there, because there was at this time a general expectation of the appearing of the Messiah; because Daniel's weeks had just now expired, the scepter had departed from Judah, and it was then generally thought that the kingdom of God would immediately appear—"And as they heard these things, he added and spake a parable, because he was nigh to Jerusalem, and because they thought that the kingdom of God should immediately appear" (Luke 19:11; KJV). This brought those who were the most enthusiastic and devout to Jerusalem, to wait there, so that they might have an early share in the kingdom of the Messiah and the blessings of that kingdom.
and were confounded, because that every man heard them speak in his own language.
The dictionary gives this meaning for confounded: "to perplex or amaze, especially by a sudden disturbance or surprise; bewilder; confuse." They were amazed and bewildered by this remarkable occurrence. It seems the disciples spoke in various languages before the people who spoke these languages came to the house where they were at; because it is implied that the spreading of the report of this event abroad was what brought the multitude together, especially those from different countries, who seem to have been more affected by this creation of wonder than the inhabitants of Jerusalem themselves. But what did they see and hear that that was so amazing?
1. They were amazed that the speakers are all Galileans, and therefore they should know no other language than their mother tongue (see verse 7); they are reprehensible men, from whom nothing educated nor polite would be expected. God chose the weak and foolish things of the world to confound the wise and mighty. Christ was thought to be a Galilean, and his disciples definitely were; they were unlearned and ignorant men.
2. The people who rushed there were amazed and bewildered because every man heard them speak in his own dialect. It was not only that the language of their country was spoken, but each man heard his own dialect as it was spoken in his area of the country. These men were not talking gibberish. They were not talking in unknown tongues. These men were speaking the dialects of the people in the crowd.
3. They were amazed that they spoke intelligibly and easily in their own language (which they were able to competently judge), so correctly and fluently that none of their own countrymen could speak it any better: We hear every man in our own tongue wherein we were born (see verse 8), that is, we hear one or other of them speak our native language. The Parthians hear one of them speak their language, the Medes hear another of them speak theirs; and so forth. We may naturally suppose that, as soon as any person introduced himself to one of these disciples, the disciple, was immediately enabled to address him in his own language and dialect. If a Roman introduced himself, the disciple was immediately enabled to address him in Latin—if a Grecian, in Greek—an Arab, in Arabic, and so forth. The message they spoke was itself amazing; we do hear them speak in our tongues the wonderful works of God (see verse 11). Their respective languages were not only unknown at Jerusalem, but probably despised and unappreciated, and therefore it was not only a surprise but a pleasing surprise, to them to hear the language of their own country spoken, as it naturally is to those that are strangers in a foreign land.