The Solution Part 1 of 3
by John Lowe
(Laurens SC, USA)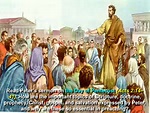 December 17, 2013

Acts of the Apostles


Lesson II.D.3.b: The Solution (6.2-6)


Acts 6.2-6 (KJV)

2 Then the twelve called the multitude of the disciples unto them, and said, It is not reason that we should leave the word of God, and serve tables.
3 Wherefore, brethren, look ye out among you seven men of honest report, full of the Holy Ghost and wisdom, whom we may appoint over this business.
4 But we will give ourselves continually to prayer, and to the ministry of the word.
5 And the saying pleased the whole multitude: and they chose Stephen, a man full of faith and of the Holy Ghost, and Philip, and Prochorus, and Nicanor, and Timon, and Parmenas, and Nicolas a proselyte of Antioch:
6 Whom they set before the apostles: and when they had prayed, they laid their hands on them.


Commentary

2 Then the twelve called the multitude of the disciples unto them, and said, It is not reason that we should leave the word of God, and serve tables.

Then the twelve
The twelve apostles (their number was now complete, since Matthias was chosen to replace Judas; Acts 1:26): were informed of the quarrel between the two categories of Christians in the Jerusalem church; Hebrew and the Hellenistic Jews.
Called the multitude of the disciples unto them

The term "multitude" can mean either the hundred and twenty, the original members of the church, and on whom the Holy Ghost descended on the day of Pentecost; or the whole body of the church, which is more probable since what the apostles had to say concerned them all; and they all had an equal right to choose their officers and deacons.
And said, it is not reason

The Arabic version renders this clause, "this does not please us"; but the NIV translates it—"It would not be right . . . for us to neglect the ministry of the word of God . . ." which may be a better interpretation. Other Bible students prefer to render it "not suitable" and "not proper"; but I prefer "not reasonable." The apostles needed to divest themselves of the ministry of distributing food to the widows, so they could devote themselves to the work they were called to do.

That we should leave the word of God
The Apostles were commanded by Christ to take the Gospel to the "uttermost parts of the earth", and in view of their calling they knew their emphasis must be the study of the word, meditation upon it, and preaching it. They did not think it was reasonable to neglect or abandon the preaching of the gospel in order to personally attend to the distribution of the alms of the church. The "gospel" is called the "Word of God," because it is His message; it is what He has spoken, or what He has commanded to be proclaimed to people.

We are not to infer from this that the apostles neglected their primary duties, but they were sometimes obliged to omit them, or limit the time they spent in the performance of those duties. Occasionally the care of the poor took up more of their time, than the work of the ministry, and therefore they thought it was not right and proper for them to continue to neglect a work of so great importance to the souls of men for the purpose of feeding their bodies.

And serve tables.
"Serve tables" is an expression which means "to take care of, or provide for the daily needs of a family." It is an expression that is usually applied to a steward, guardian, custodian, or a servant. The word "tables" is, however, sometimes used with reference to "money," since it is the place where money was kept for the purpose of "exchange, etc."—"And Jesus went into the temple of God, and cast out all them that sold and bought in the temple, and overthrew the tables of the moneychangers, and the seats of them that sold doves" (Matthew 21:12). Also: "Thou oughtest therefore to have put my money to the exchangers, and then at my coming I should have received mine own with usury" (Matthew 25:27). Here the expression means to attend to the monetary transactions of the church, and to make the proper distribution of funds designated for
the needs of the poor. This was not a simple matter, because it included taking up the collection for them, investigating each case to determine their circumstances, and then distributing alms according to the needs of each family. This required a good deal of time, care, thought, and circumspection, especially in such a church, where the numbers were so large.
We are beginning to learn what the business of deacons will be. They will be appointed to take this part of the apostles' work off of their hands, and make it their own responsibility. In addition to "serving tables," they will serve the table of the Lord, by providing the bread and wine for it; receiving both from the minister, when blessed, and distributing them to the members; collecting and distributing alms for the poor; observing what members are missing at the worship services, whom they are to visit: and they are also to serve the minister's table, by making sure that he has a sufficient remuneration to support him and his family.
3 Wherefore, brethren, look ye out among you seven men of honest report, full of the Holy Ghost and wisdom, whom we may appoint over this business.
Wherefore brethren look ye out among you.
"Look ye out among you" may be restated as "choose from among you", which indicates that this sort of officer or deacon, must be members of the church, and of the same church to which they are ordained deacons; and that they must be chosen for that office by the whole church body. This shows the wisdom of the apostles, since they would be free from all suspicions. It could not be said that "they" were partial, nor could it ever be alleged that they wished to embezzle the church's funds by managing them themselves, or by entrusting them to men whom they selected. It also follows from this that the right of selecting "deacons" resides "in" the church, and does not belong to the minister. It is evident from this verse that men who are to be entrusted with the alms of the church should be selected by the church itself.
There is nothing here that would justify a pope or bishop assuming the right to appoint church officers.
Seven men, of honest report.
Why was the number seven selected? We are not why, but perhaps we can hazard a guess. Seven was a sacred number among the Hebrews, but there does not appear to have been any "mystery" in choosing this number. It could have been for no other reason than that number was judged to be sufficient for the care of the poor in that church, and at that time. Certainly, it should not be a requirement for all churches to have seven deacons, though I have served as a deacon in a church that said seven is the biblical model. Reason would say that larger churches should have more than seven. From my own experience, I have found that the number of deacons is never the problem; the problem is that some of them don't do their jobs. They sought the office of deacon for the prestige that goes along with the title, and that is wrong and it is harmful to Christ's church.
"Of honest report" or rather of GOOD report; literally, "well-spoken of". Hence, in Hebrews 11:5 it is said of Enoch that "he had witness borne to him that he pleased God," and in Hebrews 11:4 of Abel that "he had witness borne to him that he was righteous;" and in Acts 10:22 Cornelius is said to be a man "well reported of by all the nation of the Jews." In Acts 16:2 Timothy is said to be "well reported of by the brethren." It is extremely important that deacons and all of the church's officers are men "of honest report"; that they have a good testimony and reputation both within and without the church; that they are honest and faithful, since they are entrusted with the church's funds, and many depend upon them for their care. Accordingly, the collectors of alms among the Jews were to be men who were known to be honest; men of morality and integrity: and, besides this, they were also to be men "full of the Holy Ghost, of wisdom."