THE SPIRIT WIND
by CharlesRobey
(Trussville, AL USA)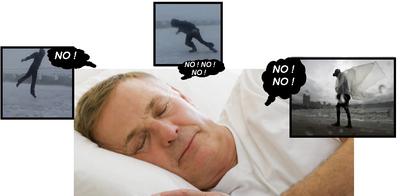 THE SPIRIT THE WIND


"The wind blows wherever it pleases. You hear its sound, but you cannot tell where it comes from or where it is going. So it is with everyone born of the Spirit." (John 3:8)

My work week has ended. And now I have the weekend all to myself, as the wife and kids are visiting the in-laws. The weather couldn't be better. So I think I'll go take a nice walk on the beach.

You see, this TV weather forecasting is getting more taxing by the day. Only 4 more years to retirement, and I can't wait, I'm so exhausted.

As I arrived on the beach, the water took on the character of a calm clear blue sky, but the winds seemed to be whirling uncontrollably around in the sand, causing a bit of a whirlwind. First from one direction, then from the other; it was like some unknown factor was whirling the wind back and forth across the sand before my very eyes. It was unusual, to say the least. However, my manly independence took over. This wind is not going to get the best of me or stop my plans. I've set out to walk, and walk I will do.

And did I get a workout! Walking with the wind was no great task, but walking against the wind was a completely different ball game. Nonetheless, being a meteorologist by trade, this weather phenomenon was merely commonplace to me. Walking against the wind just gave me a little more exercise than I was used too. So I just compensated by lying down in the sand a spell to take a little rest.

Did I happen to accidentally doze off, while laying there in the sand? I must have, for all of a sudden this weird looking character just appeared out of nowhere. His appearance was likened to that of a character from centuries gone by. He was wearing what appeared to be Bible garb, and as he began to speak, his dialect matched that of his clothing.

"Why are you just lying there, my son? You seem to be plum tuckered out," he exclaimed.

"Strange that you would notice, why I must be more out of shape than I realized, for I couldn't take the strain of walking against this whirling wind," I replied.

"Then, why didn't you simply turn around and walk with the wind, thus eliminating the wind drag? For when you walk against the wind, the wind pushes against you. But when you walk with the wind, it gives power," he answered.

Before I was able to answer this very logical point, the stranger quickly continued with what appeared to be a Bible object lesson.

"I would much like to illustrate an all-important point of Scripture here, if I may, my son. This wind is much like God's Holy Spirit in your life. You see on the day of the birth of the Church, on Pentecost, God's Spirit was referred to as sounding like a rushing wind. (Acts 2:2) May I continue?" He asked.

My response, "Yes you may continue, as you seem to have a valid point. But just who are you, a prophet, or apostle personified or simply a preacher?"

Not answering my question, he moved on with his sermon. "Like the wind, when
you walk against the Spirit, it creates a drag on your spiritual testimony. Every task becomes harder and more discouraging. So when you go against the Spirit you are fighting against God's wind, so to speak."
"And when you walk with the Spirit, there is no pressure against your soul. When you walk with the Spirit wind, the drag will disappear. The Spirit will empower you and you will move forward in your Christian life with ease."
"Much like the wind, the Spirit of God is a free agent in regeneration; He works how, and where, and when He pleases; He acts freely in the first operation of His grace on the heart. (I Cor. 12:11)
"And always remember, my son, this wind of the Spirit is mysterious. It has a will of its own, so to speak. It comes and it goes by its own laws. We don't control it."
"Now my son, it's time to take a spiritual inventory of your Christian life. What part of your life is pushing against the direction of the Spirit wind? And once you have figured that out, then turn around and walk with the Spirit wind. If you walk in the Spirit, life will change from being a drag to a breeze. Would you not prefer this move?" he finally concluded.
However, before I had a chance to think and answer His questions, this strange looking man had gone, quickly disappearing in like manner as He arrived. And with his unique disappearance, the wind seemed to quiet down as well.
"What happened next?" you may ask. Was my dream enough preaching for one day? Well, not quite, not completely. For when I walked back home, walking with the wind of course, lying on my kitchen table, alongside a partially empty soft drink bottle and a stale piece of chocolate cake was my Bible miraculously open to a very important portion of Scripture, the fifth chapter of Galatians.
Before I had time to meditate on this Scripture, I noticed the phone voicemail blinking. "Hello, my love! What you been up to? We are having a great time up here in the mountains with Ma-maw and Pa-Paw. We should be home early tomorrow. My love to our little dog, Bear. For now love and kisses."
Yes, what a day, what a weekend! I'll just have a bite and hit the sack. Not before my Bible study and nightly prayers, however, as I have surely learned my lesson.
Author's Postscript
In Scripture, the Greek word, pneuma, means both wind and Spirit. So what was the significant point or the objective of the aforementioned fifth chapter of Galatians, you may well ask.
Basically, (Galatians 5:16-26) gives a perfect contrast between the fruit of the Spirit and the works of the flesh.
In (Galatians 5: 16-18) we have the preamble. In (Galatians 5:19-21) the works of the flesh are listed. In (Galatians 5:22-23) the fruit of the Spirit is given. Then in (Galatians 5:24-26), we have a summarized closing statement.
Much like the main character of this blog, the object of this particular portion of Scripture is that if one will walk by the Spirit, one will always have victory over the desires and works of the flesh. One will always have the wind of the Spirit at their back. (Galatians 5:16) Amen!