The Tangled Web We Weave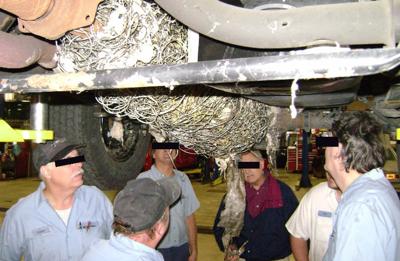 What a Mess!
A lady ran over a mattress on the highway
and decided not to worry, and kept driving.

The ensuing jumble finally whipped around enough to tear a hole in the fuel tank and she started losing fuel.

The subsequent lack of fuel is what finally
brought her vehicle to its knees.

She had still managed to drive 30 more miles
with a 60-pound tangle of stuff wrapped
around her drive shaft.

She had it towed to her dealership and complained
that the vehicle had a "Sort Of Shimmy"
when she was driving at high speeds.

Notice the photo of what they found at her dealership...

"Sort Of A Shimmy"...I'll bet it DID have a shimmy!

Is this just the best or what? They still can't believe their eyes. And they are still wondering how to remove this entangled mess!

Join in and write your own page! It's easy to do. How? Simply click here to return to Your Illustrations.
© 2008-2028 - All rights reserved.

No content on preachology.com may be printed or

copied to any other site without permission.