THE TEACHER
by CharlesRobey
(Trussville, AL USA)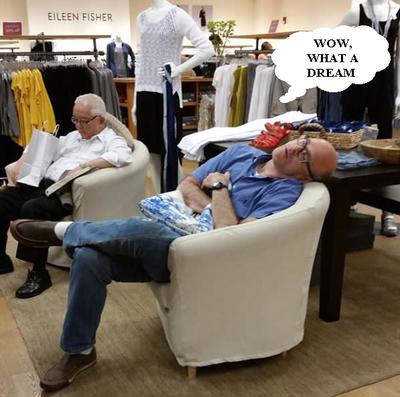 "Answer me quickly, Lord; my spirit fails. Do not hide Your face from me or I will be like those who go down to the pit. Let the morning bring me word of Your unfailing love, for I have put my trust in You. Show me the way I should go, for to You I entrust my life. Rescue me from my enemies, Lord, for I hide myself in You. Teach me to do Your will, for You are my God; may Your good Spirit lead me on level ground. For Your name's sake, Lord, preserve my life; in Your righteousness, bring me out of trouble." (Psalm 143:7-11)


A habit to which I have become accustomed since my retirement is to accompany my wife and young son to the large local indoor shopping mall. I just love to sit there and relax while they shop. Sometimes I simply people watch. Other times I may engage another sitter in a lively conversation conquering the world's problems. Then, sad to say, at times I will just take a little snooze.

Well, this must be one of those snooze encounters. You see, I must have wandered off into my personal dream world, for I looked around and what I saw was strictly unbelievable.

There in the mall was a very large number of people just milling around. What was so alarming was they all were wearing similar T-shirts, some bearing the statement "Forgiven" and the larger group bearing the statement "Not Forgiven."

What was even more unusually revealing was on occasion one of the "Forgiven" individuals would suddenly disappear into a bright ray of light. The "Not Forgiven" individuals disappeared as well, but into a big burst of flaming fire.

"What in the world is going on here? Is the world suddenly coming to an end?" I pondered.

Then, as if by divine direction, another gentleman came up and sat by me. He was well dressed and well spoken. He too was wearing a similar T-shirt, but his shirt displayed the word "Teacher."

"Who are you?" I ask.

"I'm your Helper, your Teacher, the one who was promised," He replied. Then he backed up His statement with this scripture.

"But the Helper, the Holy Spirit, whom the Father will send in My name, He will teach you all things and bring to your remembrance all that I have said to you." (John 14:26)

"I understand you may be concerned with what is happening here," He said.

"As a matter of fact, I am," I responded. Then what He said seemed to be spiritual destiny for my life.

"Those persons bearing "Forgiven" have accepted God's plan for their lives and have been forgiven by God for their individual sins. (Genesis 3:1-7) They realized that they could not save themselves from this sin they were born with." (Ephesians 2:8-9)

And those bearing "Not Forgiven" have chosen not to take God's invitation, and remain in their sins. (1 Cor 1:18)

"How sad this is!" I exclaimed.

"You're surely right," the teacher responded.

Then, again as by divine intervention I suddenly woke up, shaking and sweating profusely as my attention was drawn by those sitting around
me. However, a nice elderly gentleman sitting by came to my rescue.
"Can I help you, my son? You seem as if you have seen a ghost," he observed.
"I have had the most horrifying dream," I said.
"Then tell me about it, my son."
And that I did. At the conclusion, this kind gentleman just smiled for he was a retired church pastor, and he had all the answers for me that day.
About that time, just in time to wipe away my tears, my wife and son came back ready to go home, but I didn't tell them my dream. I wanted to put my decision into action. (Hebrews 11:6)
The next day, on Sunday, when my wife and son got ready for church, I was dressed and ready to go with them.
"Mommy, Daddy is dressed and is going to church with us!" my son yelled out.
"Hallelujah, our prayers are answered!" Mother cried out.
What happened then was quite a miracle, for I had sworn I would never go back to that church again. But God had other plans for this newly appointed church Deacon. Amen
Author's postscript
Forgiveness is one of the most important adjectives of scripture. First and foremost, God's forgiveness of our sins. (John 3:16-17) Then comes our forgiveness of others.
So, what about Christian dreams, one may ask? Are these dreams messages from God? We know that God's Word is complete. However, God may and probably does reinforce His written Word oftentimes through our dreams.
One once said that what we are thinking when we go to sleep is what we dream about. So, if you are thinking about God's will for your life, you may receive the answer through your dream. Conversely, if you are having evil thoughts as you go to sleep, guess what you may dream!
When we do have a spiritually-related dream, then it's the time to seek God's wisdom through prayer. (Psalm 27:8) When we do come to Him, He will always make our dreams clear to us by His Word or by sending us an interpreter in accordance with His Word. (2 Timothy 3:16) He will always guide us through all kinds of circumstances, even our dreams. (Exodus 13:21) (Genesis 19:16) (Acts 12:7)
So, don't worry about your dreams. Just let them come naturally. Let God's Holy Teacher guide and teach you in all things of His kingdom. (Micah 5:4)
MY CLOSING PRAYER
In you, Lord my God, I put my trust. I trust in You; No one who hopes in You will ever be put to shame, but shame will come on those who are treacherous without cause. Show me Your ways, Lord, teach me Your paths. Guide me in Your truth and teach me, for You are God my Savior, and my hope is in You all day long. (Psalm 25:1,3-5)
Then conclude by singing this old chorus( By Sidney Cox)
All there is of me, Lord
All there is of me.
Time and talent day by day
All I bring to Thee.
All there is of me, Lord
All there is of me.
On thine altar here I lay
All there is of me