The Temptation of Jesus Part 2 of 2
by John Lowe
(Woodruff, S.C.)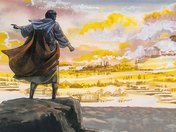 First, I want you to Notice that THE TEMPTER ATTACKS WITH AN "IF."


Sometimes there is power in a single word! For instance, there can be power in the single syllable "If," with which the devil begins his conversation with Jesus. It was brought into play by Satan, for the purpose of creating doubt in the Savior's mind, a doubt of Him being under His Father's care, and he said it in a clever and mean way. Jesus used this word "if" differently in those lessons which he so frequently taught to his disciples when he was on earth!

He always makes use of it to inspire confidence; never to stir up distrust. I'll give you a single instance of this: "If God so clothe the grass of the field, which today is, and tomorrow is cast into the oven, shall he not much more clothe you, O ye of little faith?" What a contrast between how Jesus used it, and the hateful manner in which the great enemy of God and man used it! There are seven things I want to point out about how Satan uses this little word "if."

1. First, "If" doesn't imply a point-blank denial. That would be too upsetting. Doubt serves Satan's purpose better than opposition. A seed of doubt can grow into what is perceived as truth. "If" he could have created doubt about His Sonship in the human side of Jesus mind, he would have won; it's as simple as that.

2. Second, he plants his "if" on our holy God. He makes any doubt he can raise in the Lord's mind, look like holy anx¬iety about Him being the divine Son of God. "If" he caused Him to worry about it, he would have won.

3. Third, he "ifs" a simple Scripture. It says in Psalm 2:7, "Thou art my Son". God raised up Jesus from the dead so that the work of salvation would continue. It was the resurrection that proved that Jesus was who He said He was; the eternal Son of God. "If" Jesus stayed in the grave then Satan would have won.

4. Fourth, he "ifs" a past appearance of God. At his baptism God said, "This is my beloved Son." God the Father identified Jesus as His Son on two occasions; His baptism and His transfiguration. The Holy Spirit also identified Jesus when He was baptized. John the Baptist was told that the one on whom the Spirit of God would come to rest would be the Christ. The spirit, in the form of a dove, came to rest on Jesus. All three members of the Trinity would eventually identify Jesus as the Son of God. Satan accuses us to God, and he contradicts our spiritual experience by causing us to doubt and by reminding us of past sins. He wins "if" we become discouraged and feel that we aren't good enough for God to love us.

5. Fifth, he "ifs" a whole life. Jesus has a very special relationship with the Father that we'll never know. God the Father, and God the Son, and God the Holy Spirit are three separate persons, but they are one-the divine Trinity. Jesus came into the world at the Father's request and from the very first Jesus had been about his Father's business; yet after thirty years his Sonship is questioned.

6. Sixth, he "ifs" inner consciousness. Our Lord knew that he was the Father's Son; but the evil one is daring. The Bible describes him as a lion roaming the earth seeking anyone he can keep from coming to faith in our Savior. Perhaps, he still believes he can win if he can turn enough people away from believing in Jesus.

7. Seventh, he "ifs" a perfect character. It is understandable that He would question our faith, since we have many faults; but Jesus had none. How could he think that he would be able to change the character of the only perfect man who ever lived? God doesn't change, for He is the same yesterday, today, and for ever.

The second thing I want to call your attention to is that The Tempter attacks with an "if," and then he AIMS THE "IF" AT A VITAL PART.

1. First, he takes aim at our sonship. In our Lord's case he attacks his human and divine Sonship, and in our case, he would like to make us doubt our salvation. He'll place thoughts in your mind: How can I be a Christian and still do some of the sinful things I did before I was saved? While I was praying, I had a lustful thought; how can I be a Christian. If the devil can cause us to question our salvation; he may prevent us from bearing any fruit.

2. Second, he takes aim at our childlike spirit. He tempts us to care only for ourselves. The temptation was, "Command that these stones be made bread." That would have been easy; didn't Jesus say to the Pharisees, when they
bragged about being descendants of Abraham, "God can make sons of Abraham from the stones lying on the ground." Jesus wouldn't do it; instead, He said, "Man does not live by bread alone, but by every word of God."
3. Third, he takes aim at our Father's honor. He tempts us to doubt our Father's desire to take care of us. But didn't Paul say, "But my God shall supply all your needs according to His riches in glory by Christ Jesus." God promises to meet all our needs, but not all our wishes, wants, or whims.
4. Forth, he takes aim at our comfort and strength as members of the heavenly family. By robbing us of our sonship, he would make us orphans. Satan didn't come to Christ and say, "Thou art not the Son of God"; or "That voice that called you His "beloved Son" was a lie or a delusion." No, he goes about his evil business by questioning the Savior, and that might seem to give the impression that He knew Jesus was the Son of God, and yet he might create some doubt in His mind, but that wasn't what happened.
Satan wants to hinder our prayers. How could we say, "Our Father" if we doubted our sonship? Satan would like to destroy our patience. How can we say, "Father, thy will be done," if we are not His sons? The devil will not leave you alone. He'll lay you open to the next shot, whatever that might be.
The third thing to notice is The tempter attacks with an "if," and he aims the "if" at a vital part, and then he SUPPORTS THAT "IF" WITH CIRCUMSTANCES.
Listen to some of the questions he may have put to Jesus:
1. You are alone. Would a Father desert his Child?
2. You are in a desert. Is this the place for God's Heir?
3. You are with the wild beasts. Shameful company for a Son of God!
4. You are hungry. How can a loving Father let his perfect Son hunger?
Put all these together and the tempter's questions come home with awful force to a man who is hungry, and alone. Remember, Jesus was the God-man; his body was just like ours. All that time without food would have left Him hungry, weak, and perhaps He was sick. When we see other people tested in the same way, do we think of them as brethren, or do we question their sonship, as Job's friends questioned him? I wonder if sometimes we shouldn't question ourselves! Are we being true to our profession of faith? Are we representing Jesus like we should?
The tempter attacks with an "if," and he aims the "if" at a vital part, and then he supports that "if" with circumstances, but WHEN WE CAN OVERCOME, THE TEMPTER'S "IF," IT IS NO LONGER A HINDERANCE; IT HAS BECOME HELPFUL INSTEAD.
In a demonstration of spirit and power, Jesus overcame the tempter, showing that He is the One who enables us to overcome temptation as well. Paul said, "Resist the devil and he will flee from you." If Satan comes to you and questions your relationship with God, it is a certainty that you're a true descendant. You see, he only questions truth: therefore we are true sons. He only leads sons to doubt their sonship; therefore we are sons.
Once he has been overcome, he may be quiet for years. Victory takes the sting out of man's questions and suspicions; because if we have answered the devil himself, we shouldn't fear to answer mere men. And victory puts sweetness into our relationship with our heavenly FATHER. Just as it was in our Lord's case, overcoming the enemy is usually the prelude to angels coming and ministering to us.
Once when Jesus was at sea and in a small boat a great storm came and threatened to sink the boat. Mark reported this incident in his Gospel. He said, "Then He arose and rebuked the wind, and said to the sea, "Peace, be still!" And the wind ceased and there was a great calm" (Mark 4:39). No calm is as deep as that which follows a great storm.
Friends, are you in such relation to God that it would be worth Satan's while to raise this question with you? "If you are a Christian; an heir of God, and so forth" Those who are not heirs of God are heirs of wrath. The purpose of the temptation was not to see if He would sin, but to prove that even under tremendous pressure He could do nothing but obey the Word of God. Jesus eventually received from the Father all Satan had offered to Him: the provision of bread, angels to minister to Him, and rule over both earth and heaven. His source of strength was obedience to the Father's will and He wouldn't even do a miracle to avoid personal suffering when such suffering was a part of God's purpose for Him.
WHAT A SAVIOR!