The Thief That Believed Part 2
by John Lowe
(Laurens SC, USA)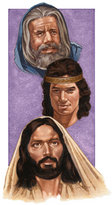 One more thing to note about this man is that he could do no good works. If salvation had been by good works, he could not be saved, because he was fastened to a cross of death. It was all over for him as far as being able to do any good deeds. He could say a good word or two, but that was all. If his salvation depended upon living a useful life, he could have never been saved.


He could not have any convictions and he couldn't even confess all his sins because he had just a short time to live. His end was very close, and yet the Savior could save him, and he did it so well, that before the sun went down he was in paradise with Christ.

This man, whom we have been discussing, was a person who believed in Jesus and confessed his faith in Him. He knew Jesus was a man and he called him that, but he also knew that he was Lord, and he called him that. He said, "Lord, remember me." He had such confidence in Jesus, that, if he would only think of him when He came into His kingdom, that would be all that he would ask of Him.

The problem with many is that they know all about Jesus, but they do not trust Him, and trust is the saving act. But this man did not hesitate: he grasped the only hope he had.
Notice also that this man prayed a humble but fitting prayer, "Lord, remember Me." This prayer doesn't seem to ask for much, but to him, it expressed his heart's desire. He believed that if the Lord would just think of him, that his soul would be safe for eternity.
Our Lord never forgets any of His sheep. Anyone can pray to Him and secure a place in the memory of the Lord Jesus Christ.
What we see in this man is a portrait of you and me. He will save you and me just as surely as he saved this thief. Jesus graciously says, "Him that cometh to me I will in no wise cast out." This means that if you come and trust Him, whoever you may be, He will for no reason, and under no circumstances cast you out.

Our second point is this, THAT THIS MAN WAS OUR LORD"S COMPANION AT THE GATE OF PARADISE.
Now, where did our Lord go when He left the body that hung on the cross? There are scriptures that say He descended into the lower parts of the earth. But He didn't stay there long. Remember, He died an hour or two before the thief, and during that time He passed through the underworld, and was entering the gates of paradise just when the pardoned thief was entering the eternal world. Many had passed through those gates, including martyrs, apostles, and patriarchs. But the one that entered in at the gate of paradise on this occasion, with the King of Glory, is a thief, who was saved at his death. His salvation was not inferior in any way, and his reception into paradise was not diminished in any way because Jesus said that those that are last shall be first.

And when he went in, I believe there was a great shout from the angels, for there is joy in the presence of the angels of God over sinners that repent.

For just a moment, consider how wonderful this place is that Jesus brought this newly saved soul to.

Jesus said, "To day shalt thou be with me in paradise." Paradise means a garden filled with enjoyment. Our Savior took this dying thief into the paradise of infinite enjoyment, and this is where He will take all of us sinners who believe in Him. If we are trusting in Him, we will ultimately be with him in heaven.

The next thing to take note of is the glory of the society that Jesus introduced this sinner to: "To day shalt thou be with me in paradise." We shouldn't need to add another word because where He is, is heaven to us. Think of it, you are to live with the beloved Savior forever. Where He is, and as He is, so will you be.

Now consider, if you will, how speedily all this happened. "Verily I say unto thee, To day shalt thou be with me in paradise." He didn't have to lie in purgatory for ages or sleep in limbo for many years; he was ready for heaven at once. This man was on the road to hell, but Jesus lifted him up and said, "To day shalt thou be with me in paradise."

In those few hours, this beggar went from the cross to set among princes. Can you measure the change that took place for this forgiven sinner as his soul left the cross and went to paradise, and there to be clothed in pure white, and accepted in the Beloved.

We have seen that the Lord passed through the pearly gates with this one who had trusted in Him. There will come
a day when you and I will pass through that same pearly gate, clothed in His righteousness, washed in His blood, resting in His power. I wonder if the angels that guard the gate will be surprised to see us there.
Now we have come to our third point: WE NEED TO PAY CLOSE ATTENTION TO THE LORD'S SERMON FROM ALL THIS.
But first, the devil wants to preach a little bit. If we would allow him, he might say, "You can be saved any time. Put it off for now. Wait until you are on your death bed; there's plenty of time."
Don't listen to him, because he wants to own your soul. Don't run the risk of missing paradise. The Lord will accept all who repent; but how do you know that you will repent? It is true that one thief was saved, but the other thief was lost. God is patient, but when a person rejects Christ, he puts his soul in tremendous peril, because he may not have another opportunity.
Think about what our Lord is teaching us in that brief sermon that He spoke from the cross.
First, we can glimpse the glory of Christ in this final act of salvation. He is ready to save at the last moment.
He had almost passed on; His foot was at the doorstep of His Father's house when this poor sinner makes his request. And the Savior smiles and declares that He will not pass through heaven's gates without him.
Jesus so easily saves a sinner for whom He painfully died. Jesus loves to save sinners from going down into the pit of hell. You will be happy if you are saved, but you will not be half as happy as He will be when He saves you.
He comes to us full of tenderness, with tears in His eyes, mercy in His hands, and love in His heart. He is a great Savior of great sinners.
The next principle Christ preaches from this wonderful story is that He permits those who believe, to attach themselves to Him. This man believed that Jesus was the Christ. The next thing he did was to attach himself to Christ. He said, "Lord, remember me." As soon as you believe that Jesus is the Christ, grab hold of Him. The moment that you believe that Jesus is the Savior, take hold of Him as your Savior. Jesus is the common property of all sinners, who are daring enough to take Him. Every sinner who has the will to do so can take Him home with him. He came into the world to save the sinful. If you trust Him, He must save you.
Next, notice that He preaches of how immediately faith brings salvation.
"The moment a sinner believes,
And trusts in his crucified God,
His pardon at once he receives,
Redemption in full through his blood."
"To day, shalt thou be with Me in paradise." He no sooner believed, than Christ gave him the assurance that he would be with him for eternity.
Friends, if you believe this morning, you will be saved this morning. By the grace of God, you could be saved right here, on the spot, and at once.
The next thing is the nearness of heaven and hell. Think about it for a minute. Heaven and hell are not places that are far away. You could be in heaven before the clock ticks again, it is so close. "Today," said the Lord; "shalt thou be with me in paradise."
Another thing that we know from this story is that if you have believed in Jesus you are prepared for heaven.
It may be that you have another year to live on earth, or five, or ten, or longer. But if you don't live another hour, your death will not alter the fact that your belief in the Son of God means you are ready for heaven. If anything more than faith is needed to make us fit to enter paradise, the thief would have had to stay a little longer on earth. But that wasn't the case; in the morning he was just a dying sinner, at noon he was born again into a state of grace, and by evening he was entering paradise. It's true if a man dies five minutes after he is saved, he is as safe as if he has served the Lord for fifty years.
The last thing to see is that this is not an exceptional case.
If it were an exception, it would not be found in the Word of God. The Savior had this wonderful story published because He plans to repeat this marvel every day. He is able to save to the uttermost because He saved a dying thief. Therefore, I pray that if you have not trusted in my Lord Jesus, that you would trust Him today. Trust Him completely; trust Him only; trust Him at once. Then you can sing this song with me-
"The dying thief rejoiced to see
that fountain in his day,
And there have I, though vile as he,
washed all my sins away."
Amen.