The Treatment of Titus: Part 1 of 5 (series: Lessons on Galatians)
by John Lowe
(Woodruff, S.C.)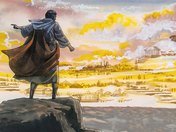 September 11, 2013

The Epistle of Paul the Apostle to the Galatians
Tom Lowe

Chapter II.B.3.a: The Treatment of Titus (2.1-5)

Galatians 2.1-5 (KJV)
1 Then fourteen years after I went up again to Jerusalem with Barnabas, and took Titus with me also.
2 And I went up by revelation, and communicated unto them that gospel which I preach among the Gentiles, but privately to them which were of reputation, lest by any means I should run, or had run, in vain.
3 But neither Titus, who was with me, being a Greek, was compelled to be circumcised:
4 And that because of false brethren unawares brought in, who came in privily to spy out our liberty which we have in Christ Jesus, that they might bring us into bondage:
5 To whom we gave place by subjection, no, not for an hour; that the truth of the gospel might continue with you.


Commentary

1 Then fourteen years after I went up again to Jerusalem with Barnabas, and took Titus with me also.

Then fourteen years after I went up again to Jerusalem with Barnabas,
Paul has given us the timetable for his third trip to Jerusalem. It is, either fourteen years after God called him by His grace, and revealed His Son to him on the road to Damascus; or, as I take it to mean, fourteen years after he had been at Jerusalem to see Peter (his first trip to Jerusalem.), with whom he stayed fifteen days, and then went into Syria and Cilicia (His time there was spent chiefly in preaching the gospel); so that it was seventeen years after his conversion that he took this journey to Jerusalem; and he seems to refer to the time when he and Barnabas went from the church at Antioch to the apostles and elders about the question of whether circumcision was necessary to salvation. Some persons from Judea who had come among the Gentile converts had insisted on the necessity of being circumcised in order to be saved. Paul and Barnabas had opposed them; and the dispute had become so heated that it was agreed to submit the subject to the apostles and elders at Jerusalem. For that purpose Paul and Barnabas had been sent, with certain others, to lay the case before all the apostles. The background for that particular trip is given in Acts 15.1, 2, where it says: "And certain men which came down from Judaea taught the brethren, and said, except ye be circumcised after the manner of Moses, ye cannot be saved. When therefore Paul and Barnabas had no small dissension and disputation with them, they determined that Paul and Barnabas, and certain other of them, should go up to Jerusalem unto the apostles and elders about this question"—which entirely agrees with the account the apostle gives of this journey. The next two verses give more details of this journey which took place around A.D. 50: "And being brought on their way by the church, they passed through Phenice and Samaria, declaring the conversion of the Gentiles: and they caused great joy unto all the brethren. And when they were come to Jerusalem, they were received of the church, and of the apostles and elders, and they declared all things that God had done with them." It was a successful occasion, because the council of the apostles and Church decided that Gentile Christians do not need to be circumcised. He does not mention that decree, however, and the reason he does not may be:

1. Because his purpose here is to show the Galatians his own independent apostolic authority, which is not likely to be supported by the council. Thus we see that general councils are not above apostles.

2. Because he argues the point upon principle, not upon the authority of the council's decisions.

3. The decree did not go as far as far as Paul thought it should: the council did not impose Mosaic ordinances; but the apostle maintains that the Mosaic institution itself is at an end.

4. The Galatians
were following the false teachers who were Judaizers, not because the Jewish law was imposed by authority of the Church as being necessary to Christianity, but because they thought it was necessary for those who aspired to higher perfection to observe the Law of Moses in addition to Christian faith and doctrine—"Are ye so foolish? having begun in the Spirit, are ye now made perfect by the flesh?" (Gal. 3:3); also "Tell me, ye that desire to be under the law, do ye not hear the law?" (Gal. 4:21). The decree would not help him refute their view, and therefore would have been useless to quote. Paul provides them with a far more direct repudiation, "Christ is of no effect unto you whosoever are justified by the law" (Ga 5:4). His argument is that those who sought to be justified by their obedience to the law, or who thought they were, and believed they were, in fact, righteous, were in reality otherwise, because no one has ever been, or ever will be, justified by the deeds of the law.
Paul in actual fact had made another journey to Jerusalem before this with the collection for the poor saints in Judea which took place in A.D. 44 (See Acts 11:29-30; Acts 12:25), but he does not mention that here, probably because he did not see the other apostles at that time, or more probably because that journey could not add anything to the point now under debate.
and took Titus with me also.
Titus was a Greek; but he had been converted to Christianity. Paul had not circumcised him; but had admitted him to the full privileges of the Christian church. Here then was the case in point; and it may have been important to have had such a case under discussion, so that they might fully understand it. This is the first mention of Titus which occurs in the Bible. He is not mentioned by Luke in the Acts of the Apostles, and though his name occurs several times in the Second Epistle to the Corinthians (See 2 Corinthians 7:6, 2 Corinthians 8:6, 2 Corinthians 8:16, 2 Corinthians 8:23, 2 Corinthians 12:18), yet it is to be remembered that that Epistle was written a considerable time after this Epistle to the Galatians. He accompanied Paul frequently in his travels; was utilized by him in important services (see 2 Corinthians—the places referred to above); was left by him in Crete "to set in order the things that were missing, and to ordain elders there" (Titus 1:5); after that, he went into Dalmatia (2 Timothy 4:10), and is supposed to have returned again to Crete, where it is said he spread the gospel in the neighboring islands, and died at the age of 94.
Paul took both Barnabas and Titus with him on this trip; Barnabas is mentioned going with him at this time in Luke's account and here, but Titus is only mentioned here. The reason he is not mentioned in Acts is probably because he was not sent by the church, as Paul and Barnabas were, yet the apostle might have thought it fitting and prudent to take him along, since he was converted by him, was a minister of the Gospel, and continued uncircumcised: In Titus 1.4, he calls him his own "son," (Titus 1:4). In addition, it is probable that he chose to take him along, partly in order to obtain the other apostles approval and endorsement of Titus as a minister of the Gospel; and partly so that he might be a living testimony of the fact that the apostle does what he preaches; and that by having him and Barnabas with him, he might have a competent number of witnesses to testify to the doctrines he preached, the miracles he had done, and the success that he had among the Gentiles; and to relate to the church at Antioch, upon their return, what had been said between him and the elders at Jerusalem; "for by the mouth of two or three witnesses everything is established."