THE TWO HEADED DRAGON
by CHARLES ROBEY
(MOODY AL USA)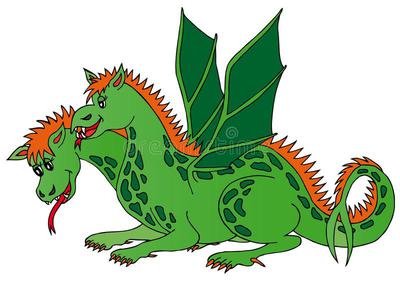 PROLOGUE

Remember the old truism "two heads are better than one"? The definition is that some problems may be solved more easily by two (or more) people working together than by one working alone.

Well, not so much when it comes to politics. Politicians, historically, have a singular way of acting to foster their own ideas and agendas for the sole purpose of amassing power, control or to stroke their egos. In other words, they aways seem to want to get the individual credit for their actions, be they good, bad or indifferent.

In their minds its always for the betterment of government, not so much the will of the people. But guess what, if their plans don't work out, then they play the blame card.

"He who justifies the wicked and he who condemns the righteous are both alike an abomination to the Lord." (Proverbs 17:15)

Of course, tomorrow will probably bring on another leftist buzz, depending on the issues at hand. You know, it's kind of hard for today's progressive socialist to pass by a highly rated story, whether it's true or not. Now for the topic of the day, another eventful fiction parable, an earthly story with heavenly meaning entitled "THE TWO HEADED DRAGON."

"Mom, Mom, Dad's acting crazy again out on the patio, talking to himself!" his daughter exclaimed.

"Never mind, it's his job, it seems to be getting to him lately. He just needs to cool off a bit. He needs to take a walk on the beach. That usually tends to settle him down. I'll suggest it, if I can get a word in edgewise," his wife replied as she overheard him out back mumbling to himself.

"It's been another taxing week for me down at city hall," he recalled. He then continued, in between singing to himself, "It seems to be getting to me like never before. What's happened to this old Republic, the land of the free, and the home of the brave? Why can't it be like the good ole days again? Guess it's like the preacher said in last Sunday's message. They, whoever 'they' may be, have surely taken God out of it all."

Then it was all over, all the ranting and raving was quickly concluded, and he walked back in from the outside patio. He thought, 'Seems like a good day. Think I'll get some early sleep. Tomorrow, I may take the wife's suggestion, take the day off, and go for a nice relaxing walk on the beach. Yes, that's what I'll do, go down to the beach.'

I don't know how I might relate it to you, how unlikely it was for a person of my aptitude, my professional skill, ability or talent. I could see it very clearly with my own eyes. So, please allow me to begin, with my own eyes.

I'm talking about another mysterious dream or vision. It could have actually been a real-life meditation. I happen to be having a mixture of both of late, especially after gulping down my nightly snack and retiring for the night from a heavy day's workload.

It was evening; the sun was slowly disappearing through my bedroom window. I was lying leisurely across my bed, my laptop across my knees.

Then the laptop flickered and went black. My memory faded away. It was a dream like none other.

I was standing on the sands of the seashore. And I saw a huge dragon coming out of the sea, having two heads. One head was a red-colored elephant, the other a blue-colored donkey. And on the heads, there were two separate word displays.

The elephant carried the old familiar freedom and Scripture references. The donkey had the opposite with progressive socialist woke acronyms. Neither said a word.

The elephant seemed more relaxed, more serene, as if he was being divinely directed. The donkey was just the opposite. His tense posture held more calculated evil intent.

My mind suddenly shifted into overdrive. Each head seemed to be fighting for the very soul of mankind, the vary soul of a nation. It was all I could do to stand there for what seem like an eternity. My body was literally frozen in place.

I began to surmise, 'Which one will win? Will it be the strongest-willed personality? Will it be the most influential? Will it be the most convincing? Will it be the one portraying the more religious demeanor?' The questions continued with no end in sight.

Each head had obviously been professionally coached. The elephant had been schooled in the ways of spiritual insight, and the donkey was trained in progressive socialist opposition. As I watched, each head, in turn, began to speak. The elephant apparently had a feel for the donkey's socialistic progressive mindset, but exercising better manners, motioned for the donkey to precede first.

The donkey's presentation, as you might imagine, consisted of a lineup of today's current progressive woke arguments, comparing them to today's society. He gave an argument for big government socialism, the Green New Deal, and artistic, cultural change.

The elephant's rebuttal was quite the opposite. He opened America's Declaration of Independence and began reading.

"We hold these truths to be self-evident, that all men are created equal, that they are endowed by their Creator with certain unalienable Rights, that among these are Life, Liberty, and the pursuit of Happiness." (The Declaration of Independence)

Nonetheless, however, he didn't get far into his reading, before the donkey attempted to reach over and eat the elephant's copy of the Declaration of Independence. The elephant quickly tucked it away.

"What an array of bad manners this donkey has displayed," was the elephant's calm response.

What happened next was totally beyond belief, beyond any logical explanation. A large rowboat came out of nowhere, manned by nine accomplished seamen, each wearing a long black judicial robe. As the boat came closer, five of the nine seemed to separate from the four and come together in some sort of agreement.

Whatever the groups decision, it surely met the approval of the sea. The sea creatures, of all nature, were up and balancing around in the water shouting their approval.

As if by a divine miracle, the blue donkey head suddenly disappeared.

So did my dream. I was back at home, still sitting out on the patio, but soaked with sweat. One thing for sure; I'll never talk negatively to myself again, nor will I answer myself. For now, I'm too busy studying Scripture, reading about the past, the present and future.

"Pastor, Pastor, please pick up quickly, we need to talk." End of dream, beginning of service. Amen!

EPILOGUE

You may never encounter a two-headed dragon. Not in real life, not in your dreams, not in the newspaper comics. And surely not in politics.

So, where did this dragon come from? Who were these nine judicial figures? What happened to the blue donkey head? What did the judges want with the blue donkey? Why did he disappear? Where did he go, ever so quickly? These are possibly questions for another time, another blog.

I trust you enjoyed this fiction blog, as I enjoyed its writing. For me, I also have questions. Why is politics color coded? Why is there such a separation in the ideology of different political factions? After all, aren't we all considered red-blooded Americans?

Well, I can see the object of color coding. It makes for easier understanding of today's HD color television. However, we red-blooded free Americans should all foster the same basic Christian principles, as well as our God-inspired founding documents.

Yes, we are indeed living in troublesome times. We should not be blinded by today's cultural upheavals, and not marginalize the impact these trends are having on faith-based living.

This is a time when, in order to survive, we must remain true to our living Creator God, family and country, in that order. We must find the light at the end of the proverbial tunnel.

"Someone's sitting in the shade today because someone planted a tree a long time ago." (Warren Buffett) My interpretation is that we modern Americans are enjoying today's freedom shade, because our founding fathers planted those trees of liberty so long ago. America's founding fathers insisted on the God-given principles of freedom. Because they did so, America has been divinely blessed as no other nation since Israel.

Perhaps then, the answer to these, as well as other politically driven concerns may be addressed in yet another blog. Stay tuned, bye for now. Sweet dreams y'all.

My parting prayer: "Father God, I'm so unsettled within my spirit that my soul trembles within me. I know you are still our all-powerful, all-knowing Redeemer. I know you still place the just and unjust in authority according to Your perfect will. (Daniel 2:21) I know you reward good and punish evil (Genesis 12:3) with respect to Your people Israel. And I know from personal ongoing experience, that You love and protect Your own. (Galatians 3:26) Thank You for Jesus (John 3:16) and Your Holy Spirit (Romans 8:26) to lead me and guide me into all truth, (John 14:26) in Jesus' name I pray. Amen!"