The Way of Grace Is Clearly Different: Part 2 of 2
by John Lowe
(Laurens SC, USA)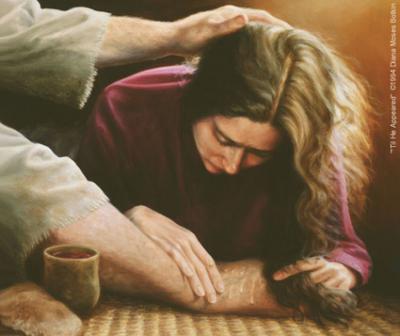 This is not at all the way the world does things, although there are other hints in this world that helps show that this is God's way. My family has visited a bird park, which has hundreds of kinds of birds from all over the world. And one of the beautiful things about that park is not just seeing the birds, but listening to their beautiful songs. There's nothing quite like standing there, transfixed by the joyful melodies of eagles and emus, penguins, peacocks, and pelicans, flamingos, and vultures! Oh — I can see some of you are looking at me funny now. Because everybody knows that birds like that don't sing! It's not the big ones, not the ones that draw everybody's attention. In fact, it's the smallest birds — the ones you might not even know were there if not for their voices — that sing the sweetest melodies. In the same way, the sweetest music in the world comes from Christians who consider themselves small and humble themselves before others and the Lord — because they know their true worth. They know their worth to others and to the Lord, and so their lives and words are music to His ears. And such humility is not without earthly rewards, either.

As Jesus' parable indicates, when you humble yourself, you allow others to lift you up — and they may very well lift you up higher than you would have placed yourself. Think about it — isn't a promotion or award given to you by your boss for your work well-done so much better than one you fought and schemed and bargained for? And what about kids — aren't they happier and more successful with privileges their parents give them, because they believe they're ready, than with things parents think they ought to have just because they're a certain age or because their friends have them or simply because they want them? "Everyone who exalts himself will be humbled, and he who humbles himself will be exalted."

25 years or so ago, Mac Davis had a tongue-in-cheek song on the charts whose refrain began, "Oh Lord, it's hard to be humble when you're perfect in every way." Actually, for the Christian, it's completely the opposite: it's easy to be humble, because we're perfect in every way. Folks, if we tried being as humble as Jesus calls for here, and to do so in our own strength, we'd be easily tripped up — wouldn't last very long. But we haven't only been forgiven our sins — we've also been given Christ's perfection, and no one has ever been more humble than the Son of God made flesh. Perfection does not mean pride, it means humility.

II. A WHILE BACK WHEN I DROVE BY THE AUTO ZONE ON HILLCREST THERE WERE SOME GIRLS OUT BY THE ROAD WITH A SIGN THAT SAID, "FREE CAR WASH!"

I didn't have time to pull in, but I was pretty sure of one thing I would have found if I had: the car wash wasn't really free. The whole idea is that they'll wash your car and you'll feel so appreciative (or simply obligated) that you'll make a donation to whatever cause they're promoting — perhaps even paying more than you would have paid for a professional car wash. Although I'm not finding fault with the cheerleaders or soccer team or whoever they were, that's a good illustration of what Jesus was speaking against in his second parable here — doing something good for someone with the expectation of getting something good in return. The way of grace is different — Jesus encourages us to do good for those who cannot repay us in kind, whether it's feeding the hungry, clothing the poor, or helping the handicapped. This is not easy, by the way.

Our world has us pretty well conditioned to not do anything for nothing, and our sinful nature doesn't like the "wasted effort" of helping people who can't help us. But once again, God's grace makes the difference in our hearts. Because that's exactly the way God's love works, isn't it? Think of all the things he has given, gives, and will give not only to you, but to everyone on the earth. Physically we have sun and rain and food and shelter and clothing and
countless things besides; spiritually we have the forgiveness of sins, life, and salvation in Jesus Christ, the Word of God, and the sacraments.
Has the Lord given us any of those things expecting to be repaid in kind? Of course not — and that again is God's grace at work.
Believers have that same love at work in their lives, and I probably don't have to tell you how to show it, because the opportunities to do so fill your life and are unique to each one of you. Maybe it's writing a check to charity. For the young person, maybe it's inviting the unpopular girl to your birthday party. Perhaps it's finally actually responding to that homeless guy on the street near your church. For the businessman, maybe it's offering a job to a single parent without references. You know — and if you pray about it, God will open up more and more opportunities to be like Him in giving to those who can't give back to you.
III. BUT YOU WILL GET SOMETHING BACK.
Jesus says here that we will be blessed for the love we show and give to others. We "will be repaid at the resurrection of the righteous." Our reward and our treasure are in heaven. This means, of course, that we can't see our rewards in the here and now when we do things. That's OK, though, because we can still be confident that they're infinitely greater than anything we could gain here on earth.
There's a story told that years ago, late on a stormy night in Philadelphia, an elderly couple walked wearily into a hotel. They approached the night clerk at the desk and practically begged him for a room. Apparently there were three conventions in town, and every hotel was filled to capacity. "Are there any rooms left anywhere?" the old man inquired. "I'm sorry. All of our rooms are taken," the clerk said. "But I can't send a nice couple like you out into the street and in the rain at one o'clock in the morning. Would you perhaps be willing to sleep in my room? It may not be what you're used to, but it will be good enough to make you folks comfortable for the night." When the couple declined, the young man pressed it. "Don't worry about me; I'll be just fine," the clerk said. "Just take my room." So the couple agreed. As he paid his bill the next morning, the older man said to the clerk, "You know what? You are the kind of man who should be the boss of the best hotel in the United States. Maybe someday I'll build one for you." The clerk didn't think much about that, and two years passed. The clerk had almost forgotten the incident when he received a letter from the old man. It recalled that stormy night and enclosed a round-trip ticket to New York, asking the young man to pay them a visit. The old man met him in New York, and led him to the corner of Fifth Avenue and 34th Street. He then pointed to a great new building there, a palace of reddish stone, with steeples and towers thrusting up to the sky. "That," said the older man, "is the hotel I have just built for you to manage." "You must be joking," the young man said. "I can assure you that I am not," said the older man, a sly smile playing around his mouth. The old man's name was William Waldorf Astor, and the magnificent structure was the original Waldorf-Astoria Hotel.
You see, when we give without worrying about being repaid, we can't foresee the rewards of our kindnesses. But Jesus guarantees they will be repaid in countless blessings at the resurrection of the righteous — at the end of the world, when He comes to take his faithful people home with him to heaven. Because that's where the way of grace leads us: heaven. That's where we belong, and even though we're strangers and aliens in this world, we still live as citizens of heaven. We know our true worth. We know our place and our purpose, and so we live with humility toward ourselves and love for others. Because we live by what we have been saved by: the grace of God in Jesus Christ.
Amen.