THE WISE MEN SAW THE LIGHT
by CharlesRobey
(Trussville, AL USA)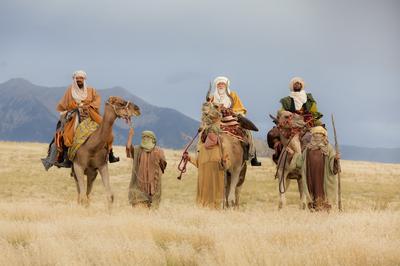 The Wise Men saw the holy light

As they traveled in the dead of night
They traveled from a distant land
All kings of a very important band
Watching the star as they did go
In hopes of seeing God's own show
Traveling to His place in a new day
To where the Christ Child did play
Bringing gifts of worldwide fame
Into the lowly household, they came
Kneeling down to worship the King
With the special gifts, they did bring
Leaving the scene with all delight
Taking to a different flight
The baby is safe and so are they
Returning to worship another day
Wise men still seek Him in His fame
The gospel He does now proclaim
Will you come now and hear Him out?
Will you come worship with a shout?
Like the Wise Men, He has a reward
To all those who will get on board
The Wise Men saw the holy light
As they traveled to the holy site

The second chapter of Matthew's Gospel (Matthew 2:1-12) gives a very good description of these wise men (magi) and their adoration of the Christ Child. We don't know for sure how many of these renowned men actually made the journey. Nor do we know exactly how old the young Christ Child was, when they did arrive to worship Him. We do know, however, that their main purpose was to worship this new-born King of Israel.

History tells us these
men were men of great learning. In today's society, they would have probably been known as astrologers. They likely would have been very rich and well esteemed in their society. It is strange, however, that the book of Matthew is the only book of the four gospels to carry their story.
The gifts they brought, although strange to give to an infant, were very much in line with the birth and death of this Christ Child, Jesus.
Gold is associated with Kings and Christians believe that Jesus is the King of Kings. Frankincense is sometimes used in worship in churches and showed that people would worship Jesus. Myrrh is a perfume that was put on dead bodies to make them smell nice and showed that Jesus would suffer and die.
Now if you centered on the bare facts of this all-important story such as the known titles of these men, how many men made this trip, and the exact age of the baby Jesus when they arrived, you are missing out on the main plot of this narrative. Their entire mission was to worship the new-born king of the Jews.
You see, these men saw the light, the holy, guiding light. Have you seen this light, the light of the world, Christ Jesus?
"Again Jesus spoke to them, saying, "I am the light of the world. Whoever follows me will not walk in darkness, but will have the light of life." (John 8:12)