The Work in Philippi: Part 12 of 14
by John Lowe
(Laurens, SC)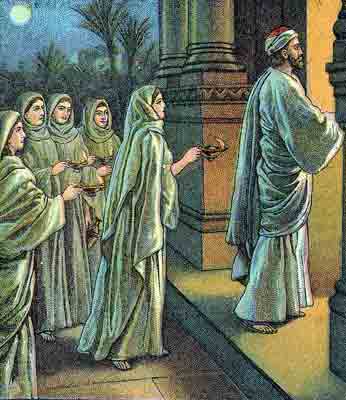 33a And he took them the same hour of the night, and washed their stripes.


The witness to Christ was primary and took precedence over everything else. Now the jailer became aware of the two prisoners suffering and bathed the wounds which they had received from the beating by the lictors. Perhaps this took place in the courtyard where the household water supply would be located.

This was the first act of a converted man. Callousness was changed to concern, brutal language to brotherly love. With his own hands, the jailer took sponge and water and gently washed away the blood and grime and tended his prisoner's wounds. He could not set them free, but he could ease their pain. One of the evidences of true repentance is a loving desire to make restitution and reparation wherever we have hurt others. We should not only wash one another's feet (John 13:14-15), but we should also cleanse the wounds we have given to others. There is something heartwarming about the sight of this tough jailer gently ministering to the physical needs of his prisoners as they, a moment before, had ministered to his spiritual needs. But that is what the gospel does. It makes crooked people straight, drunk people sober, and immoral people pure. It transforms lives so that we see a converted Zacchaeus giving away his money and a converted jailer washing his prisoners' wounds. We can be sure, too, that every other prisoner in that Philippian jail noticed the difference in their jailer before the day was over.


33b And was baptized2, he and all his, straightway.

The jailer, then, was baptized, and his baptism, as it always is with Christian baptism in the New Testament, was "the outward expression of an inward experience," a public confession of his faith in the Lord Jesus Christ. Luke does not tell us where this baptism took place, but probably it was in the river where Paul and the others had first met Lydia. Baptism, by its very nature, should be as public a ceremony as possible.

This is one of the most abused texts in the Bible. It has been seized upon, torn out of context, and used repeatedly to support the doctrine of infant baptism. It teaches nothing of that kind. "Prove it," you say. "Look at the next verse," I say. It says, "Believing in God with all his house." That proves that everyone in his house was old enough to believe. There were no babies in that home at that time. The Bible teaches believer's baptism, not infant baptism."

Neither does this verse teach so-called "household salvation," which has no basis in the Word of God—that is, that the decision of the head of the household brings salvation to the other members of the household. The people in the household of Cornelius were old enough to respond to his call (Acts 10:24) and to understand the Word and believe (Acts 10:44; 11:15-17; 15:7-9). The household of Crispus was composed of people old enough to hear and believe God's Word (Acts 18:8). And each individual member of the jailer's household must be saved by believing in the Lord
Jesus Christ.
Many people today seem to have difficulty knowing what it means to believe. However, when a sinner realizes he is lost, helpless, hopeless, hell-bound, and when he is told to believe on Christ as Lord and Savior, he knows exactly what it means. One must believe Jesus is who He claimed to be (John 20:31) and believe in what he did (1Corinthians 15:3, 4). It is the only thing left that he can do!
34 And when he had brought them into his house, he set meat before them, and rejoiced, believing in God with all his house.
Throughout Luke's story, he focused attention on the various signs evidencing conversions (i.e., speaking in tongues, expressions of joy, and hospitality). Here the evidence of conversion is the family's joyfulness and the jailer's washing of the apostles' wounds. Then there took place an even more significant "washing," when the jailer's family was baptized. Then the jailer treated Paul and Silas in a most unusual fashion for prisoners. He took them into his home and fed them at his own table.
3
They were no longer prisoners to be despised and mistreated; they were brothers in Christ.
What a supper that must have been. We can well imagine that Paul and Silas were hungry. Long ago they had abandoned their old Jewish scruples about eating a meal in a Gentile home. What a tragedy it would have been, what a denial of brotherly love, if Silas had said, "Brother Jailer, has this meat been offered to idols? Was it killed kosher fashion? If not, I'm sorry, but I cannot eat at your table." No! There was nothing like that. Instead, there was "joy unspeakable and full of Glory" (1 Peter 1:8) that night around the supper table of that reborn family. Paul and Silas rejoiced, the jailer rejoices, and his family rejoiced. Here is struck that great note of rejoicing that is such a noticeable characteristic of Paul's later letter to the Philippian church.
Whatever the intention, therefore, of this little group as they sat down to eat, the meal was an "Agape," a love fest. It may also have included a celebration of the Lord's Supper. Later the prisoners were returned to their cell.
What about the other prisoners? Luke does and gives us the details, but it is possible that some of them were also born again through the witness of Paul and Silas and the jailer. Some of these prisoners may have been waiting for execution, so imagine their joy at hearing a message of salvation! Paul and Silas thought nothing of their own pains as they rejoiced in what God did in that Philippian jail! No doubt the jailer later joined with Lydia in the assembly.
1
There is no suggestion that Paul and Silas prayed for their own release. They were probably praising God.
2
Those who were baptized were surely all those who understood and responded to Paul and Silas's preaching—not the infants. This one step of faith by this Gentile family made them acceptable for baptism.
3
The text gives no justification for seeing the "meal" as the Lords Supper, as is maintained by some comment.