The Work in Philippi: Part 14 of 14
by John Lowe
(Laurens, SC)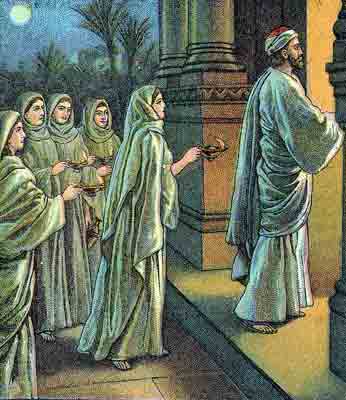 40 And they went out of the prison, and entered into the house of Lydia: and when they had seen the brethren, they comforted them, and departed.


The magistrates would give them no trouble now. So before departing they once again visited the Christians of the city. Evidently, the work had gone ahead in Philippi, and there were now a number of new Christians (which now included men); Lydia, not surprisingly, made her home available as a house church. Satisfied that all was in good order, the two missionary's left for the next city.

Nothing is said of the appointment of the "overseers and deacons" of Philippians 1:1—"Paul and Timothy, servants of Christ Jesus, To all God's holy people in Christ Jesus at Philippi, together with the overseers and deacons." We may be meant to assume that the procedure of 14:23 "Paul and Barnabas appointed elders for them in each church and, with prayer and fasting, committed them to the Lord, in whom they had put their trust. was followed here as elsewhere, unless Luke himself made the appointments at a later date as Paul's deputy, for he apparently stayed behind as Paul and Silas and Timothy took their leave. Some commentators believe Timothy stayed behind to work with Luke.

Paul may have seemed a bit huffy in his demand for a formal apology from the magistrates, but that is not the point. It was essential that the young Christian community has a good reputation among the authorities if its witness was to flourish. Christians broke none of the Roman laws. Luke took great pains to show this. It would continue to be a major emphasis in Acts. In this instance, Paul and Silas were totally innocent of any wrongdoing. It was important that the magistrates acknowledge their innocence and set the record straight.This was why Paul made such a big deal of it. Paul and his associates wanted to leave behind a strong witness of their own integrity as well as a good testimony for the infant church in Philippi.

When Paul and Silas finally left the city, Timothy came with them, but Luke, it seems, remained behind. He was
a Gentile, and his continued presence there would probably not be an issue. He would be able to instruct the infant church in the things of God. Luke seems to be the "true yokefellow" Paul mentions in his subsequent letter to this church—"And I entreat thee also, true yokefellow, help those women which laboured with me in the gospel, with Clement also, and with other my fellow-labourers, whose names are in the book of life" (Philippians 4:3). He was still at Philippi when Paul came back to the city at the end of his third missionary journey and at that time resumed his travels with Paul—"These went on ahead and were waiting for us
including Luke
at Troas, But we
ourselves
sailed from Philippi after the days of Unleavened Bread
the Passover week
, and in five days we joined them at Troas, where we remained for seven days" (Acts 20:5-6).
It is evident from the narrative that Paul left Luke behind in Philippi, for from this point Luke in his story speaks of the company as "they," until in the 20th chapter we find that he had rejoined them.
1
The Western text provides an answer, greatly expanding on verse 35, in which the magistrates are said to have changed their minds for fear after the earthquake.
The Western text-type is one of several text-types used in textual criticism to describe and group the textual character of Greek New Testament manuscripts. It is the term given to the predominant form of the New Testament text witnessed in the Old Latin and Peshitta translations from the Greek. The Western text had a large number of characteristic features, which appeared in the text of the Gospels, Book of Acts, and in Pauline epistles.
The main characteristic of the Western text is a love of paraphrase: "Words and even clauses are changed, omitted, and inserted with surprising freedom, wherever it seemed that the meaning could be brought out with greater force and definiteness. More peculiar to the Western text is the readiness to adopt alterations or additions from sources extraneous to the books which ultimately became canonical."
2
It is the customary Jewish greeting (shalom).