Their Reputation in Every Place: Part 1 of 3 (series: Lessons on 1 Thess.)
by John Lowe
(Woodruff, S.C.)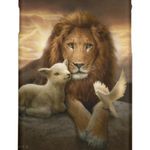 5/14/18

Tom Lowe

Lesson 4: Their Reputation in Every Place (1 Th 1:8-10)

Scripture: 1 Thessalonians 1:8-10 (NIV)
8 The Lord's message rang out from you not only in Macedonia and Achaia—your faith in God has become known everywhere. Therefore we do not need to say anything about it,
9 for they themselves report what kind of reception you gave us. They tell how you turned to God from idols to serve the living and true God,
10 and to wait for his Son from heaven, whom he raised from the dead—Jesus, who rescues us from the coming wrath.

Introduction:

Lesson 4
8 The Lord's message (see note 8.4) rang out from you not only in Macedonia and Achaia (see note 8.2)—your faith in God has become known everywhere. Therefore we do not need to say anything about it,

In describing how the Thessalonians were a model Christian community and giving further proof of the effect of the Gospel on them, Paul gives another indication of their election (see note 8.3): their vigorous sharing of their faith. Their "works of faith and labor of love" (v. 1.4) expressed itself in their sharing of the Gospel with others. They were both "receivers" (the Word came to them, 1 Thessalonians 1:5) and "transmitters" (the Word went out from them, 1 Thessalonians 1:8). Each believer and each local church must receive and transmit God's Word. Their progress was remarkable in that what Paul and his companions had preached (v. 5) and the Thessalonians had received (v. 6); they were now sharing on the widest scale possible. Paul affirms that these converts played a substantial part in this ever-widening scope of Christian witness. It is the responsibility and privilege of each local church to share the message of salvation with the lost world. In the New Testament churches, the entire congregation was involved in sharing the Good News (Acts 2:44-47; 5:42).

Thanks be to God! If salvation were the work of man, we would have every right to be discouraged and quit. But salvation is the work of God, and He uses people to call out His elect. "He called you by our Gospel" (2 Thessalonians 2:15). The same God who ordains the end (the salvation of the lost) also ordains the means to the end ("the preaching of the Gospel"). There is no conflict between divine sovereignty and human responsibility, even though we cannot reconcile the two. It was John Calvin who said, "Only the man who has learned to put himself wholly in subjection to God is truly converted to Him"

With Thessalonica as the starting point ("from you"), the message (OT⸺the word of the Lord) "rang out" (v. 8) like Brass instruments (trumpet, etc.) that keep on sounding. But the Thessalonians were not "tooting their own horns," as the Pharisees did (Matthew 6:1-4). The Thessalonians were trumpeting forth the Good News of salvation, and their message had a clear and certain sound to it (1 Corinthians 14:8). "Rang out" implies the persistence of their testimony over an ever-increasing expanse—"not only in Macedonia and Achaia . . . everywhere" (or "in every place"). So impressed was Paul with how far the Gospel had progressed through the Thessalonians' faithful witness that he obviously indulges in a type of overstatement. "Everywhere" is clearly not worldwide in scope; in writing to the Romans some five years later, Paul implied that Spain had not yet been evangelized (Romans 15:19, 20, 24 (see note 8.1); he probably meant the Roman Empire of Paul's time. Part of the Thessalonians' outreach stemmed from their location on the Egnatian Way and the Thermatic Gulf with access by sea to the whole Mediterranean world. But the largest factor was their diligence in communicating their faith to others. This was probably reported to Paul by Silas and Timothy upon returning from Macedonia (Acts 18:5; 1 Thessalonians 3:6) and by Aquila and Priscilla from as far as Rome (Acts 18:2).

Paul was so carried away with the Thessalonians' witness that instead of ending his account with "everywhere," he added, "your faith in God has become known." News of this believing relationship constituted part of "the Lord's message" that had originated with them. It had gone forth and remained,⸺ the believers were already talking about the faith and works of the church in Thessalonica; so it wasn't necessary for Paul to tell them anything about it; though Paul later referred to it (2 Corinthians 8:1, 2). This reveals something of the great reputation this church had in that day.

We have here a description of conversion and its evidence. Conversion is
a turning about—a change from sin to holiness, from unbelief to faith, from darkness to light, from Satan to God. The one item that Paul picks out to show the change in the converts is their faith: "your faith in God has become known everywhere." What distinguished the early Christians from their pagan contemporaries was just this, their faith. They had come to put their trust in God, and this trust affected all that they did.
When a sinner becomes a Christian, the first step is repentance toward God—and repentance is turning face-about (halfway around; 180 degrees), not turning around, which would mean that the unbeliever would still be traveling in the same direction. When a sinner hears the Gospel, is convicted by the Gospel and is drawn by the Holy Spirit to turn face-about, he automatically turns from idols when he turns to God.
The church at Thessalonica was made up primarily of Gentiles who had been heathen (1 Thessalonians 2:14; Acts 17:4, 5); however, there were a few Jews among them. There was also a great multitude of proselytes who had seemingly already turned from idolatry, but had not yet turned to the living God. It is not enough to turn from idols, for turning from does not save anyone. We must turn to the living God—by faith in His beloved Son.
Perhaps a preferable rendering of this verse would be, "For the Lord's message rang out from you not only in Macedonia and Achaia, but everywhere your faith toward God has become known, so that we do not need to say anything about it."
8.1 "Whensoever I take my journey into Spain, I will come to you: for I trust to see you in my journey, and to be brought on my way thitherward by you, if first I be somewhat filled with your company" (Romans 15:24).
His plan was to stop off at Rome in route to Spain. He would not be able to stay long enough to enjoy all the fellowship with them that he would like, but his desire to enjoy their company would at least be partially satisfied. Then he knew that they would give whatever helps was needed to complete his trip to Spain.
Ancient Spain included the modem kingdoms of Spain and Portugal, or the entire Spanish peninsula. It came under Roman rule in 133 B.C., and became a "province," but the conquest of the whole country was not complete until 19 B.C. By the apostle's time, it contained large numbers of Jews, and this would probably strengthen his desire to preach Christ there.
Whether the apostle ever fulfilled his plan of going to Spain is unknown, but there is no evidence at all that he did, and the presumption is that he did not undertake this voyage. His whole plan was probably derailed by the occurrences at Jerusalem, which led to his long imprisonment at Caesarea, and his being sent in bonds to Rome. The distant past offers no proof that he fulfilled his intention.
8.2 Macedonia and Achaia were two Roman provinces that comprised the
Territory known as ancient Greece. Thessalonica, the metropolis of Macedonia, was the chief station on the great Roman road—the Via Egnatia which connected Rome with the whole region north of the Aegean Sea, and was an important center both for commerce and the spreading of intelligence. Wherever the trade of the merchant city extended, there the fame of the newly founded Church penetrated. Great was the renown of their own Alexander, the Macedonian monarch, known for his brilliant victories; but the reputation of the Thessalonian Christians was of a higher order and their achievements more enduring.
8.3 Election in the Bible, always involves responsibility. God chose Israel and made them an elect nation so that they might witness to the Gentiles. In the same way, God has chosen the church that we might be witnesses today. The fact that we are God's elect people does not excuse us from the task of evangelism. On the contrary, the doctrine of election is one of the greatest encouragements to evangelism. The fact that God had His elect in Corinth encouraged Paul to remain there for a year and a half.
8.4 "The Lord's message" is an expression designating God's Word and God's will revealed to men. Paul is very careful to make it known that the Gospel was not his word or the word of man ⸺"not as the word of men, but as it is in truth, the word of God" (1 Thessalonians 2:13) ⸺and must be presented without apology or alteration.