THERE'S JUST ONE LITTLE THING MISSING, AMERICA
by CHARLES ROBEY
(MOODY AL, USA)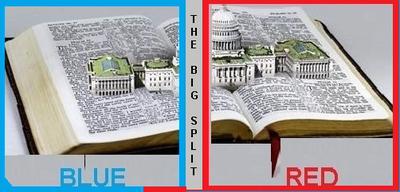 PROLOGUE

Remember that oldie but goodie "There's just one thing missing"? Can you guess what's missing? Why is it missing, how it can be retrieved? Go ahead and read about it, I'll wait!

Tune into today's news media, listen to the usual governmental debates, talk to your next door neighbor, or maybe listen to your church pastor's Sunday sermon. What's missing in it all? Have you guessed it? Have you found it?

Just why, when and how in America, the land of the free and the home of the brave, did certain mainstays of America's civil and religious history progressively go missing?

Where did our free republic go wrong? How can we bring these cultural, religious and governmental mainstays back to life again? Go ahead and think about it because your remedy may be the critical answer in bringing back our great republic, and the only solution to its survival.

OK, why this introduction into America's main perceived problem? Why my sudden ramble, without giving an upfront solution? Is it my older than dirt and twice as gritty senility?

Not really. It's all covered in my latest dream. I've been having my share lately. So, please allow my sharing of this fiction drama and its parables of real life resulting in a heavenly meaning, entitled "There's Just One Thing Missing, America."

Yes, there may just be a bit of truth in fiction. Go ahead again, grab your usual snack of homemade cookies and that big glass of sweet tea, sit back, relax, and dream along with me, as we fast forward into today's American dream world. Here is my strange foray into the heart of America's progressive governmental affairs.

And oh yes, before I forget it, this new blog seemed to turn into a divinely inspired afterthought in respect to the future of this great country of ours and its much-needed faith-based patriotism, within its leading governmental metropolis. Won't you join me in its reading?

"If you see in a province the oppression of the poor and the violation of justice and righteousness, do not be amazed at the matter, for the high official is watched by a higher, and there are yet higher ones over them." (Ecclesiastes 5:8)

It was another dreary night at home by myself as I flopped straight down on my bed, I just couldn't help it. I was really exhausted from burning the midnight oil getting my doctorial presentation together, in hopes of my long overdue promotion.

The weather didn't seem to help either. The sudden appearance of lightning and thunder overhead danced within sight through my bedroom window in full HD color with its associated surround-sound. Its appearance certainly didn't help my attempts to sleep. Topping off my restlessness, I had watched another liberal television nightly newscast which made it even harder to relax.

I guess, by some divine action, I must have dozed off into another episode of my fantasy dream world. I found myself flying across what appeared to be a rather large river and into the middle of a bustling metropolitan city. Looking around, my first thought was, I know this place, this is a familiar governmental tourist attraction. Our college has made many civics field trips here.

There were all the expected tourist attractions; the domed capitol, the large statue in front of the court building, the stately monument reaching upwards, the mall surrounding its reflecting pool. And oh yes, the stately large, pillared mansion behind the guarded fence.

People were everywhere, tourists of all kinds, ages and descriptions, typical tourists carrying the usual brochures and cameras. They milled around as if being carried away by the many historic attractions.

Occasionally, there were a few small groups of sign-carrying political activists marching here and there, peacefully transmitting their beliefs by way of graphic posters. Mixed in with the tourists were many governmental dignitaries. Whatever the reason, the government must have been in an official session.

Before I was able to investigate this unusual backdrop, there appeared a man standing all alone, dressed in a black tailed suit, white shirt, black bow tie and tall black stovepipe hat. His tall thin frame stood out with the look of distinguished nobility. Obviously, he was an historical character from a time gone by. I sensed by his demeanor that he wanted to talk so I obliged.

"I don't know who you are, where you came from, or your purpose here, but I detect an air of your familiarity with this historic city," I said.

Not saying a word, he took my hand and next thing I knew we both were sitting in the packed guest visitor gallery of what appeared to be the central meeting place of the large capital building. All seemed to be patiently waiting for the show to start.

Seated around a large semi-circular conference table below the gallery were a number of dignitaries waiting for the arrival of the group leader. All were dressed as if it was still the eighteenth century.

What was so odd about this gathering of dignitaries was that their clothing seemed to be equally divided between with the wearing of red and blue.

Situated on the conference table was a large display consisting of various holy Bibles, and copies of the country's Constitution along with copies of the Declaration of Independence. I gathered from this display that the meeting's topic had something to do with the republic's approval or disapproval of such documents.

A gentleman entered, and from all appearances and demeanor, was the leader of the group. He was also dressed in blue. Sitting down, he abruptly called the meeting to order.

"We will dispense with the past formality of the opening pledge of allegiance and prayer. Let the record reflect that this formality is now outdated and no longer needed," he said as he began passing around the stack of Bibles and founding documents.

"There will be no need to open these outdated documents," he went on. "You may do with them as you wish."

He moved around the table as if attempting to read his cohorts' minds.

"It's time now to take the vote. You must now vote yea or nay with respect to allowing these outdated documents to continue being included in our progressive republic's halls of learning. There will be no discussion."

The votes were cast, resulting in a hung jury, so to speak, for the votes ended in a fifty-fifty tie. As the chairman and head of the group, without hesitation, this leader cast the deciding vote of nay to discontinue allowing these tried and true, divinely inspired documents from being a part of the republic's learning curriculum for the very first time in history.

He then concluded the meeting by ceremonially cramming his copies of the Bible and founding manuals in the trash. His mission was concluded, apparently, as he let out a big laugh and walked out of the room to the shock and remorse of the seated gallery of onlookers.

As to what happened then, your guess is probably as good as mine. For you see, as with all my dreams lately, it ended before the conclusion. I was back home, still lying in my bed as if I had never left. The lightning and thunder was still going on outside.

The only difference was a sudden phone call. It was the Administrative Chairman of my Bible college with good news for me. End of dream, beginning of my newly-appointed service. Amen.

EPILOGUE

Do you remember the opening comment, 'There's just one thing missing'? Have you come to a conclusion respecting that one vital issue of life? It's an all-important question of the century; the lack of faith-based conviction in the divine principles of our living Creator, God.

Those principles are set forth in God's holy Word (II Timothy 3:16) and have been instituted within the founding documents of this great country of ours.

"The moral foundation of America's Constitution is in the Declaration of Independence and its principle of equal rights. Under the Constitution, the government was to be limited to protecting those rights." (Dr, Larry P. Arnn, President, Hillsdale College)

So, come now, revive that missing thing. Dust off your Bible, and compare it with our God-given founding documents.

Go ahead, I'll wait. Amen!