THINKING OUTSIDE THE BOX
by CharlesRobey
(Trussville, AL USA)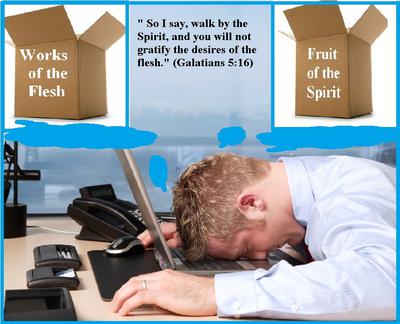 "You, my brothers and sisters, were called to be free. But do not use your freedom to indulge the flesh; rather, serve one another humbly in love." (Romans 5:13)

Where did the time go? How did I get so old in such a short time? I ponder within my spirit as I started reminiscing about the past. Sounds a little strange though, one might say. Well, let me back up. It all started with this little birthday party given me at the office. It has caused me to muse over these, and many other questions, which suddenly came to mind.

Oh well, what a nice jester, giving me this unexpected party. It surely gave credibility to the "surprise birthday party" repute.

Now let me just peacefully ponder my many gifts. Here's an interesting one. This seems like a good mind twister puzzle. What a title, "Thinking outside of the box." What was even more interesting were the puzzle directions.

"You must link all 9 dots using four straight lines or fewer, without lifting the pen and without tracing the same line more than once." Well, here goes.

I must have really been worn out from all the excitement that afternoon for it caused me to suddenly doze off into sleep, and into my make-believe dream world.

Suddenly I was directed into a large warehouse. When I entered I was totally confused, for this room was stacked with a number of boxes. And I noticed two easily distinguishable larger boxes each having an important inscription or label that was covered over by tape.

"What is this all about?" I wondered, attempting to imagine the meaning of all this.

Then, as I looked around, it all kind of came together for me for listed on a number of other small boxes were some inscriptions, the same as what my pastor has been preaching, the cause and effect of the fruit of the Spirit versus the works of the flesh.

Then came my second surprise. All of a sudden, this funny looking character jumped out from behind one of the boxes, all decked out in what appeared to be Bible attire.

He immediately grabbed up some of the smaller boxes and started throwing them into the other two main boxes, one at a time. However, as he would throw the smaller boxes in the large ones, he seemed to be checking off what appeared to be a laundry list.

As he completed this task, he suddenly asked me a rather bizarre question. "Which box will you jump in?" he queried.

"Wow, was this a surprise," I thought. "Not only the appearance of this funny looking man, but also his remark about the boxes."

I thought for a minute, then I bravely asked him a question of my own, "Will you please unmask these two apparently meaningful boxes, so I can make an informed judgment as to which box to choose?" I replied.

Obviously avoiding the question, he then explained, "You have allowed yourself to become categorized. You must now think outside the box. The spiritual box that is."

"In life, thinking outside the box is thinking freely, kind of like thinking "off the beaten path," he went on. "And it always requires significant attention to detail, attention not only to life, but also to divine interaction," he maintained rather strongly, quoting yet another Bible verse.

" For I know the plans I have for you," declares the Lord, "plans to prosper you and not to harm you, plans to give you hope and a future. " (Jeremiah 29:11)

"So how may I do this impossible feat, not knowing what's inside these smaller boxes?" I asked.

He then quickly responded as if he already knew me inside and out.

"Simply put, you must accept accountability for your actions by addressing the root problem. This root problem has always been sin. (Romans 3:23) You must become responsible for your sin actions. You must be ready, spiritually speaking, to give an account of your actions. (Ephesians 2:8-9) You must take life's path by faith. (Hebrews 11:1-6) and be ready to "think outside the box."

"Wow! He should have been a preacher", I concluded.

He then reached and commenced unmasking the two larger box labels, which read "Fruits of the Spirit" and "Works of the Flesh."

"You see life can be compared to these boxes. In parallel, life brings us numerous unknowns or uncertainties. So you must be prepared to handle these life programs correctly," he went on. Again he insisted that I think outside the box, by asking me if I were ready to sort out the smaller boxes.

Pointing to the remaining pile of smaller boxes on the floor, he asked again. "Come now, can you throw the rest of the smaller boxes in the correct larger ones?"

"Ok, I guess I understand. It's a 50-50 proposition here. And I'm not sure of taking this gamble. I'm still not exactly sure about the difference between the Spirit and the Flesh," I responded.

I guess this nice stranger must have had pity on me, for reaching in his pocket and pulling out his Bible he began reading. (Galatians 5:19-23)

It was then that I happened to see that the smaller boxes had the same inscriptions as were mentioned in his Scripture reading. They were same subjects my preacher had talked about. And It was at this point that I began to understand.

This strange man then continued, "Kind of like your life, would you not say? Let me just give you a big subtle hint. Do you not see that some of these little boxes are colored pure white, while the others are a deep scarlet color?" Then without further ado, opening the Bible from his pocket, he began again to read again.

"Come now, and let us reason together," Says the LORD, "Though your sins are as scarlet, They will be as white as snow; Though they are red like crimson, They will be like wool." (Isaiah 1:18)

Before I could speak a word in response, this strange-looking man disappeared in like manner as he arrived. And all of a sudden, I found myself awake with my head on my desk. His disappearance really didn't matter. For you see, I had gotten his message.

The miracles just seemed to continue, for lying beside me on my desk was Mom's old tattered Bible. And her Bible just happened to be open to a particular marked passage. (Galatians 5:16-17) Reading on, was another marked scripture. (Galatians 5:25). And yet another. (Galatians 5:26) Whoa, thank you, Mom, wherever you may be, for I'm definitely convinced now. I'm puzzled no more. By the way, where is that birthday puzzle? I'm ready for it.

Yes, you probably guessed it. My Bible study started that night with Mom's marked scriptures and continued on my knees with (1 John 1:8-9). And you probably guessed right again, I am now well involved in a little hometown Bible church.

Who was that strange man? After much study, I know exactly who He was (John 14:26). And by His divine intervention, I am now "Thinking Outside The Box," outside the Spiritual Box, that is.

Author's Postscript

What a rather strange spiritually related parable or dream! Speculation has it that what one is thinking just before sleep is what one will dream about. So was this fictional character puzzled or perplexed about life before sleep? And does one actually receive divine messages in sleep? I have my theories. However, you be the judge.

"It will come about after this That I will pour out My Spirit on all mankind; And your sons and daughters will prophesy, Your old men will dream dreams, Your young men will see visions." (Joel 2:28)

Now, can you work this mentioned puzzle? No cheating!