THREE LITTLE WORDS
by CharlesRobey
(Trussville, AL USA)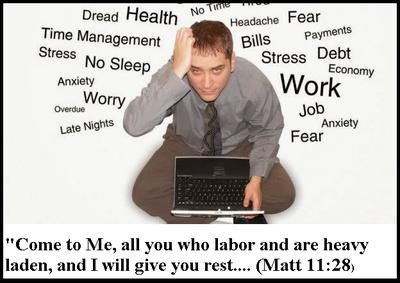 I wandered in the valley of sin and despair,
Not knowing there was someone to care,
When I heard the Savior saying come unto Me
I knew my loving Master was to set me free.

Now I trust in my Savior to lead day by day,
To hold me fast lest I fall along the way.
He will never forsake me walking by my side,
While I trust in Him forever with Him I will abide.

I'm traveling on the pathway now to home,
And from this way, I will never more roam.
When my journey is ended to meet up there
With all my friends and loved ones in the air.

Come, heavy laden I will surely give you rest.
Take my yoke and lean on me for to confess.
Your soul will clearly find true peace and joy.
All your cares and burdens no more employ.

"Come to Me, all you who labor and are heavy laden, and I will give you rest. Take My yoke upon you and learn from Me, for I am gentle and lowly in heart, and you will find rest for your souls. For My yoke is easy and My burden is light." (Matthew 11:28-30)

The three little words of this poem's title "COME TO ME" is one of the most important phrases in all of Scripture.

Have you ever held out your arms and asked your small child to come to you, simply by childhood faith? This is exactly what our Savior is asking. He is waiting and willing and holding out His arms to all who will receive His love, and come to Him.

The invitation "COME TO ME" gives us a choice to leave a life of sin and follow Him. Plainly stated, this gives us all a simple choice, to just walk away from sin and turn to Him. You see, no one can truthfully read about Him in Scripture without being motivated to follow Him. Oh, you may read about Him, in some secular history book. But sad to say, this secular knowledge may never lead to you trusting Him as your personal Savior.

So, wherever you are on your life's journey, Jesus offers you the only way to a lasting relationship with him.

"Jesus said to him, "I am the way, the truth, and the life. No one comes to the Father except through Me." ( John 14:6)

You see, we can never pay enough money, do enough work, or rely on enough relatives or friends to gain God's favor aside from our faith in God's free grace. Amen!

"For it is by grace you have been saved, through faith — and this is not from yourselves, it is the gift of God — not by works, so that no one can boast." (Ephesians 2:8-9)

Now, what do the three little words "Come to Me" mean in your life?