Three Men of Great Faith Part 2
by John Lowe
(Laurens SC, USA)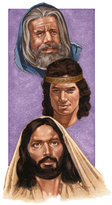 We must yield to God's will, and say, "I don't care what it costs, and I will take any risk because I must follow Christ, wherever He goes, even if I should die for doing it."

This is strong language, however, it's the stance that Jesus has commanded for us to take, and His Holy Spirit will work in us to make us strong enough to apply it to ourselves.
These are the excuses that these three Jews, Shadrach, Meshach, and Abednego, might have made.

The second point to be made is that THESE THREE POSSESSED GREAT CONFIDENCE.
They expressed it very forcefully and clearly.
They had a very sure, solid faith.
They said, "O Nebuchadnezzar, we are not careful to answer thee in this matter."
Let me put this into modern language: "We are not the least bit worried about our answer."
They knew what they were going to say, and it didn't bother them.
They were calm and self-confident, and they didn't address him as king; but instead, they called him Nebuchadnezzar.
They spoke to him man-to-man, and they didn't have any problem answering him.
Now notice that they didn't think that it was their place to answer at all.
The NIV version puts it this way, "we do not need to defend ourselves before you in this matter."
What they are saying is that "it's not for us to answer you. You have brought another Person into the quarrel."
Let me read the words preceding our text.
Nebuchadnezzar said to them, "Who is that God that shall deliver you out of my hands?"
In effect, Shadrach, Meshach, and Abednego replied, "It is not for us to answer you. There is Another that will do that. You have challenged God, and God shall make his own reply."
They put the responsibility in this matter on God, Himself.
So can you.
It is our job to patiently bear the consequences of our actions and all that comes our way.
We must do the right things, believe in the Lord Jesus Christ, and obey Him, and keep the commandments of God, and then whatever comes of it, it is not to be blamed on us.
The consequences are Gods.
Now notice what these three men did say.
"Our God whom we serve is able to deliver us from the burning, fiery furnace."
They confirmed their faith in the All-Powerful God.
They knew that if He chose, even the King of Babylon couldn't throw them into that furnace.
The furnace itself would become as cool as ice if God willed it.
Their God was almighty, and they put their faith in Him.
What's more, they added, "And he will deliver us out of thine hand, O king."
Whether they burned in the fire or not, they were sure they would be delivered.
They said, "You asked us, 'Who is that God that shall deliver you out of my hands?' and we answer you, 'Our God will deliver us out of thine hand, O king.'"
Now, if anyone is experiencing problems, or if you're being tempted to do the wrong thing, remember this; God can deliver you.
He can prevent you from suffering what you may suppose is going to happen, but if he doesn't prevent it, He will help you bear it.
He can make the worst thing that can happen to you, the very best thing that ever did happen to you.
If you are serving God, you are serving an all-powerful Being; and He will not leave you when you are having difficulties, instead, He will come and rescue you.
Here is our third point; THEY HAD GREAT DETERMINATION.
Listen to their words: "If not", if God does not deliver us at all, "be it known unto thee, O king, that we will not serve thy gods, nor worship the golden image which thou hast set up."
This is courageous talk, and it showed that they were determined to be loyal to God, regardless of the cost.
They would not bow down to an idol, which was lifeless, and could not even set itself up, but was set up by Nebuchadnezzar the king.
There's a certain pleasantness in having to make some sacrifices for God.
It's a wonderful thing to do something for the Lord, without calculating what it's going to cost us.
Some people will say, "It's too hard. You can't expect men to love God so much that they will die for Him."
No, but there was one who loved us enough to die for us, and He died the worst kind of death so that He could save us.
"Well," someone might say, "I think it's impossible. I couldn't bear the pain."
But the truth is, it is possible, and many have endured the pain.
There's a story about one of the martyrs, who was to
be burned at the stake on the following morning.
There was a large fire in his cell, and he thought he would put his foot in it, to see whether he could stand to have it burnt.
He tried it and quickly pulled it back.
But when he had to put his whole body into the flames, it looked as if he felt no pain at all.
God didn't call him to put his foot in the fire, He called him to put all of himself in, and when he did, God gave him the grace to bear it.
Don't judge yourself by what you are today.
If you are ever called to suffer for Christ, grace will be given to you.
But, you may never be asked to do something so difficult, however, if you can't stand the small trials, how could you bear the great ones.
Do the right things, and fear nothing, and God will help you.
Remember, God sees everything; nothing is hidden from Him.
So He will see you if you bow your head to an idol.
That is the idol of money, popularity, entertainment, alcohol or drugs, or any of a thousand gods that are around today.
The Law of God says, "Thou shalt have no other gods before me. Thou shalt not make unto thee any graven image or any likeness of anything that is in heaven above, or that is in the earth beneath, or that is in the water under the earth: thou shalt not bow down thyself to them, nor serve them."
No picture, no image, no visible object is to be regarded with reverence or worshiped instead of God.
That is clear enough; and therefore Shadrach, Meshach, and Abednego, feeling that God was near, and knowing what God's law was, did not dare to violate that law, but would rather die instead.
But, you will never obey God, until you are "born again" and have a new heart, and that heart is full of love for Jesus Christ.
Then, if you love Him, you will choose the furnace, rather than to have that flame that burns in your heart quenched.
But what did these three men accomplish?
It wasn't that they simply did not bow their heads, and they were cast into the fiery furnace.
What they did was to influence the times they lived in, and influence their people and people throughout history.
They influenced Babylon and the whole Babylonian Empire.
And they influenced King Nebuchadnezzar.
They influenced the next age and every age up to this one, by their brave stand for God.
Their story will stand for all time; that these men didn't yield, no matter what might happen.
It's the power of God that made them strong, and He will make us strong too.
These three men command the admiration of heaven and earth.
A fool would have pointed at them and said, "There go three fools—men who hold high office, with large incomes, and wives and families. They only have to bow to the idol, and they can keep their wealth; but if they do not do it, they are to be burnt alive.
Are they fools?"
The Son of God did not think so.
Although He was in heaven, He heard them speak those brave words to King Nebuchadnezzar.
Then Jesus said, "They are brave men! I will leave the throne of God in heaven to go and stand by their side."
He went to the place where the fierce flames had killed the men who threw the three Hebrews into the burning, fiery furnace.
He came and He stood by their side, and He walked through the flames with them.
The four of them walked together, on those burning coals, in sweet fellowship.
They won the admiration and sympathy of the Son of God, so it was a comparatively little thing that they had won the admiration of Nebuchadnezzar.
That proud king shouted to those around him, "Did not we cast three men bound into the midst of the fire?"
They answered, "True, O king;" and he, with his countenance white with ghostly fear, said, "Lo, I see four men loose, walking in the midst of the fire, and they have no hurt; and the form of the fourth is like the Son of God."
The king, himself, just stood there, awestruck, and admired these three heroes.
Let me end with this: if we want to be servants of God, we must be believers in his Son, Jesus Christ.
There's a little poem that kind of wraps all this up.
"In full and glad surrender,
I give myself to thee,
Thine utterly and only,
And evermore to be.
"O Son of God thou lov'st me,
I will be thine alone;
And all I have, and am, Lord,
Shall henceforth be thine own."
Amen.