Three Months in Greece Part 1 of 3
by John Lowe
(Woodruff, S.C.)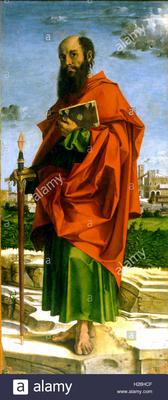 October 17, 2015


Acts of the Apostles
By: Tom Lowe


Lesson: IV.D.4: Three Months in Greece (Acts 20:1-5)


Acts 20:1-5 (KJV)

1 And after the uproar was ceased, Paul called unto him the disciples, and embraced them, and departed for to go into Macedonia.
2 And when he had gone over those parts, and had given them much exhortation, he came into Greece,
3 And there abode three months. And when the Jews laid wait for him, as he was about to sail into Syria, he purposed to return through Macedonia.
4 And there accompanied him into Asia Sopater of Berea; and of the Thessalonians, Aristarchus and Secundus; and Gaius of Derbe, and Timotheus; and of Asia, Tychicus and Trophimus.
5 These going before tarried for us at Troas.

Introduction

After Paul's experience in Ephesus, he took his leave of Ephesus and set out for Macedonia, and then to Philippi, back to Troas, and to Miletus. The Elders of the church in Ephesus meet him in Miletus where they have a tender reunion and a touching farewell.

This account can be supplemented considerably from 2 Corinthians 1-7, where Paul discussed the events of the same period. There had been considerable tension with the Corinthian church during the final portion of Paul's Ephesian ministry. Paul seems to have written a rather confronting letter to that congregation during that period. He described the letter as "painful" and written, "with many tears" (2 Corinthians 2:3). Strong opposition to Paul had arisen in the church, and there were attacks on his status as their apostle. In the letter, Paul seems to have confronted the opposition directly and severely. The letter was sent by way of Titus, and Paul evidently wanted to hear Titus' report back to him about "how it went" before proceeding himself to Corinth.

Commentary

1 And after the uproar was ceased, Paul called unto him the disciples, and embraced them, and departed for to go into Macedonia.

"And after the uproar was ceased, Paul called unto him the disciples, and embraced them." The "uproar" mentioned here was caused by the rioting silversmiths, and it put an end to any further usefulness for Paul in Ephesus. Besides that, his continued presence might spark more trouble; in any case, he had for some time been formulating plans for a move. The riot gave added impetus to his own goals, so he said his fond farewells to his beloved brethren and took up his pilgrim staff again. "Macedonia" was to be his next stop, since Paul was concerned about the situation in Corinth. Paul waited at Ephesus until the return of Timothy and Erastus, and left Ephesus shortly after Pentecost, 55 A.D.— "But I will stay on at Ephesus until Pentecost, because a great door for effective work has opened to me,(C) and there are many who oppose me" (1 Corinthians 16:8-9). We learn from Romans 15:19 that he spent some time in "Macedonia" and extended his missionary labors (which were marked by sign miracles) as far as Illyricum. But he spent the three winter months of 55-56 A.D. in Corinth, and there he wrote the Epistle to the Romans.

He seems to have made his way up the coast to Troas, crossed over to Philippi, and then headed for Corinth. He does not appear to have tarried long at Troas, though "a door was opened" to him there (2 Corinthians 2:12). Paul was hoping Titus would be there with news from Corinth, but when Titus failed to materialize, he turned his restless steps toward Europe and Corinth, perhaps following much the same route he had taken on his second missionary journey.

It would appear that soon after the silversmiths' riot Paul "departed" Ephesus for "Macedonia." The words of encouragement that he addressed to the believers before going may have been along the same lines as those he spoke to their leaders a few months later (vs. 17-35). He had already "decided to go to Jerusalem, passing through Macedonia and Acadia" (19:21), but he may have set out sooner than intended, partly because of the riot, and partly because of his anxiety over the situation in Corinth. These had been stormy years in Paul's dealing with the Corinthians. They had rejected his authority, and neither his letters nor his own or Timothy's visits had seemed to help. In desperation, therefore, he had sent Titus to Corinth with another letter (now lost) in the hope that either the message or the messenger might bring the church back to loyalty to him. And he could not wait any longer for Titus' return. Thus, full of anxiety and perhaps also physically ill (2 Corinthians 1:8), Paul went to Troas hoping to meet Titus there. Here he preached "the gospel of Christ and found that the Lord had opened a door" to him there (2 Corinthians 2: 12).
But his heart was not in it. He could not rest until he had heard from Titus. When Titus failed to rendezvous at Troas, Paul resolved to go on to "Macedonia"— "I had no rest in my spirit, because I found not Titus my brother: but taking my leave of them, I went from thence into Macedonia." (2 Corinthians 2:13).
"And departed for to go into Macedonia." Paul's journey must have taken him to Troas. According to his Corinthian correspondence, he had a great opportunity two preach the Gospel in that city; but he was so depressed in not finding Titus there waiting for him that he went on to "Macedonia" (2 Corinthians 2:12). Luke takes up the story again at this point with a brief notice of what may have been quite a prolonged "missionary progress" through the province of "Macedonia."
2 And when he had gone over those parts, and had given them much exhortation, he came into Greece,
"And when he had gone over those parts, and had given them much exhortation." Paul had two goals in mind as he visited the various churches. His main purpose was to encourage and strengthen the saints so that they might stand true to the Lord and be effective witnesses. His second purpose was to finish taking up the collection for the needy believers in Jerusalem (Romans 15:25-27; 1 Corinthians 16: 1-9; 2 Corinthians 8-9).
We learn from 2 Corinthians; a letter he wrote at this time from Philippi (2 Corinthians 1:8; 2:13; 7:5)—certainly the most autobiographical of all his epistles—that Paul arrived in Macedonia in a state of spiritual depression. He remained in Macedonia for some time, for it would seem that it was at this time he evangelized the seagirt
means, surrounded by sea
province of Illyricum on the Adriatic Sea, and across from Italy (Romans 15:19). Depression did not keep Paul from the task of winning souls to Christ. So often, depression is Satan's tool to keep our mind on ourselves and off the need of a perishing world. That device of Satan did not work with Paul.
It must have been a joy for Paul to renew old friendships. But this journey had its problems, as Paul indicated in 2 Corinthians 7:5— "When we arrived in Macedonia, there was no rest for us. We faced conflict from every direction, with battles on the outside and fear on the inside." And always there was his nagging concern for the church in Corinth. His relief knew no bounds, therefore, when Titus met him with good news of that church— "But God, who encourages those who are discouraged, encouraged us by the arrival of Titus" (2 Corinthians 7:6). From Macedonia, Paul may have gone to Illyricum (Romans 15:19, but it is not clear from this reference whether he actually preached in Illyricum or simply named it as marking the western limit of the eastern world that had up till then been his territory.
"He came into Greece." Greece here means "Achaia," and the background of the journey is supplied by 2 Corinthians 1:15-2:16. We gather that the three months visit to Corinth (implicit in verses 2-3) was a happy one, thanks to Titus' good work and the effect of the letters. Paul stayed in Gaius' hospitable home and was able to dictate his great letter to the Romans, inspired by his plans for proceeding there after his proposed visit to Jerusalem (Romans 15:16).
From Macedonia, Paul went on to "Greece," and revisited Corinth and Athens and the churches he started in the small towns in the area. While there he wrote his theological masterpiece, his epistle to the Romans. Paul who had long planned to go to Rome, now seemed to be sensing the Holy Spirit's approval for that move. The news that Phoebe, a devoted sister in the church at Cenchrea, near Corinth, was soon to go to Rome on business spurred Paul on. He would write a letter. It would serve to introduce this beloved sister to the saints at Rome, it would give the believers there an advance notice of his own proposed visit, and it would enable him to spell out the great truths of Christianity in an orderly form for their edification. But as great as the apostle's desire to go to Rome and Spain, he was so concerned for the poor in Jerusalem and over the widening gap between Jewish and Gentile Christians that he had to suppress his yearning to go first to Jerusalem.
Counting the time Paul spent at Troas, he seems to have invested the best part of a very busy year in Europe. If the contents of his Roman epistle is any indication of his ministry at this time, he certainly set before the European church by example and "exhortation" the need for steadfastness in evangelism, church planting, and Bible teaching.