TO BELL THE CAT
by Charles Robey
(Trussville AL)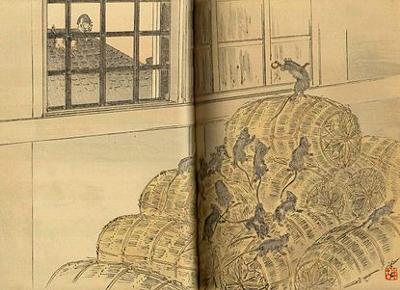 To bell the cat means to do a risky deed. The origin of the expression lies in an old fable. According to the ancient fable, told in many different versions, a group of mice (or rats) had been troubled by sneak attacks from a cat. The mice held a meeting and decided that there was a simple way for them to receive early warning of the cat's approach. All they had to do was to put a bell around the cat's neck. They were all pleased with their decision till one farsighted mouse spoke up and said that the idea was fine, but who would bell the cat?

Much like this old fable, God is continuing to look to His people to warn mankind of the consequences of sin, the penalty or cost of not turning to God. And, as in the commission of Isaiah, God still needs dedicated Christian, to reach out with this Gospel message.

I. THE CONFESSION

Then I said, "Woe is me, for I am ruined! Because I am a man of unclean lips, And I live among a people of unclean lips; For my eyes have seen the King, the Lord of host." (Isaiah 6:5)

A. We must first recognize our sin before the Lord

B. We must confess our sins before the Lord

II. THE CONFORMATION

Then one of the seraphim flew to me, with a burning coal in his hand, which he had taken from the altar with tongues. And he touched my mouth with it and said, " Behold this has touched your lips; and your iniquity is taken away, and your sins is forgiven." (Isaiah 6:6-7)

By faith, we must accept God's forgiveness.

III. THE CALL

Then I heard the voice of the Lord, saying, ""Whom shall I send, and who will go for Us?' (Isaiah 6:8)

A. We are the only ones, on this earth now, who God can used to spread the Gospel.

B. If we fail, in spreading the Gospel, there is none other.

IV. THE COMMITMENT

Then I said, "Here am I. Send me!" (Isaiah 6:8)

A. Once committed, we must go in the name of the Lord.

B. Once committed, we must never give up.

Here we see the Commission of Isaiah (Isaiah 6:12-13).
And, though the people would not pay attention, Isaiah was to continue to prophesy until the Babylonian deportation. Like Isaiah, the Lord commands us, as the body of Christ, not to give up. We are to continue our witness, until called home to Glory, or until the Lord returns in His Glory.