To Increase More and More (series: Lessons on 1 Thess.)
by John Lowe
(Woodruff, S.C.)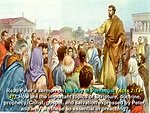 Love All of God's Family
7/25/18

Tom Lowe

Lesson 12: To Increase More and More (1Thessalonians 4:10)

Scripture: 1 Thessalonians 4:10 (NIV)
And in fact, you do love all of God's family throughout Macedonia. Yet we urge you, brothers and sisters, to do so more and more,


Lesson 12

Introduction
As the capital of the province of Macedonia, Thessalonica was the natural center of the Macedonian churches—including Philippi and Berea, with other communities which had probably sprung up around these principal towns. The Thessalonian Christians we're using their position and influence for the good of their brethren around them, and thus giving proof that they had learnt the great lesson of Divine grace. But they must not rest upon this reputation for brotherly love; they must seek to abound in it more and more.

The preaching of the Second Coming had produced an odd and awkward situation in Thessalonica. Many of the Thessalonians had given up their daily work and were standing about in excited groups, upsetting themselves and everybody else, while they waited for the Second Coming to arrive. Ordinary life had been disrupted; the problem of making a living had been abandoned; and Paul's advice was remarkably practical.


Scripture: 1 Thessalonians 4:10 (NIV)

10 And in fact, you do love all of God's family throughout Macedonia. Yet we urge you, brothers and sisters, to do so more and more,

Love of the brethren (philadelphia) originally referred to affection for blood relatives but is always used in the New Testament in reference to Christian affection (Romans 12:10; Hebrews 13:1; 1 Peter 1:22; 2 Peter 1:7). The Thessalonians needed to recall what they knew about love, to remember that they had been taught by God about love, primarily in the incarnation and sacrificial death of Christ: "For God so loved the world that he gave his one and only Son, that whoever believes in him shall not perish but have eternal life." (John 3:16).

Faith, hope, and love ("and the greatest of these is love") had been the distinctive characteristics of the Thessalonian Christians from the beginning (1 Thessalonians 1:3). Timothy had reported the good news of their love (1 Thessalonians 3:6), so Paul was not exhorting them to acquire something they did not already possess. He was encouraging them to get more of what they already enjoyed. You can never have too much Christian love. Paul had prayed that their love might "increase and abound" (1 Thessalonians 3:12); and God answered that prayer (see 2 Thessalonians 1:3).
________________________
(1 Thessalonians 1:3) We remember before our God and Father your work produced by faith, your labor prompted by love, and your endurance inspired by hope in our Lord Jesus Christ.
(1 Thessalonians 3:6) But Timothy has just now come to us from you and has brought good news about your faith and love. He has told us that you always have pleasant memories of us and that you long to see us, just as we also long
to see you.
(1 Thessalonians 3:12) May the Lord make your love increase and overflow for each other and for everyone else, just as ours does for you.
(2 Thessalonians 1:3) We ought always to thank God for you, brothers and sisters, and rightly so, because your faith is growing more and more, and the love all of you have for one another is increasing.
The evidence that they had learned the lesson of brotherly love was their deep, selfless, giving affection for Christians in other parts of their province of Macedonia. These were their neighbors in Philippi, Berea, and perhaps other towns where Christians lived: and there were churches there that we don't read about in Acts. Paul commended believers for their love when he wrote the churches (2 Corinthians 8:1-5), which implies that the Christian churches were not isolated. Yet there was still room for improvement, perhaps in the persistence and consistency of their love.
(2 Corinthians 8:1-5) Now, brethren, we wish to make known to you the grace of God which has been given in the churches of Macedonia, that in a great ordeal of affliction their abundance of joy and their deep poverty overflowed in the wealth of their liberality. For I testify that according to their ability, and beyond their ability, they gave of their own accord, begging us with much urging for the favor of participation in the support of the saints, and this, not as we had expected, but they first gave themselves to the Lord and to us by the will of God.
_________________________
Christians must never be weary in well-doing. To sit back satisfied with what one has done is to sound the death knell of effective Christian service. These Thessalonians did love the brethren, but evidently they weren't perfect in their love, and there was still room for improvement.
There are going to be some personality conflicts among the saints. It may be better for such people not to be together too much nor to put arms around each other and walk together. Yet, we can still love them as the children of God.
The real test is our love for the brethren. If you want to put the blue litmus paper down in your life to test it and find out whether or not you are a genuine believer, this is the place to put it down: do you love the brethren?
How does God cause our love to "increase more and more"? By putting us into circumstances that force us to practice Christian love. Love is the "circulatory system" of the body of Christ, but if our spiritual muscles are not exercised, the circulation is impaired. The difficulties that we believers have with one another are opportunities for us to grow in our love. This explains why Christians who have had the most problems with each other often end up loving one another deeply, much to the amazement of the world.