TO TELL THE TRUTH
by CharlesRobey
(Trussville, AL USA)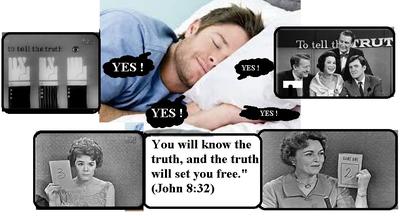 "O our God, will You not judge them? For we have no power against this great multitude that is coming against us; nor do we know what to do, but our eyes are upon You. (II Chronicles 20:12 ) NKJV


Glad this week's over. What a strain on this old professor's mind. I really need to get busy with my upcoming lecture on "God and Country" but I'm just too beat to tackle it now.

I wonder what's on TV tonight? Wow, what is this? A remake of the old "To Tell the Truth" game show. I remember watching this show, way back when. I was somewhat of a pro, in my teen years, guessing the right "Truth Affidavit.' Let's see if I still have it.

Thus, "The truth statement. "I, John Doe, once climbed the snow-capped Mt. Wilmore in my bare feet." Let's see, it can't be number one, the little fellow with the squeaky voice. And it can't be number three, the man wearing the foot brace. So it must be number two, the big burly fellow. After the customary announcing, "Will the real John Doe please stand up, and as usual fake standing of all. Then number one remained standing. Missed again. Oh well, I'll just have my usual nightcap of warm milk and turn in for the night.

That's when it all happened, my strangest dream of them all. I found myself to be the center of attention, as a contestant in the "To Tell The Truth" game show. My affidavit,

"I am a retired Christian missionary, who was once marooned on a South Sea island for several months. However, my stay was very beneficial as I was instrumental in converting the natives to Christianity. I recently made a return trip to the island, which was very productive. I am now a Christian professor, and teaching at a very prestigious school of theology."

Then the questions really started to flow. How long were you on this island? Were they hostile towards you? Did they speak English? How long were you there before they noticed you? And the questions continued on and on. This affidavit seemed to steal the show.

Then there was added suspense to this dream of mine. After the show, the most outspoken game contestant cornered me in the break room. He was so angry that he seemed to spark when he spoke. I instantly gathered from his demeanor that he was strictly against religion of any sort, and missionaries in particular.

"You mentioned you are now a college professor, just where do you teach? And why were you spending all that time over in the jungle, as badly as our country needed religion?" he asked.

Well, telling him I was a professor of religion at the Midwestern School of Theology was surely the wrong move to make, as it set him off even more. As if by divine instruction, I asked for his email address and promised to send him a copy of my upcoming lecture on "God and Country" taken from the Apostle Paul's writings to the Romans.

I knew I'd better not discuss this lecture with him, although I was very proud of my research. Then it happened, another surprise of my unusual dream. I happened to observe a character walking up in a fog of smoke. Why, he looks like my preconceived image of the Apostle Paul himself. Then he spoke, quoting my entire lecture verbatim, word for word.

"All authority was and is established by God. (Romans 13:1), instituted by Him (Romans 13:2), God's servants (Romans 13:4,6), and an agent of wrath (Romans 13:4). Therefore all believers are subject to authorities (Romans 13:1, 5), and we should give these authorities the proper Christian esteem. (Romans 13:7)"

"This old universe of ours is surely seeing some troublesome times. One needs only tune in to any number of news media outlets to confirm this. There are protests on every corner, chaos in governments, philosophies running amuck, basic values and beliefs being challenged. We are seeing an upward trend in cynicism, compulsion to evil, and neglect of duty. And it's all seemingly in the name of progress."

"Where is the elect in all of this chaos? Are we giving up? Have we moved to the back of the class? God forbid. You see Christian believers,
and non believers alike, cannot escape this world's stress and pressures. We Christians must take a stand for the right."
"The Apostle Paul could have taken the same negative posture of today's populace, having been subject to Nero's Rome. Yet, by divine inspiration, he penned this Scripture to the people of Rome."
"Wow, is it really you?" I asked but no immediate reply came forth.
Then he continued with a full-length sermon. Or I should say my full lecture.
"Realizing of course that this loyalty is a two-way street; the state has certain responsibilities, as do all citizens. So we should never let apathy or ignorance creep into our political vocabulary."
"We should always be abreast of the right Christian attitude with respect to politics. Seen any political TV spots lately? These commercials can draw out more questionable truths in a relatively short period of airtime, than any of the well-watched TV soaps."
"Yes, we are to study and vote intelligently, seek the truth and make assessments based on Biblical convictions, and not be swept along by the media."
"In other words, the faint-hearted 'silent majority' should not be in today's Christian vocabulary. We may logically and legally choose to write to newspapers, lobby for the good and even join a political party that stands up for the good of the country. So I ask you, when is the last time you sat in on your city council's public meeting? When is the last time you wrote your congress representative in legal protest of an ungodly law? When is the last time you discussed the virtues of God's Biblical standards, as opposed to those of politics, with your church pastor?"
"A word of caution here. If you feel you can share the gospel by joining a political gathering, by all means, do so. Just don't idealize any particular association, for much like some religious functions, they are still imperfect human groups. Always be sure to stick to the principles of God, for God's word is always the final order and authority. (II Timothy 3:16-17)"
"Yes, the state and God have appropriate claims on us. However, God's authority and claim over us must always take top priority. Please read the parable of the rejection of a nation in (Matthew 22:1-14)."
What then can I say? This rather strange-looking man of the past had just quoted my entire lecture word for word, as if he had written the entire Bible book of Romans.
"Please sir, whomever you may be, please don't give out this speech before I have a chance to deliver this all-important lecture," I responded rather frantically, hoping to win first place, in the (CWG), the Christian Writers Guild.
Without an answer, this unknown character disappeared in the fog that had surrounded him. I did, however, see him give a big smile and a thumbs-up as he disappeared.
And as soon as he left, so did my infamous dream. Awaking, I went straight to my desk, to confirm that my lecture draft was still there, and it was. However, strategically placed by my lecture draft was my reference Bible. And you guessed it, this Bible was open to the Thirteen Chapter of the book of Romans, with certain selected passages highlighted.
Fast forward to my given lecture, it was an overwhelming instant success. And yes, I did win the CWG first prize. Did the reflection of my dream contribute to the lecture? Well, you be the judge.
Author's Postscript
To Tell the Truth is an American television panel game show in which four celebrity panelists are presented with three contestants (the "team of challengers," each an individual or pair) and must identify which is the "central character" whose unusual occupation or experience has been read out by the show's moderator/host. When the panelists question the contestants, the two "impostors" may lie whereas the "central character" must tell the truth.
The show was created by Bob Stewart and originally produced by Mark Goodson–Bill Todman Productions. It aired, on networks and syndication, continuously from 1956 to 1978 and intermittently since then, reaching a total of 26 seasons in 2016. As of 14 June 2016
update
, it is one of two game shows in the United States to have aired at least one new episode in at least seven consecutive decades, the other being The Price Is Right. (wikipedia.org)