TRUST AND OBEY
by Charles Robey
(Trussville AL)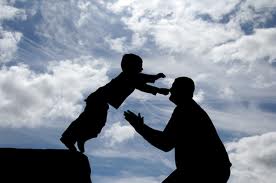 Jump-I'll Catch You
TRUST AND OBEY-


"Trust in the Lord with all your heart, And do not lean on your own understanding. In all your ways acknowledge Him, And He will make your paths straight. Do not be wise in your own eyes". ( Proverbs 3:5-7)

(Start message by singing the Hymn "Trust and Obey" found on the screen)

Have you ever played the game of catch with your earthly Father, whereby he would elevate you above his head, then he would stand a small distance from you and would shout," jump, I'll catch you". Well then, how much more is our Heavenly Father able and willing to catch us when we fall, spiritually, For you see, our Heavenly Father never makes misstates and is always ready and willing to catch us when we fall.


A- WHY IS TRUSTING GOD SO DIFFICULT
(Ask for examples)

Examples of why:
We want life to make perfect sense.
We want to set our own time table.

In other words, we want what we want when we want it.
"Do not be wise in your own eyes" (Proverbs 3:7)


B- GOD'S WAYS DON'T ALWAYS MAKE SENSE
( Ask for examples)

Examples of not making sense.
Noah building the ark
Abraham waited 24 years for a blood son.
Paul's thorn in the flesh.

"My thoughts are not your thoughts, neither are your ways My ways. For as the heavens are higher than the earth, so are My ways higher than your ways and My thoughts than yours". (Isaiah 55:8-9)


C- IN ORDER TO TRUST GOD, WE MUST TOTALLY SURRENDER WHAT
(Ask for examples)

Examples of Surrounding.
Our will
Our ideas
Our desires

And place our future in God's hands.
"Trust in the Lord with all your heart, and lean not on your own understanding". (Proverbs 3:5)

Most of us have a tendency to claim trust in God. However, at the first sign of difficulty or trial, we think God must not love us. Because he allows difficulties to happen.

"And we know that God works all things together for the good of those who love God, to those who are called according to His purpose". (Romans 8:28)


D- WE MAY TRUST IN MANY THINGS. NONE, HOWEVER, OFFERS WHAT GOD OFFERS.
(Ask for examples)

A Protection Plan
Long term Security
Long term Benefits


E-ALL THE OTHER THINGS MAY FAIL BUT GOD NEVER FAILS

"Do not be afraid or discouraged, for the Lord God, my God, is with you. He will not fail you or forsake you".. ( I Chronicles 28:20)


F- HOW IS OUR TRUST IN GOD STRENGEN?
( Ask for examples)

By increasing our knowledge of God.
By increasing our faith in God,.

"If any of you lacks wisdom, let him ask of God, who gives to all liberally and without reproach, and it will be given to him ".( James 1: 5)

"Now Faith is the substance of things hoped for, the evidence of things not seen". ( Hebrews 11:1)


G- REMEMBER!
The more we trust him, the more he rewards us.

But when we doubt God, and don't have faith, nothing happens

About The Author
Charles Robey is a retired Church Lay Leader who specializes in freelance Christian writings, with a strong evangelistic message. Mr. Robey's many publications center around the Lords Commissioning, as outlined in (Acts 1:8) and he feels strongly that in today's hectic stressful environment, more than any other period of time, Gods peace continues to ring true and is freely available to all.