VBS (Victory in Salvation)
by Steve Johnson
(Oxford Alabama)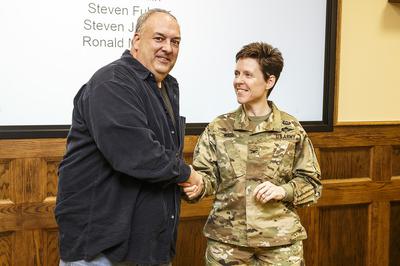 Baptist

1Cor.15:57
Victory because of Salvation
There is only one way Jn.14:6 Jesus saith unto him, I am the way, the truth, and the life: no man cometh unto the Father, but by me.
• How can Christians say that Jesus is the only way to God? The problem with this question is that it is based in a concept of salvation by works. In other words, the person asking it still believes that people can get to heaven by being good enough. Scripture says this is decidedly not the case:Rm.3:10 As it is written, There is none righteous, no, not one:
• A. Admit you are a sinner.
"There is no one righteous, not even one ... Rm.3:23 for all have sinned and fall short of the glory of God."
Ask God's forgiveness.
"Everyone who calls on the name of the Lord will be saved."
Romans 10:13
• B. Believe in Jesus
(put your trust in Him) as your only hope of salvation.Jn3:16-17For God so loved the world, that he gave his only begotten Son, that whosoever believeth in him should not perish, but have everlasting life.17 For God sent not his Son into the world to condemn the world; but that the world through him might be saved.
• C. Confess that Jesus is your Lord.
Rm.10:9-11That if thou shalt confess with thy mouth the Lord Jesus, and shalt believe in thine heart that God hath raised him from the dead, thou shalt be saved.
10 For with the heart man believeth unto righteousness; and with the mouth confession is made unto salvation.
11 For the scripture saith, Whosoever believeth on him shall not be ashamed.

Now I'm a Victor because of Salvation and I continue to live in victory through:
I) Sanctification: Sanctification is God's will for us (1 Thessalonians 4:3 For this is the will of God, even your sanctification…..). The word sanctification is related to the word saint; both words have to do with holiness. To "sanctify" something is to set it apart for special use; to "sanctify" a person is to make him holy.
A) Which comes through meditation and thirst. Ps143:5-6 I remember the days of old; I meditate on all thy works; I muse on the work of thy hands. I stretch forth my hands unto thee: my soul thirsteth after thee, as a thirsty land. Selah.
B) I find sanctifying my life is easier when I stay busy and in Gods House. Ja.1:25 But whoso looketh into the perfect law of liberty, and continueth therein, he being not a forgetful hearer, but a doer of the work, this man shall be blessed in his deed.
o Remember the old saying "Idle hands are the devil's workshop; idle lips are his mouthpiece." Well that comes from Pr.16:27-29 An ungodly man diggeth up evil: and in his lips there is as a burning fire.28 A froward man soweth strife: and a whisperer separateth chief friends.29 A violent man enticeth his neighbour, and leadeth him into the way that is not good.
II) I'm a victor in my salvation because of His Promise Jn.14:1-3 Let not your heart be troubled: ye believe in God, believe also in me.2 In my Father's house are many mansions: if it were not so, I would
have told you. I go to prepare a place for you.3 And if I go and prepare a place for you, I will come again, and receive you unto myself; that where I am, there ye may be also.
A) I have the words promise He's coming back to get me 1Thess.4:13-17 But I would not have you to be ignorant, brethren, concerning them which are asleep, that ye sorrow not, even as others which have no hope. For if we believe that Jesus died and rose again, even so them also which sleep in Jesus will God bring with him. For this we say unto you by the word of the Lord, that we which are alive and remain unto the coming of the Lord shall not prevent them which are asleep.
For the Lord himself shall descend from heaven with a shout, with the voice of the archangel, and with the trump of God: and the dead in Christ shall rise first: Then we which are alive and remain shall be caught up together with them in the clouds, to meet the Lord in the air: and so shall we ever be with the Lord.
B) And If He doesn't come to get me soon and I take my last breath I know where I'll be next!2Cor5:1-2 For we know that if our earthly house of this tabernacle were dissolved, we have a building of God, an house not made with hands, eternal in the heavens.2 For in this we groan, earnestly desiring to be clothed upon with our house which is from heaven:
2Cor.5:6-8 Therefore we are always confident, knowing that, whilst we are at home in the body, we are absent from the Lord:
7 (For we walk by faith, not by sight:)
8 We are confident, I say, and willing rather to be absent from the body, and to be present with the Lord.
C) That promise that keeps me looking Titus 2:13 Looking for that blessed hope, and the glorious appearing of the great God and our Saviour Jesus Christ;
III) I am a victor because He Lives Revelation 1:18 - I
am
he that liveth, and was dead; and, behold, I am alive for evermore, Amen; and have the keys of hell and of death.
A) His living strengthens me Is.40:28-31 28 Hast thou not known? hast thou not heard, that the everlasting God, the Lord, the Creator of the ends of the earth, fainteth not, neither is weary? there is no searching of his understanding.
29 He giveth power to the faint; and to them that have no might he increaseth strength.
30 Even the youths shall faint and be weary, and the young men shall utterly fall:
31 But they that wait upon the Lord shall renew their strength; they shall mount up with wings as eagles; they shall run, and not be weary; and they shall walk, and not faint.
B) His living relieves my burdens Ps.55:22 Cast thy burden upon the LORD, and he shall sustain thee: he shall never suffer the righteous to be moved.
C) Gives me Hope Rm15:13 Now the God of hope fill you with all joy and peace in believing, that ye may abound in hope, through the power of the Holy Ghost.