VC2: AS GOD'S ELECT, PUT ON CHRIST-LIKE QUALITIES -- Page 2 ⚁ (series: Lessons on Colossians)
by John Lowe
(Woodruff, S.C.)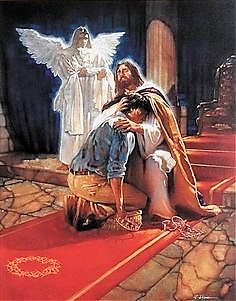 VC2: AS GOD'S ELECT, PUT ON CHRIST-LIKE QUALITIES -- Page 2 ⚁ (series: Lessons on Colossians)
Paul is saying that as believers we should have a heart of compassion in our relationships with those around us.

Do you not know that your bodies are temples of the Holy Spirit, who is in you, whom you have received from God? You are not your own; you were bought at a price. Therefore honor God with your bodies. (Phil. 2:1)

Put on . . . kindness (Col. 3:12)
Kindness (chrestotes) is a word that Paul uses that carries with it the thought of being "profitable." It has been defined as "the virtue of the man whose neighbor's good is as dear to him as his own." But there is a kindness that means "gentleness, and that is the word Paul uses here. We have been saved because of God's kindness toward us through Jesus Christ #(Eph. 2:7; Titus 3:4). We, in turn, ought to show kindness toward others. "Be ye kind one to another" $(Eph. 4:32) is God's command. Chrestotes is the word Jesus used when He said, "My yoke is easy" (Matt. 11:30).

#In order that in the coming ages he might show the incomparable riches of his grace, expressed in his kindness to us in Christ Jesus. (Eph. 2:7)

$Be kind and compassionate to one another, forgiving each other, just as in Christ God forgave you. (Eph. 4:32)

Put on humbleness of mind (Col. 3:12)
The pagan world of Paul's day did not admire Instead, they admired pride and domination. Jesus Christ is the greatest example of humbleness of mind ($Phil. 2:1; see item 1 above). Humility is not thinking poorly of oneself. Rather, it is having the proper estimate of oneself in the will of God #(Rom. 12:3). The person thinks of others first and not of himself. does not mean "meekness."



It has often been said that humility was a virtue created by Christianity. Christian humility is not cringing in the presence of power and authority and neither is it having one's head bowed when meeting another person. It is based on two things. First, on the divine based awareness of the

#For by the grace given me I say to every one of you: Do not think of yourself more highly than you ought, but rather think of yourself with sober judgment, in accordance with the faith God has distributed to each of you. (Rom. 12:3)

$Therefore if you have any encouragement from being united with Christ, if any comfort from his love, if any common sharing in the Spirit, if any tenderness and compassion (Phil. 2:1)

Put on . . . meekness (Also called gentleness; praotes) (Col. 3:12).
Meekness is not weakness; it is power under control. One who is "meek" is "not being consumed with one's self-importance; not rebellious or reactionary, but gentle, mild, and patient." The word was used to describe a soothing wind, a healing medicine, and a colt that had been broken. In each instance there was power: a wind can become a storm; too much medicine can kill; a horse can break loose. But this power is under control. The meek person does not have to fly off the handle, because he has everything under control.

Long ago Aristotle had defined gentleness as the happy mean between too much and too little anger. The man who has

Put on . . . long-suffering (Col. 3:12)
This word is literally "long-temper." The short-tempered person speaks and acts impulsively and lacks self-control. When a person is long-suffering, he can put up with provoking people or circumstances without retaliating and he can endure mistreatment and faithfully love others. It is good to be able to get angry, for this is a sign of holy character. But it is wrong to get angry quickly at the wrong things and for the wrong reasons. We shouldn't have a short fuse with our friends and Christian brethren and we shouldn't make snap judgments.

"Long-suffering" is also known as patience. This is the spirit that never loses its patience with its fellow-men. Their foolishness and their unteachability never drive it to cynicism and despair; their insults and ill-treatment never drive it to bitterness or wrath. Human patience is a reflection of the divine patience which bears
with all our sinning and never casts us off.
Put on . . . forbearance (Col. 3:13)
This word literally means "to hold up" or "to hold back." God is forbearing toward sinners in that He holds back His judgment #(Rom. 2:4; 3:25). Meekness, longsuffering, and forbearance go together.
God expects us to live out our identity― to become who we are in Christ.
In Colossians 3:13 Paul presents two pieces of evidence that we are acting like the Church and putting Christ-like virtue into action: "forbearing one another, and forgiving one another." is different than a worldly tolerance that accepts everyone's ideas and lifestyles as equally valid. Mutual forbearance is God's people pursuing the same goal of spreading Christ's fame― so I desire and choose to be patient, not for my advantage, but for Christ's.
Put on . . . forgiveness (Col. 3:13)
was the first evidence that they are putting Christ-like virtue into action and the second is forgiveness. There will be times when we have a quarrel or complaint against another. It is bound to happen, even in a community of believers. The issue Paul is addressing is not the avoidance of friction at all costs. That is impossible in a fallen world. The key is what we do about it.
Forgiveness (actually "complaint") is the logical result of all that Paul has written so far in this section. Paul is including situations where there is blame involved and the complaint is justified. It is not enough that the Christian must endure grief and provocation, and refuse to retaliate; he must also forgive the troublemaker. If he does not, then feelings of malice will develop in the heart; and these can lead to greater sins.
It is Christlike to forgive #(Eph. 4:32) and forgiveness opens the heart to the fullness of the love of God. The very instant we have a complaint against another person, we should forgive him in our hearts. This does not mean that you become a doormat. (Family forgiveness is another matter. We should go to the offender and seek to help him in love. (See Matthew 18:15-35.)
There are always going to be some people with whom you cannot work out things―we must realize that. Paul's thought here is that Christ has forgiven us so much that it won't hurt us to forgive somebody who has stepped on our toes. We are to forgive others in the same way that Christ has forgiven us. So how did Christ forgive us? We were His enemies, but He took the initiative to grant us forgiveness by overcoming evil with good (Rom. 12:21) and canceling our sin debt.
Forbearance and forgiveness are tangible expressions that Christ is our life. The Christian forbears and forgives and he does so because a forgiven man must always be forgiving.
Put on . . . love (Col. 3:14)
This is the most important of the Christian virtues, and it acts like a "girdle" that ties all the other virtues together. All of the spiritual qualities Paul has named are aspects of true Christian love, as a reading of I Corinthians 13 will reveal. Love is the first of the fruit of the Spirit and the other virtues follow―joy #(Col. 3:16), peace $(Col. 3:15), long-suffering, gentleness, kindness, and meekness (Col. 3:12). In Romans 13:10, the apostle called love "the fulfilling [sum total} of the law" and in 1 Corinthians 13:13 he said, "they are the greatest of all the Christian's spiritual gifts."
When love rules in our lives, it unites all these spiritual virtues so that there are beauty and harmony, indicating spiritual maturity. This harmony and maturity keep life balanced and growing. The Gnostic system could never do this.
#Let the message of Christ dwell among you richly as you teach and admonish one another with all wisdom through psalms, hymns, and songs from the Spirit, singing to God with gratitude in your hearts. (Col. 3:16)
It is most significant to note that every one of the graces listed has to do with personal relationships between man and man. There is no mention of virtues like competence or cleverness, not even of diligence or plain hard work― not that these things are unimportant. But the great basic Christian virtues are those which govern human relationships. Christianity is a community. It has on its divine side the amazing gift of peace with God and on its human side the triumphant solution of the problem of living together.