Vision of Christ among the Lampstands: Part 5 of 6 (series: Lessons on Revelation)
by John Lowe
(Woodruff, S.C.)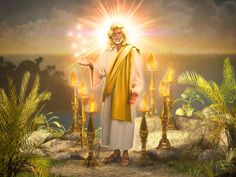 19 Write the things which thou hast seen, and the things which are, and the things which shall be hereafter;


"Write the things which thou hast seen," i.e., "Write in the book a description of everything you have seen." Revelation 1:10-18 proves that John obeyed the Lord's command.

"And the things which are" refers to those things which appeared to the apostle in his vision, which were designed by God to represent the condition of the seven churches. He had not only seen the Savior—he had seen seven lampstands, and seven stars in the hand of the Savior—and now he is commanded to record the meaning of these symbols, as they refer to things actually existing in the seven churches, at that time. This interpretation is confirmed by Revelation 1:20.

"And the things which shall be hereafter." The Greek words rendered "hereafter" mean "after these things." He was to accurately document the things he saw in his vision, and then to record everything that would occur "after these things," that is, the images, symbols, and truths, which would be revealed to him after what he had already seen. This phrase definitely refers to future times, but it does not say when they will begin or how long they will continue—whether it extended only for a few years or whether it embraced all coming time. All we know for certain is that the revelations which were yet to be made referred to events which were to occur after those things that were taking place at that time; however, it would seem that it would stretch far into future years, and that it was designed to give at least an outline of what would be the character (or the nature, disposition, moral fiber) of the future in general. How would you, my friend, evaluate the character of your generation?


20 The mystery of the seven stars which thou sawest in my right hand, and the seven golden candlesticks. The seven stars are the angels of the seven churches: and the seven candlesticks which thou sawest are the seven churches.

"The mystery of the seven stars." The Greek word "musterion," which has been translated here as "mystery" did not mean something that is obscure or incomprehensible; rather it meant a truth given and revealed only to a select few that was unknown until it was revealed. When disclosed, it may be as clear, and as capable of comprehension, as any other truth. The meaning here, as applied to the seven stars, is, that they were symbols, and that their meaning as symbols, without a suitable explanation, would remain hidden or unknown. They were designed to represent important truths, and John was directed to write down what they were meant to signify in his vision, and to send the explanation to the churches. These instructions implied that the meaning of the symbols would be beyond the ordinary powers of the human mind to figure out, and that's why John was directed to explain the symbols. The obvious truths which they would convey would be that the ministers of the churches, and the churches themselves, were intended to be lights in the world, and for that reason, they should burn clearly and steadily. There were particular truths of great importance inherent in these symbols, which John was to explain more fully.

"Which thou sawest in my right hand" has been translated from the Greek words meaning, "upon my right hand," which gives some support to the opinion that the stars, as they were seen, appeared to be placed on His hand, that is, on the palm of His right hand as he stretched it out. The expression in Revelation 1:16 is, that they were "in his right hand"; but the language used here is not decisive as to the position of the stars. They may have been held in some way by the hand, or represented as scattered on the open hand,

"The seven golden candlesticks," that is, the truth which these symbolic representations are designed to convey.

"The seven stars are," that is, they represent, or they denote—in accordance with a common usage in the Scriptures.

"The angels of the seven churches"
does not refer to them as a group, for He addresses each of them as individuals, giving each one a message directed to "the angel" of each particular church (Revelation 2:1; Revelation 2:12). The meaning is evident; that what was recorded should be directed to them, but not to them exclusively as individuals, but in their role as pastor (preacher, teacher) presiding over or representing the churches, for what is recorded pertains to the churches, and was evidently designed to be laid before them. It was for the churches, but was committed to the "angel" (pastor) as representing the church, and to be communicated by him to the church under his care. There has been much diversity of opinion in regard to the meaning of the word "angels," as it is used here. The advocates of Episcopacy , have argued that the use of this term proves that there was a presiding bishop over a circle or group of churches in Ephesus, in Smyrna, etc., since it is said that it cannot be supposed that there was just a single church in a city as large as Ephesus, or in any of the other cities mentioned. The word "angel," as it is used here, means "a messenger," and is usually applied to celestial beings (messengers) sent by God to convey or to do His will. Though this is the common meaning of the word, it may be used to denote anyone who is a messenger, and hence, anyone who is employed to communicate the will of another; to transact his business, or, to act in his place—to be a representative. In order to determine the meaning of the word as it is used in this place, and in reference to these churches, consider the following remarks pertaining to the word "angels":
1. It cannot mean a literal angel, for no one would propose that such a being presided over these churches.
2. It cannot be shown to mean that messengers had sent to John by the churches, and that these letters were given to them to be returned by them to the churches, because
a. There is no evidence that any such messenger had been sent to John.
b. It is very unlikely that while he was in exile on Patmos, that such a thing would be permitted.
c. The message was not sent by them, it was sent to them "Unto the angel of the church in Ephesus write," etc.
3. it cannot be proved that the reference is to a prelatical bishop presiding over a group or circle of churches, called a diocese; for:
a. There is nothing in the word "angel," which when used in this connection, would be especially applicable to such a high-ranking person, since it can be applied to a pastor of a single church, as well as to a bishop of many churches.
b. There is no evidence that there were any such groups of churches then that would constitute an Episcopal diocese.
c. The use of the word "church" in the singular, as applied to Ephesus, Smyrna, etc., somewhat implies that there was just a single church in each of those cities. Compare Revelation 2:1, Revelation 2:8, Revelation 2:12, Revelation 2:18; see also similar language in regard to the church in Corinth, 1 Corinthians 1:2; in Antioch, Acts 13:1; at Laodicea, Colossians 4:16; and at Ephesus, Acts 20:28.
d. There is no evidence that a successor to John had been appointed at Ephesus, if, as they suppose, he was "bishop" of Ephesus; and it is doubtful that they would so soon after his banishment show him such a lack of respect by appointing his successor so soon.
e. It is highly possible that there was a single church in each of these cities; Antioch, Corinth, Rome.
f. If John was a piclatical "bishop," it is probable that he had authority" over the whole group of churches including the seven: yet here, if the word "angel" means "bishop," we have no less than seven such bishops immediately appointed to succeed him.
g. The supposition that this refers to prelatical bishops is so forced and unnatural that many Episcopalians are compelled to abandon it.