WAHT A DAY THAT WILL BE
by CharlesRobey
(Trussville, AL USA)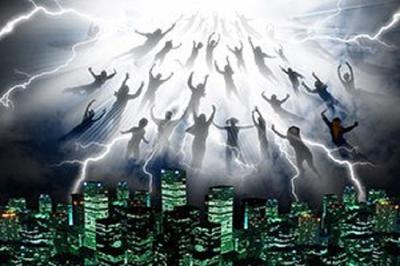 For the Lord himself will descend from heaven with a cry of command, with the voice of an archangel, and with the sound of the trumpet of God. And the dead in Christ will rise first. 17 Then we who are alive, who are left, will be caught up together with them in the clouds to meet the Lord in the air, and so we will always be with the Lord. 18 Therefore encourage one another with these words. (1 Thessalonians 4:16-18)

What a day that will be
When to this world we say good by
When we all split that eastern sky
When we enter that sweet by and by
What a day that will be
When we all take that gospel stand
When we look to that promise land
When we sing our praise to the lamb
What a day that will be
When we do just exactly as we are told
When that white robe we will unfold
When we put on that crown of gold
What a day that will be
When we see our loved ones there
When we greet them all with great care
When we fall on bend knees in prayer
What a day that will be
When we find a trusting friend
When to them our hand we extend
When we seek to our wrongs amend
What a day that will be
When we settle in this new land
When we join that Hallelujah band
When we seek our Saviors hand
What a day that will be

In the timeline of prophecy, for us Christians, the next great event of history is called the rapture of the church. The event when Jesus Himself will come back in the sky and gather all His believes up to be with Him forever (1 Cor 15:51-52).

We are not told the exact time of this rapture. The angels in heaven don't know and even Jesus Himself doesn't know (Mark 14:31). But in (Matthew 24) Jesus gives us certain signs. And we now see many of these signs taking place today. So, it probably won't be long. Just stand firm and listen to that trumpet blast.

Join in and write your own page! It's easy to do. How? Simply click here to return to Charles Robey Sermons.
© 2008-2028 - All rights reserved.

No content on preachology.com may be printed or

copied to any other site without permission.